Alligator River Dragon Fly Loop NC
August 5-6, 2005
164 miles
My goal this trip was to train for my upcoming Missoula, Montana - Columbia River trip and explore this low, boggy section of North Carolina.
---
August 4, 2005
I drove from Norfolk, Virginia to the Oregon Inlet campground in Cape Hatteras National Seashore on August 3rd. Early August 4 I got up, drove from the campground, through Manteo, and down to New Holland, North Carolina, which is below Lake Mattamuskeet. I parked the truck and started riding east and north along Palmico Sound back towards Oregon Inlet campground. It's amazing that this part of North Carolina is above ground; it feels and looks like it is just barely higher than the water in the sound. Lots of marsh, peat, water, and an extensive collections of drainage canals and pumps. It was hot and sunny, so I bought a baseball cap at a gas station and cut the top out of it. Inevitably I ended up with a badly sunburned ring on the top of my head. (So much for thinking I had thick hair). There was virtually no traffic, and the route is absolutely flat. I toured Fort Raleigh, and saw Manteo for the first time - a nice little North Carolina coastal town. 80 miles.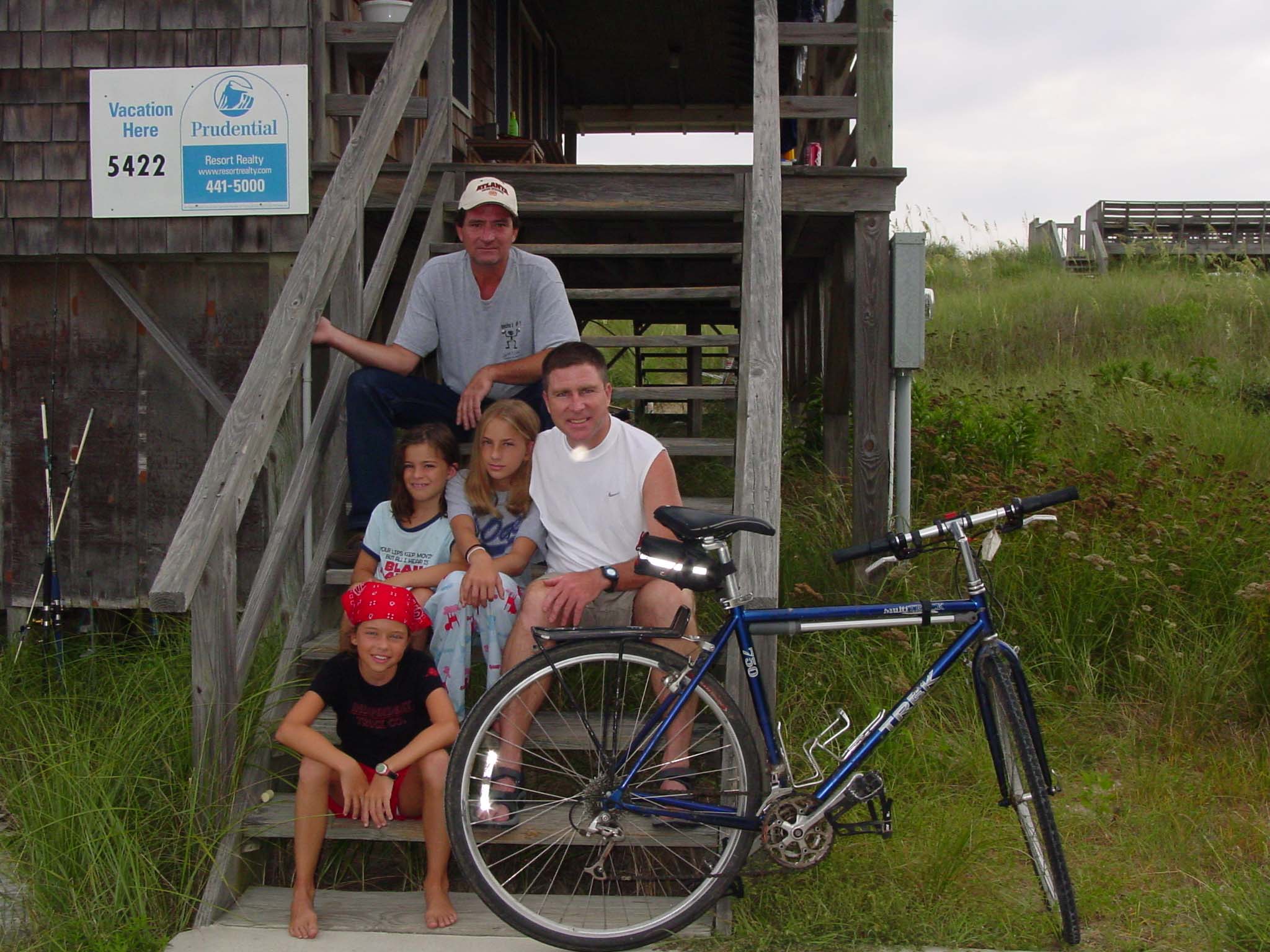 August 5, 2005
After spending the night in the tent in the campground, I started riding at 4:30am heading west on Route 64, crossing the Pamlico Sound Bridge, and passing through the woods of the Alligator River National Wildlife Reserve and patches of low farmland. I saw a big black bear gallumping across the highway. After the long bridge over the Alligator River I stoped to explore Columbia, which has a nice riverfront park, nature center and nature trail.
Heading south from Columbia was the best part of the trip. The road was just barely above the water level. Lots of pitcher plants along some of the wetter sections. Large sections of the route border the Pocosin Lakes National Wildlife Refuge. Big flat fields border the slightly higher sections.
Today was another hot day, but the regularly passing big clouds kept me from cookin. Dragon flys were everywhere.
One of the most interesting sections of the trip was crossing Lake Mattamuskeet causeway. The lake is only about three feet deep, and in earlier times, land developers built a series of pumps to lower the water level and sell off the resulting farmland. At some point, I quess they gave up the pumping and the area reverted to a lake. Just shows how little difference there is between being open water, bog, wetland, or farmland on this penisula. Life on the edge.

August 5, 2005 cont'd
The best part of the trip was finishing the drive back to Nags Head, to a cottage and seeing my three nieces and two of my brothers.

Last Update: May 14 2006