Trip #26
To the Mouth of the Columbia and the Pacific Ocean
Portland, OR to Fort Clatsop and Seaside, OR
March 20-25, 2012
154 miles
---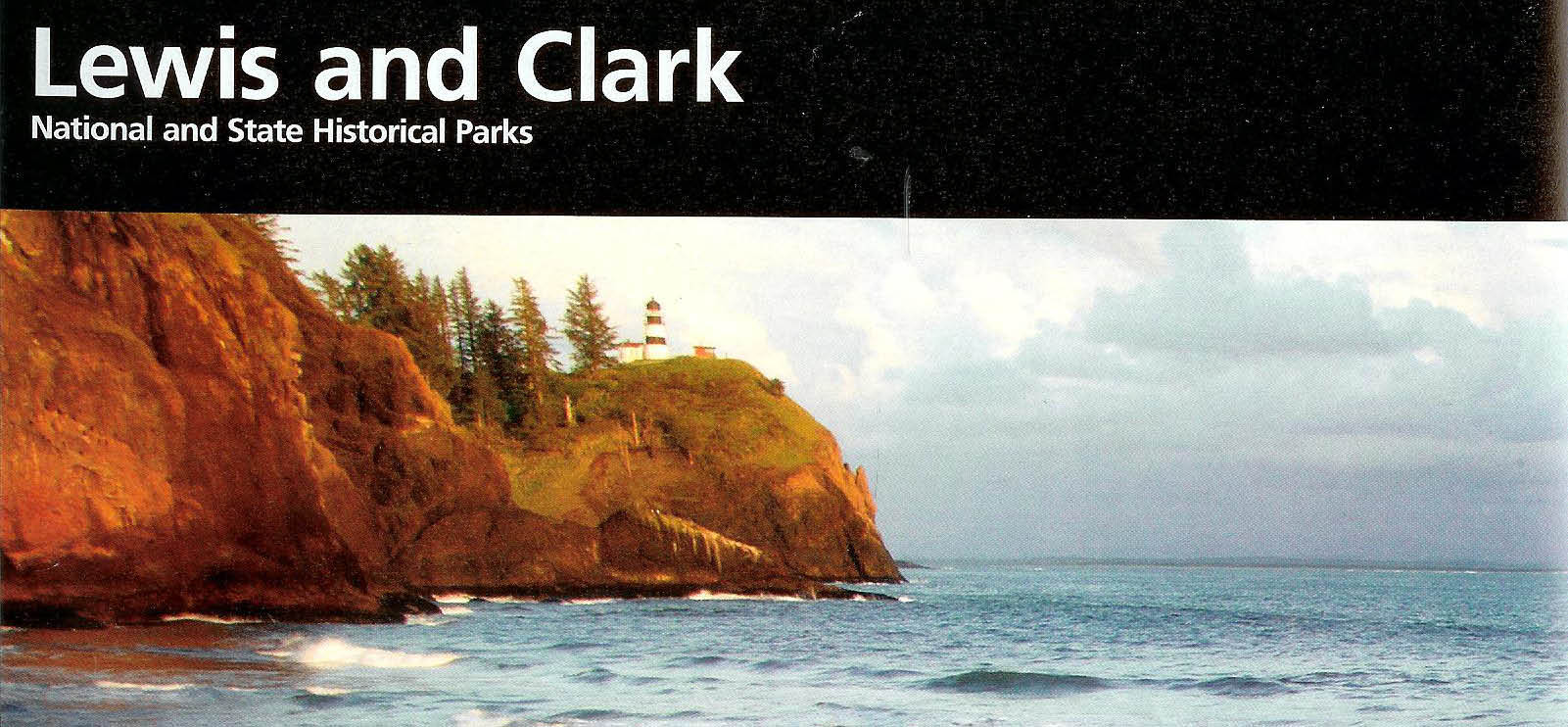 ---
Tuesday, March 20, 2012: A Long Rainy Multi-Modal Day
I left Washington National Airport at 8 am on a direct flight to Seattle, and land in Portland early in the afternoon. I note the "Bike Assembly Area" sign outside baggage claim, proceed to board the MAX Light Rail to the Old Town stop downtown, and walk a block and a half to the Pedal Bike Tours store, where I arranged my bike rental. Todd, the owner, and Scott give me a good quality skinny tire bike and install a pannier rack on the back. After eating lunch at a restaurant next door, I return to the bike shop, change into my biking gear, pack up my bike, and head out for the Columbia River and Scappoose - about 20 miles away.

Of course, it starts sprinkling just as I leave bike shop.

I cross over the Steel Bridge to the west side of the Willamette River, and ride up 7th Avenue NW and Sumner, and west on Ainsworth and Willamette Drive to St John's bridge. This course allows me to avoid a short section of Route 30 heading north and west from downtown Portland that appears to be a limited access highway with some complex interchanges and challenging merges.

Traveling this route through Portland, I see the vintage homes in the Irvington neighborhood and in the area around 7th and Ainsworth. There are lots of bike lanes and lots of people using them, including bikers with their toddlers in tow, oblivious to the rain.


By the time I arrive at the north/east end of the St. John's Bridge, a suspension bridge completed in 1931 across the Willamette River, I am almost "all the way through" wet. It's cool out, and I am just cold at this point.

I cross to the south/west bank of the Willamette and head up four lane, noisy, rush-hour-crowded, and rainy Route 30 to Scappoose. The hotel I expect to find in Scappoose is now a ratty old rental apartment complex. I checked out back with the owners; their place has a "down-on-its-luck" look, too. All full, they said.

I am completely soaked through at this point with puddles in my shoes and socks and feet swimming in water. It's 36-40 degrees depending upon which bank sign you believe. I grabbed a hot cider at a nearby bar. The bartender scolds me for wringing water out of my gloves onto the floor, but later forgives me. She tells me there is a Village Inn seven miles on in St. Helens. Revitalized, I proceed.

When I arrive at the Village Inn in St. Helens, I'm shivering, then shaking. I am intensely focused on the i-n-c-r-e-d-i-b-l-y slow check-in process which is keeping me from a warm shower. When I get into my room, I see I am covered head to toe with road grit. Once the warm water arrives at the shower head, I step under and wash the grit off my helmet, my jacket, rain (not!) pants, shoes, socks, in my hair, and all the rest of me. I spray down and mop up the black road crud off the walls, shower curtain, and tub when I'm done.

I order dinner from a young Native American girl, my energetic waitress. Spaghetti, not so good, but warm; I eat it all.

Today I was up at 3am EST (don't know why), finished packing, boarded an 8 am flight, arrive at 1 PM in Portland. I leave Portland at 3:30pm and bike the 30 miles to St. Helens. I hit the bed at 9pm PCT. I don't always fly, bike, and settle in all in one day, but it's not unusual. Today, though, was a little wetter, colder, and longer than I had planned.

Of course, I came out here in March to experience the wet cold weather that Lewis and Clark experienced during the winter of 1805-1806. Of the 100 days Lewis and Clark were at Ft Clatsop, all but 12 had rain, and their clothes and possessions rotted in the continual damp. I feel I got a "big taste" of what Lewis and Clark experienced today.

Note: Upon returning home, I re-read the Journals of Lewis and Clark and remember the expedition faced almost three weeks of constant rain coming down the Columbia from the Willamette to the Pacific and looking for a place to winter over, so much rain that their clothes started to rot. Lewis and Clark faced the same conditions heading back. I strike the words "big taste" above and replace them with "tiny little inkling."

32 miles today. 32 miles total.
Wednesday, March 21, 2012
Columbia River Valley Panorama
The sun rises late out here, relatively speaking; the clouds don't help. After breakfast at the hotel, I visit the 7-11 for plastic bags (donated) for my feet. I don't want a repeat of yesterday's water filled shoes and cold feet. Thank goodness for the dry electric heat at the hotel last night - my shoes are 90% dry. I head out at 8:30 am.
The morning sprinkling stops at first light. There is much less traffic on Route 30, which is now a smaller, two lane highway. Most traffic is on the inbound side this morning, heading to Portland.
I stop for lunch on the western outskirts of Ranier, where a large, long, high truss bridge crosses the Columbia River from Longview, WA. The owner of this Ranier "gas and go" is friendly and broad-shouldered. But, beware of the Jo-Jo's there.

The Broad Columbia
It is a steep long climb out of Rainier, with lots of gravel on the shoulder of the road. I'm have woods on both sides of road now. I enjoy a downhill coast into Clatskanie, where I take a second food break. As I head west, there is progressively less traffic, more trees, and more views of the Columbia River.

The Westport Ferry
Seeing a "ferry" on my map, I take a short detour to the Westport Ferry to Washington state. The ferry ride was shorter than I thought, because it goes to a mid-river island "in" Washington state with a bridge on the north side connecting the island to the mainland. I chatted with a very friendly young deckhand; he is a local, and his dad works for the Oregon DOT and has been clearing a large number of hillside mud slides.

Near Knappa School, I find a nice section of "old route 30" that gently winds up and down through the fields and forests.
I get into Astoria about 6pm. It is still light. I am NOT covered in road dirt at the end of the day. I am dry.
Astoria's shoreline is crowded with old pier pilings and old cannery buildings standing over the water from the time when the salmon still ran the river in abundance. On the ride in, I pass a long stretch of these river edge relics. Victorian houses climb up the hills. Shipping still is a large part of the community.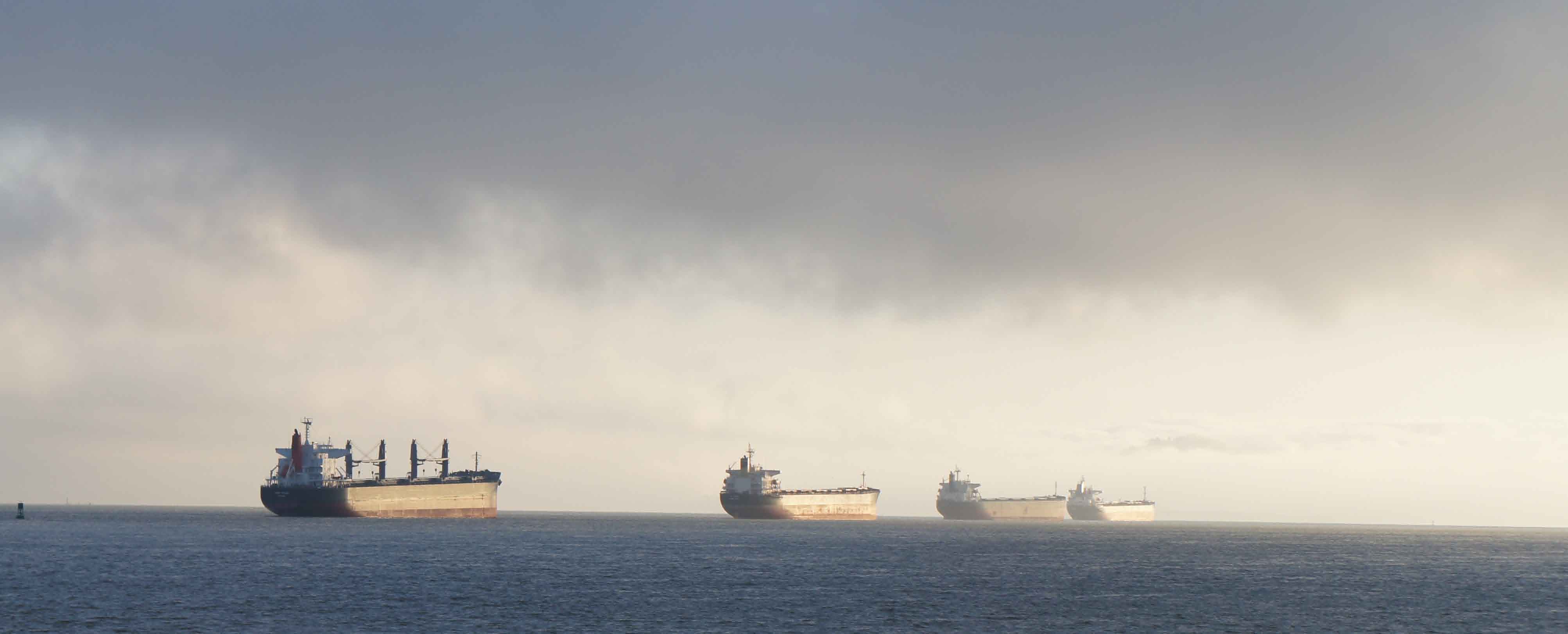 Big Ships
Tonight I splurge, the Hotel Elliott. I get a free upgrade to a suite, and have great views of the Columbia River and the Washington state shore from my 3rd floor room. I have a nice dinner across the street.
Partly cloudy all day, just ten minutes of sprinkles this morning.
73 miles today. 105 miles total.
Thursday, March 22, 2012
36 degrees at 6:30am in Astoria. Forecast: high today of 46.

Downtown Astoria with Historic Salmon Can Trash Cans
I started riding to Ft. Clatsop. I cross under the Megler Bridge, built in the 1960s and which carries U.S. Route 101 from Washington state over the Columbia River into Astoria, Oregon. I biked across this bridge in the summer of 1979 - more than 32 years ago !!! I still have memories of the large shark jaw expansion joints on the bridge. I take Marine Blvd and old route 101 south and west from Astoria to Ft. Clatsop.

Map of the Columbia River and Associated Bays as it Reaches the Pacific
To give you an idea of the size of the mouth of the Columbia River, think huge.
Lewis and Clark had a devilish time once they got near the mouth of the Columbia. They spent three weeks on the Washington shore before moving to the more protected south shore.
Between November 10th and 16th, they camp in "The Dismal Nitch", east of Point Ellice and just east of where the Mengler Rte 101 Bridge lands in Washington state. They are constantly facing strong winds rain, crashing waves, floating logs smashing anything they leave on the shore (like canoes), and rising tides invading camp and floating away canoes.

On November 15th, a mid-afternoon lull in the wind allows them to canoe with their supplies to "Station Camp," on the west side of Point Ellice and just west of the Mengler Rte 101 bridge. They stay here for ten days exploring Cape Disappointment and the Mouth of the Columbia and evaluating the supply of game. While Station Camp is more protected, it continues to rain. The men are so wet for so long that their clothes and bedding start to rot.
Some Clatsop indian from the south shore visit the Expedition at Station Camp and tell of abundant elk and sheltered waters. On December 7th, Lewis checks out the Oregon side, and finds a suitable spot to over winter. He returns to Station Camp, discusses the options with expedition members, and allows the company, including York and Sakakawea, to vote. The expedition moves to the south shore and starts building Fort Clatsop.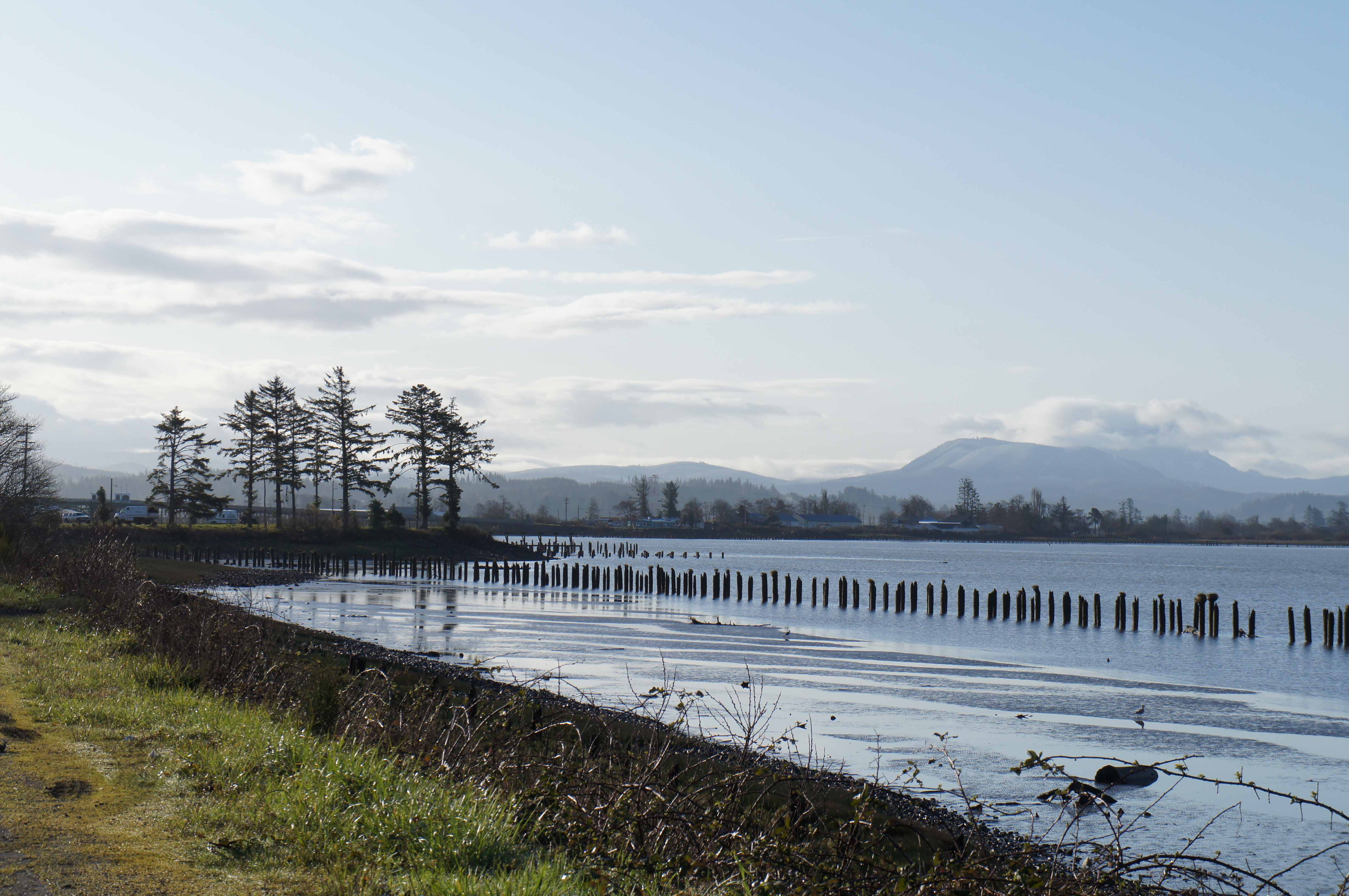 Pilings along Youngs Bay and the Lewis and Clark River, on the way to Ft. Clatsop
Riding across the south shore of the Columbia, I pass lush marshes and numerous sets of wood pilings in the river on the way out. The pilings were used to hold and sort massive log rafts for the mills and ships.
You can see how the marshy estuaries of the Oregon side of the Columbia offer more protection from the waves and wind than the Washington side.
Fort Clatsop Landing
I visit Fort Clatsop and the visitor center. The park is now operated as the Lewis and Clark National and State Historical Parks, and covers Cape Disappointment on the Washington side, Fort Clatsop on the Oregon side, Seaside, OR, the location of the salt works, and Canon Beach, OR, where expedition members inspected a big whale that came ashore. I even get some sun today !


Pacific Ocean at Seaside, OR Looking Towards Tillamook Head
I bike to Seaside, mostly in the sun, where, of course, I walk out and touch the Pacific Ocean. To the south is Tillamook Head, which expedition members hiked over to see the famous beached whale and trade for whale blubber.
Just south of Tillamook Head is Oswald West State Park and Manzanita - where I first camped in an old growth forest. I pitched my lean-to with one open side against a huge old tree and I stacked wood on the other open side to stay dry one rainy summer evening in 1979.
I am not done yet crossing the country, but I can't help but think about the long and big circle of life - literally and figuratively.

Bike at Rest On the Pacific Shore!
Riding back to Astoria, I begin saying my good byes to the Pacific Northwest, as I contemplate finishing the western part of my cross country bike trip. I feel a little sadness and gladness - all the beautiful countryside I've gotten to see, all the people I have met, all my rescuers, all the history and geography I have been able to connect up, all the good and bad weather, and all the challenges I never would have imagined figuring out. It's all good, and I'm not finished yet. Smile.
I return to Astoria via the currently designated route 101 and route 101 causeway/bridge.

I find a place to get a beer and a good newspaper - a coffee shop that gets, seemingly, the one copy of the NYTimes in Astoria and sells beer !!!! I stop by the bus station. No need to box the bike from Astoria to Portland; a box is only required beyond Portland! That simplifies logistics.
Originally, I had wanted to bike out to Cape Disappointment on the Washington State side, but I did not have time for the 40 mile round trip. There are supposed to be some nice views out there. Next time. I walk around Astoria's reviving downtown. filling up with funky places in older buildings. People and businesses are also returning to the waterfront. I regret that I don't have time to wander with my camera along the shore on an extended "piling" tour of the old canneries and piers.
Lewis and Clark started their trip back east on March 23, 1806. Given the rain and damp, I can see why they would be anxious to start back.
41 miles today. 146 miles total.
Friday, March 23, 2012
Megler Bridge Crossing the Columbia River at Astoria, OR
I get up well before first light, gear up, turn my bike safety lights on blink, and bike down to and north across the Route 101 (Megler) Bridge to Washington state. Dark, foggy, you can hear the wind and feel the faint glow of lights from Astoria at your back. You also appreciate how high the bridge gets to allow ocean bound freighters in and out. The northern end of the crossing is low and hugs the water. The expansion joints don't seem to be as big as I remember. I am back at the hotel before sunrise; I didn't want to tangle with traffic later. Riding the bridge, which is more than 4 miles from end to end, imprints the immense size of the mouth of the Columbia in your memory.

I board the 8:15 am bus back to Portland; it travels inland via Route 26. Four inches of fresh snow covers the high passes; the conifers are covered in powder. Fortunately, the snow stayed in the Willamette River Valley and surrounding highlands on Wednesday night and Thursday; I missed it by sticking to the River on my bike.
One of my fellow passengers is a lady, soon to be Kung Fu Master. She is loud.
Once back in Portland, I USPS-Flat-Rate-Box half of my stuff back to D.C.

Mike B., a friend from DC currently living in Portland, meets me. We explore some of downtown that afternoon and have a Thai lunch in Pearl District. I return to the hotel for a nap. Later, I meet Susan and Mike for happy hour on a Burnside Avenue bar and then have a retro-lumberjack dinner down the street.
10 miles today. 156 miles total.

Saturday, March 24, 2012
I'm up early and run a loop that includes the Steel Bridge, Hawthorne Bridge, and the west and east Willamette shores. It's sunny today!
Lewis and Clark missed the Willamette on their travels down the Columbia because Sauvie Island hides its entrance into the Columbia. They almost missed it on the way back home. Luckily, some indians told them of the river (the indians called it "Multnomah"), and they back tracked a short distance to explore it.
I start my Portland Bridge photo tour with the Broadway Bridge, then meet Mike, Susan, and Kevin at "Saturday Market"; we eat, walk, and talk.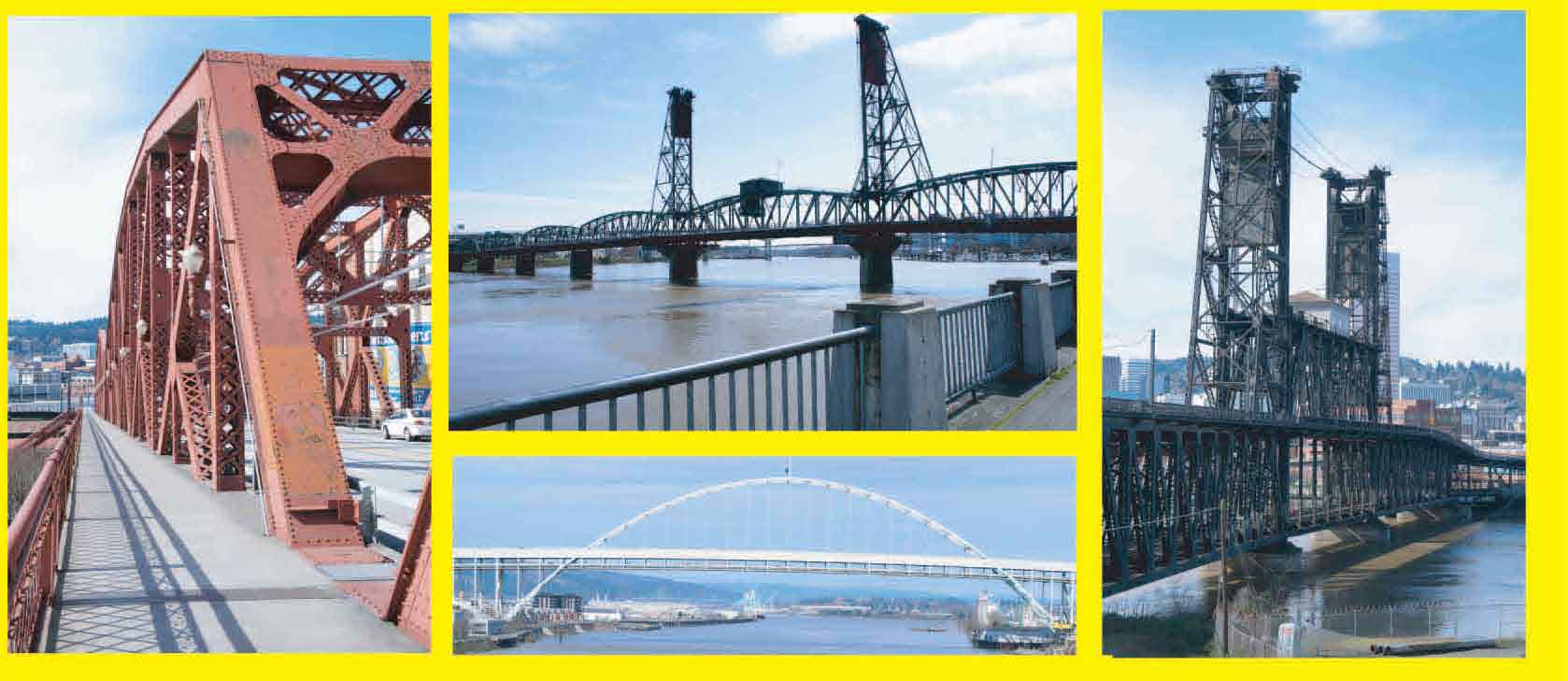 Some of Portland's Bridges

Portland's Saturday Market


My favorite Portlandians
We finish our bridge walk and photo tour and head to Couch and 10th for various bourbon cocktails. It's been a sunny, pleasant day, and the cherry trees along the river are blooming. I break for nap. I rejoin Mike, Kevin, and Susan for dinner at German Restaurant way south of the Ross Island Bridge. I also meet Jenna, Nick, and Toby. I head back early.
Note: Mike, Kevin, and Susan are great hosts and fun to hang with !

Sunday, March 25, 2012
I catch the first Max train at 4:13 am to the Airport. A 6 am departure, First Class, to Dallas and BWI. B30 bus to Greenbelt, subway to Pentagon City, cab home. Arrive about 7pm.

It is warm and very green back here in the east.

Now, all I have left is a 200 mile gap in North Dakota, and a 200 mile gap between Kansas City and Jefferson City, MO, and I will have ridden the entire length of the Lewis and Clark Trail!

Oh, yeah. I pulled a ligament that runs over my left knee in January 2012. I have been in physical therapy for 6 weeks. I kinda forgot to tell my PT person about this trip. I came back with no more pain than I started with, though it took 3 more months of PT before it stopped bothering me. I personnally believe, though, that my when my knee complains is not related to anything that I do. I just does or doesn't.

And of course, my knee still gives me problems today.
---
Last Update: March 16, 2013