Delmarva
---
Stevensville, MD to Queenstown, MD and Return

December 31, 2013

22.5 miles


I am able to leave work at noon today, as it was New Year's Eve, and drive to Terrapin Beach Park, on the western edge of Kent Island. I change into my riding clothes and ride out to the beach.

It was sunny when I started biking at 2pm, with a strong wind from the west. The high winds have pushed the water up, so it is lapping high up on the beachs and bulkheads and licking at the bottom of docks. It is warmer than it has been the last few weeks - in the low 40s - so it is very pleasant biking weather.

I follow the Cross Island trail to the east side of Kent Island. It must be an old railroad right of way, as long parts of it are straight, but it suffers from "planners accommodations" in places; some sections havve been bent around, turned, and pushed out to the edge of approved development plans. Of course the worst stretch of sharp turns, mandatory stops, multiple driveway crossings and diversions is through the county park and high school!

The untouched sections are beautiful, though, through wet low lying pine and holly forests. The bridges offer views of the rivers and marshes that work their way deep into the island.

Once off Kent Island and on the Eastern Shore proper, my route follows Rte. 18 through Garrisonville, a sizeable old community tucked away in a quiet pocket south and east of Rte. 50.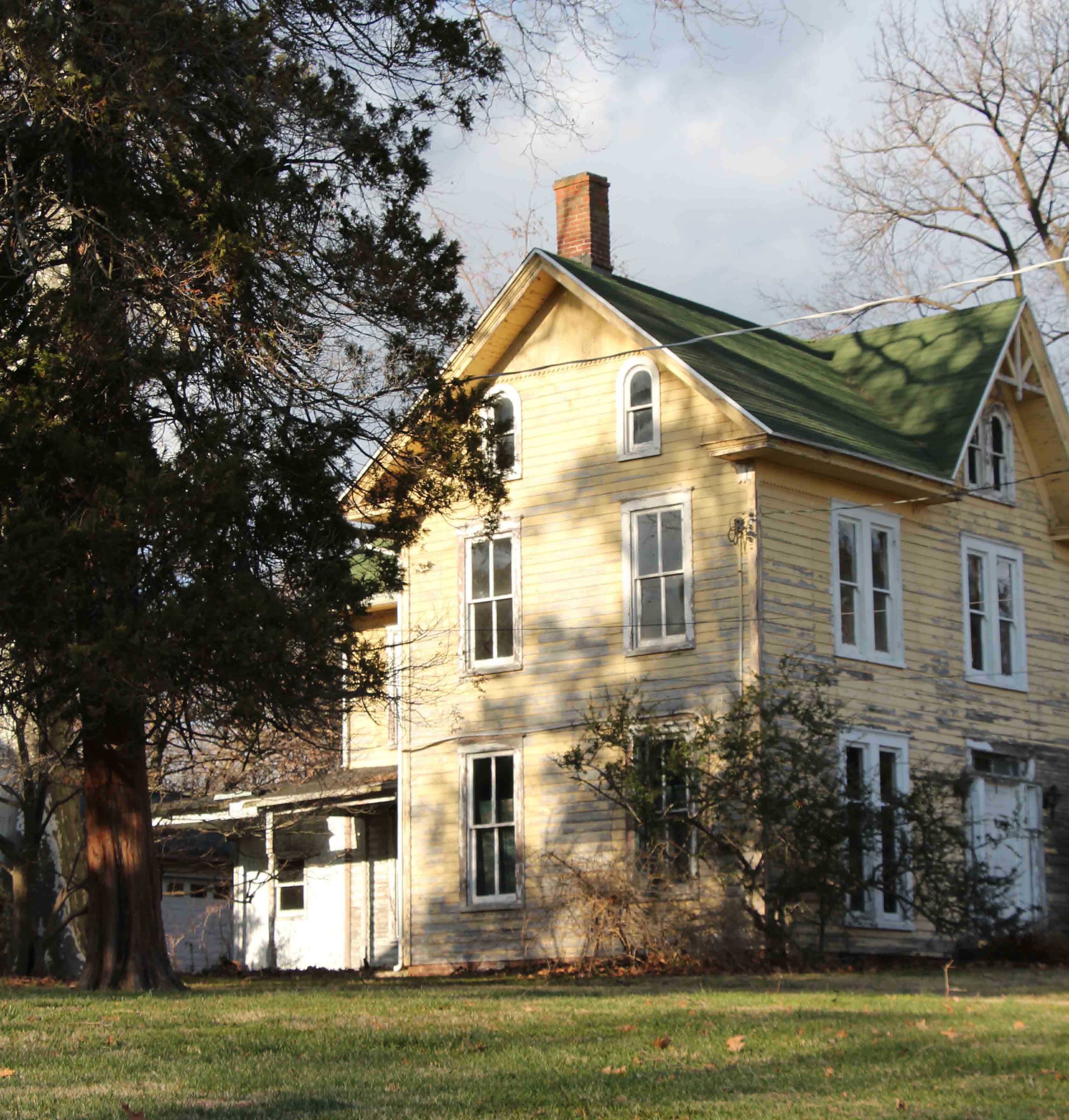 Old house in Queenstown, MD.
I arrive in Queenstown about 3PM, take a few shots with my camera, and head back east.

Little Cove South of Queenstown, MD.

Though there is a stiff westerly wind, the closeness of the forest to the road blocks most of it.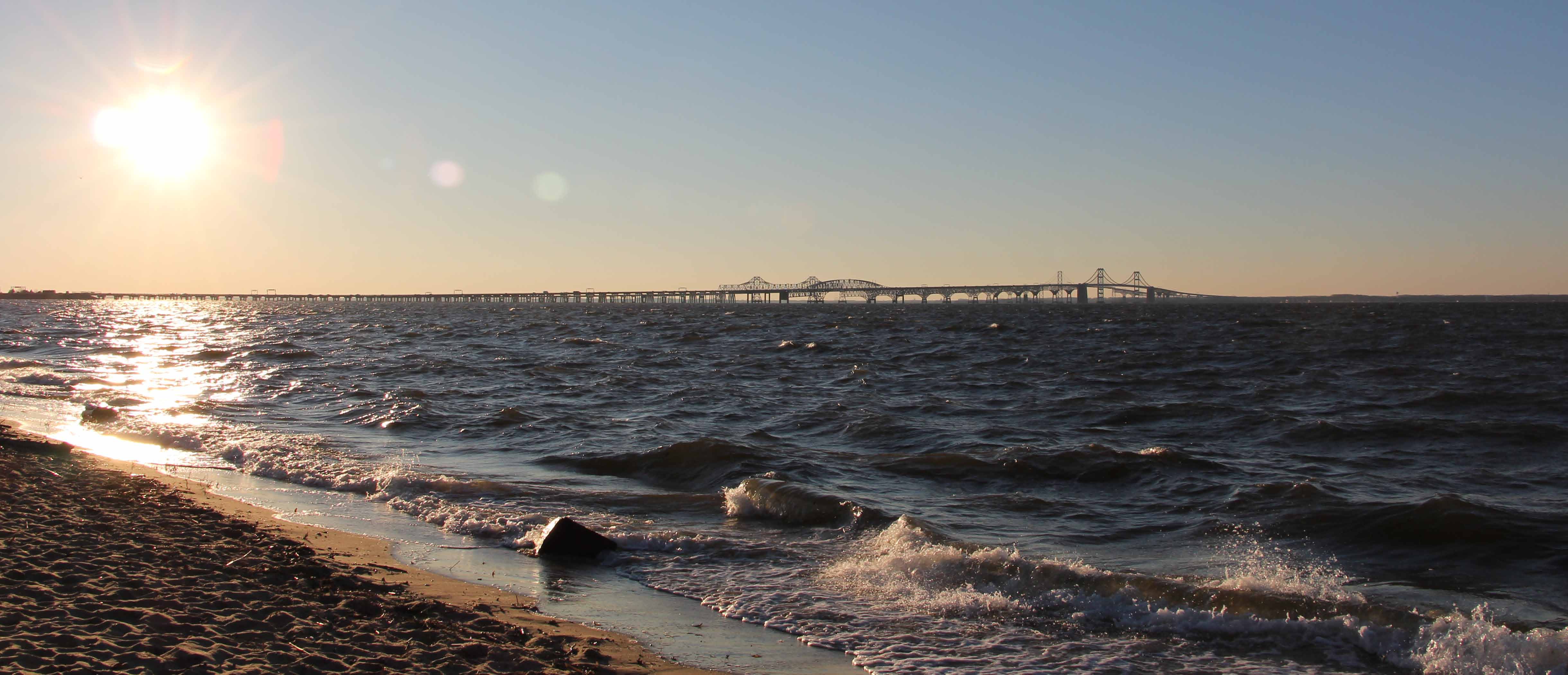 Almost Sunset, Chesapeake Bay Bridge from Terrapin Beach, Kent Island, MD.
This was a nice way to bring 2013 to a close. Time in the sun during these short winter days. Time outdoors during a cold fall and winter that has kept us inside more than usual. It was an easy, flat, pine and bay scented, mostly sunny ride that completes my Delmarva crossings.

So, I did it. This year, I have been focused on riding across Delmarva from here to Rehobeth Beach, and riding from Kennett Square and Wilmington to Rehobeth Beach. I started with a trip or two this spring from Queenstown, then one opportunitistic trip this summer - Rehobeth to Denton, and one planned trip this fall - Wilmington to Dover, and finally a frenzy of "gap filling" activity at year's end.
---
Queenstown, MD to Chestertown, MD and Return
With John P.
April 28, 2013
51 miles
I remember this as a nice spring day and a pleasant ride with John up to Chestertown, with some time to walk along High Street in Chestertown and check out it's waterfront. He was interested in a bike ride somewhere. I needed to get in some training miles to prepare for my Louisville to St. Louis trip in May, and John is a strong rider. There was a fairly strong wind coming from the north so the ride back was easier than the ride to Chestertown.
---
North Queenstown, Greensboro, Goldsboro, MD Loop
May 12, 2013
50 miles out and back
This Sunday ride served as a training ride for my upcoming Louisville to St. Louis ride as well as helped me piece together a cross-delmarva route. It was cool and sunny. A strong WNW wind meant I faced some pretty good headwinds biking west from Goldboro back to the Centreville area.
---
Rehobeth to Denton, DE
With help from Bob W., Rob R. and Gary M., and John S. and Jeff.
July 4, 2013
61 miles
Can you tell the logistics of some of these trips are complicated, as I piece together short bike trips to make a longer connection? It takes a village. Here goes: There is a party July 4th evening at Rehobeth Beach at Gary and Rob's house. (Thank you for the invitation Gary and Rob !) I drive down to Rehobeth early in the morning of July 4th, drop and lock my bike on Rehobeth Avenue, and drive back to the Dunkin Donuts in Denton, MD and park my truck there. Bob W., who is driving out from DC to the beach for the party, picks me up at the Dunkin Donuts. He drives me back to Rehobeth, where I pick up my bike, and, at 1pm, start riding back to Denton.
My route is via the bike path to Lewes, Rte. 9 to Milton, north to Milford, west to Greensboro (the west side of the river just 1/4 mile short of the May 2013 Greensboro/Goldsboro loop) and then south for 8 miles to Denton and my truck.
Then I drive back to Rehobeth Beach for the big 4th of July party and celebration. I am obviously in a good mood after good ride, particularly since the party and the fireworks were so nice.
Thanks Bob W., for the transportation help, Gary and Rob for the great party, and John and Jeff for the wonderful accommodations.
Strong westerly headwind. Sunny afternoon. It was hot but didn't feel hot because of the breeze.
---
Wilmington to Dover, DE
November 09 and 10, 2013
Riding with Richard S., and assistance from Dave B. and Vince G.
60 miles
Friday, November 8, 2013: Pick Up Richard's bike; from Capital Hill, leave Washington D.C. at 2pm, arrive Wilmington 5pm. Meet Dave B. who generously agreed to provide bike storage and accommodations on very short notice. Drive down to Milford, DE to leave truck and pick up bus back to Wilmington. Mis-read bus schedule and missed last bus from Milford or Dover back to Wilmington. Text to Dave's landline (whoops!)about change of plans,I will overnight in Dover, DE., and take the first bus to Wilmington in the morning.
My mis-directed text and "no show" in Wilmington Friday night causes some concern.
Saturday, November 9, 2013: Richard arrives in Wilmington, DE via Amtrak at 9 am. I arrive in Wilmington, DE via DART First State bus at 10:45am. Arrive at Dave's at 11:00am, but miss Dave. Retrieve bikes and pack. Depart Dave's at 11:45am.
Bike through downtown Wilmington, then, via Delaware Rte 9, on to New Castle, first capital of Delaware. Lunch and tour New Castle - very pleasant place and "undiscovered". Photo shoot for "scrooge" in New Castle.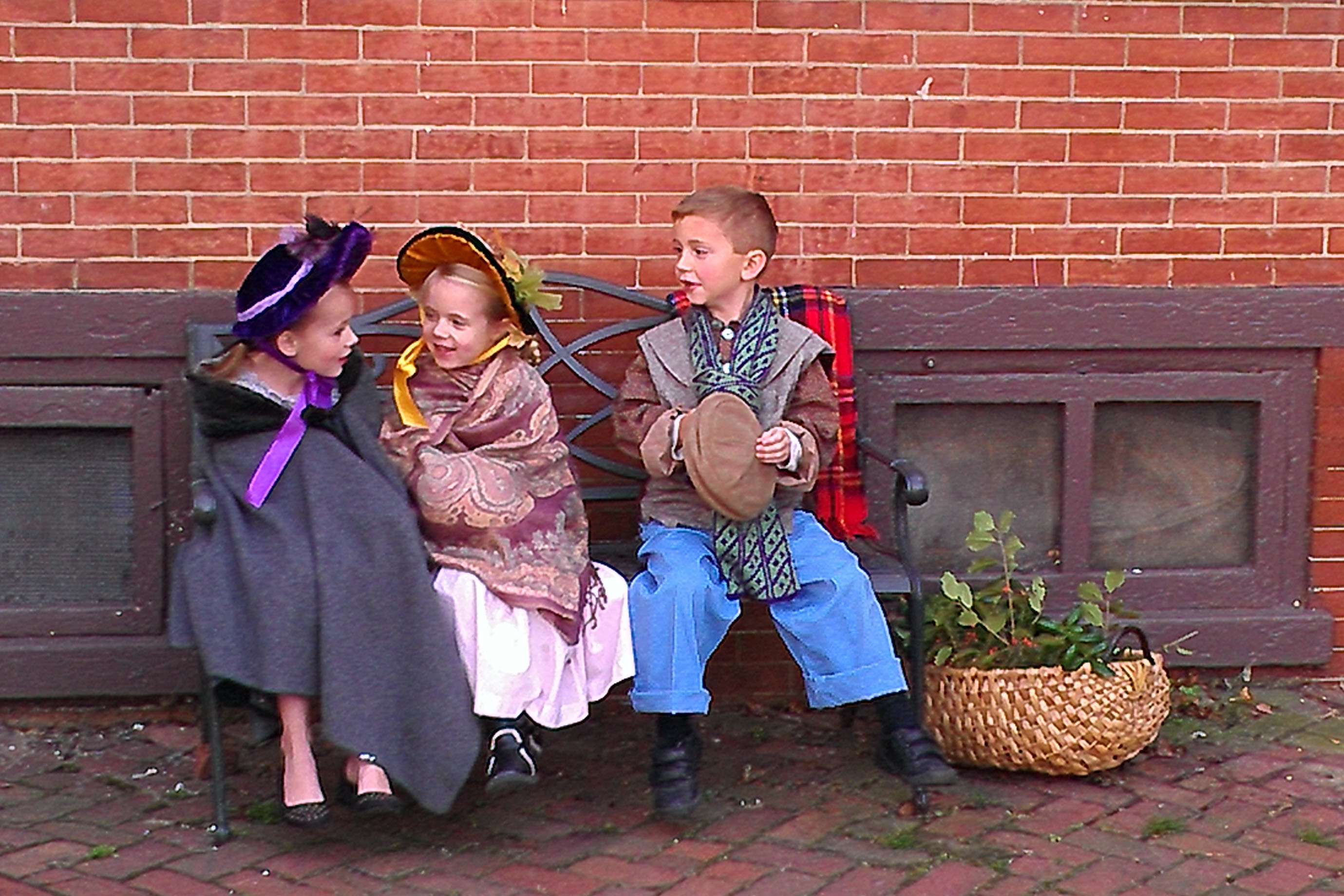 Ride south to Delaware City. Slight headwind, but sunny. Ride over high level bridge over Chesapeake and Delaware Canal - beautiful vista - at 3PM. Time to start thinking of alternatives to finishing in Dover today.
Below Delaware City, very little traffic and Rte 9 travels between estuaries and over long stretches of marsh, sometimes barely above water level (one time not). Commuter traffic and suburban patches are gone.
Southeast of Odessa, at 4:30 pm, initiate Plan C. Divert from Rte 9 at Taylor's Bridge, and ride to Smyrna and overnight there. Sun sets at 5:00pm; it's dark by 5:20pm. We traverse nice quiet farm country and marsh. 1/2 moon is out tonight. The last 1/2 hour into Dover was dark, with slightly stronger winds, and chilly. Nabbed by an unseen hole at the unseen end of the shoulder. Nice dinner, then off to the Best Western. 40 miles today, 40 miles total. New Castle and Rte 9 below Delaware City are spectacular.
Sunday, November 10, 2013: Up and out at 8:45am. Beautiful clear blue sky. Ride Smyrna- Leipsic Road back to Rte 9 and Leipsic.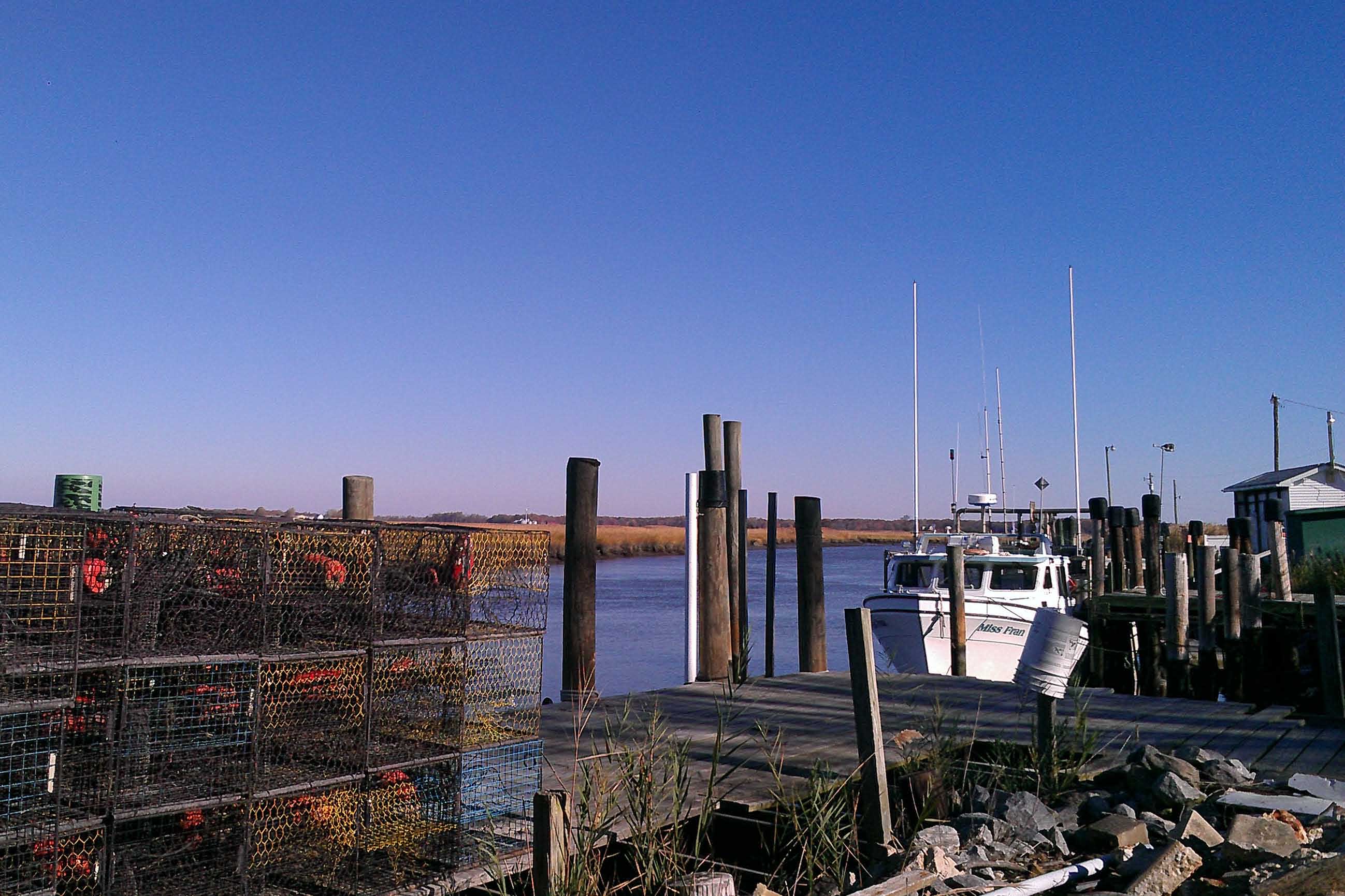 Leipsic is a wonderful 6 block fishing town with docks, boats, crab pots on docks, and old clapboard houses. Continue on Rte 9 south to Long Creek - farm land and low marshes. Cross wind blows from the west, which becomes bothersome when we turn west on S. Little Creek Road for the last 6 miles into Dover. Arrive Dover Transit Center at 11:30am. 20 miles today. 60 miles total.
Pack bikes in the truck, drive to Lewes, DE for lunch with Vince G., and head back to D.C.
Sadly much of this beautiful road we travelled will probably not be here in 20 years. It is barely above water level at this time, and it is hard to believe that the road will still be passable, or guess what form the surrounding marshes and the estuaries will look like as they migrate up or disappear, because of rising sea levels.
---
Season's Greetings
Milford, DE to Dover, DE and return
With help from Santa Claus
Wednesday, December 25, 2013
41 miles
I arrive in Milford, DE from Washington about 7:00am, pull my bike out of the back of the truck and am riding at 7:10am, just as the sun rises. It is 24 degrees this morning and it won't get above 29 degrees the whole day. It is sunny and clear.
I have multiple layers on, including two pairs of wool socks, ski pants, wind jacket, wool gator, a wool cap, and good gloves. There is very little traffic and no headwind or tailwind. I ride the shoulder of Rte 1 all the way up (20 miles) to Dover. All is good. I feel comfortable and relaxed riding. No incidents along the way to Dover, though my feet are starting to feel a little cold just as I arrive.
I stop at the Royal Farms store in Dover to get some coffee and warm up...only to discover I have left my wallet back in the truck. The lady at the counter says it's OK for me to stay in the store and warm up a little bit. I find, though, that my feet are much colder than I had known. I ask if it is OK to sit down by the newspaper rack for a while to thaw out. I take off my biking shoes to give my toes some wiggle room. My feet and toes are pretty stiff. I take one set of socks off and start gently rubbing my feet. I take the final sock off my left foot and put my hand on it. Cold ! I alternately cup my hands around parts of it to warm it and gently move it back and forth to encourage circulation. After 20 minutes, though still cool, it is mostly warmed, so I re-sock it and and start the same slow warming process on my right foot.
Somewhere between my right foot and my left foot, a crisply dressed man in a red shirt and khaki pants walks into the store. He notices me sitting next to the newspaper rack. My wind jacket, socks, and gator lie on the floor beside me. I have one foot cradled in my hands.
"Would you like a cup of hot coffee young man...??" he asks.
"Why yes..." I say hesitantly. And I'm thinking I'm not poor and homeless, I'm just...err...stupid...to have left my wallet...
"Would you like some cream in that...??" he asks.
"Why yes..." I say. Asking myself if I should be accepting charity for being absent minded...
"I remember how tough it was when I got here six years ago, and had to travel by bike. Here you go..." as he hands me an extra large cup of coffee...
"Thanks very much," I say... as walks out the door with his coffee.
It takes another twenty minutes for me to warm up my right foot, in part by drinking hot coffee and by holding that warm coffee cup against it. I re-shoe, hop back on my bike and have a pleasant and uneventful ride back, looking forward to an afternoon and evening with good friends and good food.
Seasons Greeting !!
---
Saturday, December 28, 2013 Wilmington, DE to Kennett Square, PA
28 miles
Also stopped in Greenboro, MD on the return home to bike the 1/2 gap between the west and east sides of the Choptank River.
This was the Delmarva "gap" that was the furthest from my home in Arlington, VA and part of a 3 gap finishing frenzy at the end of December 2013. It connected my ride from Philadelphia to Baltimore that I did in 2007 with my Wilmington to Dover trip in early November of this year.
As usual, I started driving up to Wilmington before sunrise, and parked near Cool Spring Park in Wilmington. I pulled my bike out of the back of the truck, suited up, and headed west on Pennsylvania Avenue through Dover. Pennsylvania Avenue turns into Kennett Pike, passes Winterthur, crosses the Pennsylvania state line and intersects with Rte. 1 at a little community just east of Longwood Gardens. Learning about Wilmington has been a treat for me these last 2 months, as it has been, up to this point, a drive through community for me. I have always been on, and stayed on, I-95 or I-295 as I pass through Wilmington on my way to Philadelphia and points north. My trip here in November gave me my first taste of the nice old neighborhoods of substantial row houses and homes up hill and northwest of downtown.
Once west of the "mid-town" commercial hub, the lots fronting Pennsylvania Avenue increase dramatically in size, sporting large mansions set far back from the street and prestigious looking school campuses. West of the city line, significant efforts have been may to protect and beautify the right of way as you pass the last few commercial properties. Then it is wooded large lot neighborhoods, and rolling and well-tended pastures, and scrubbed up small "Main Street" towns. The share of forests and pasture increase as you head west past Winterthur.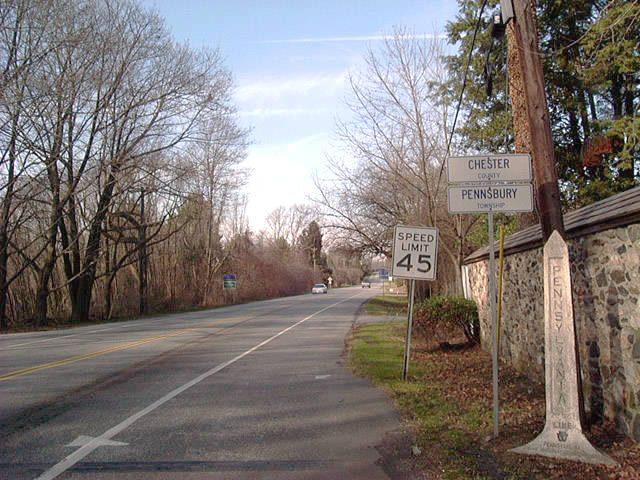 Kenneth Pike Greenway at the Pennsylvania Line
It's a nice corridor, designated as the "Kenneth Pike Greenway", and is a National Scenic Byway. Folks have worked hard to protect it and enhance it.

Then of course you hit Rte. 1 in Pennsylvania. You join where a four lane divided Rte. 1 has been squeezed through an old town's main street. Just west of Longwood Gardens, the state has recently widened Rte. 1 to six lanes with asphalt up to the new jersey berm center line (this seems an odd design choice for the eastern entrance to Longwood Gardens, a major state tourist attraction).
I make a quick turn off of Rte 1. onto Longwood Road, which returns me to a quiet two lane rural highway that skirts the Gardens and provide some relaxing riding. After a left on N Walnut and a few hills and mushroom farms, I arrive in downtown Kennett Square, a historic and commercial district. I go a few blocks extra east and west to get a feel for the place, and then head south on Union Street, Rte. 82, back toward Wilmington.
The tempurature this morning starts in the mid to high 30's and creeps up to the mid 40's by the end of the morning. It is sunny. Excellent riding weather.
I turn off Rte. 82 onto Old Kennett Pike crossing through rolling fields, woods, over multiple streams and by many farm ponds for several miles before rejoining Kennett Pike at Winterthur. I return to Cool Springs Park in Wilmington via my outbound route.
Riding seemed harder than usually today for what I was crossing; my bike needed some fresh oil. I drove home, via the north end of downtown, and a short detour through a neighborhood of short simple rowhouses east of downtown, Just to check out a little bit more of Wilmington.
---
Composite Map of Delmarva Rides
test