Houston to Vanderpool, TX
---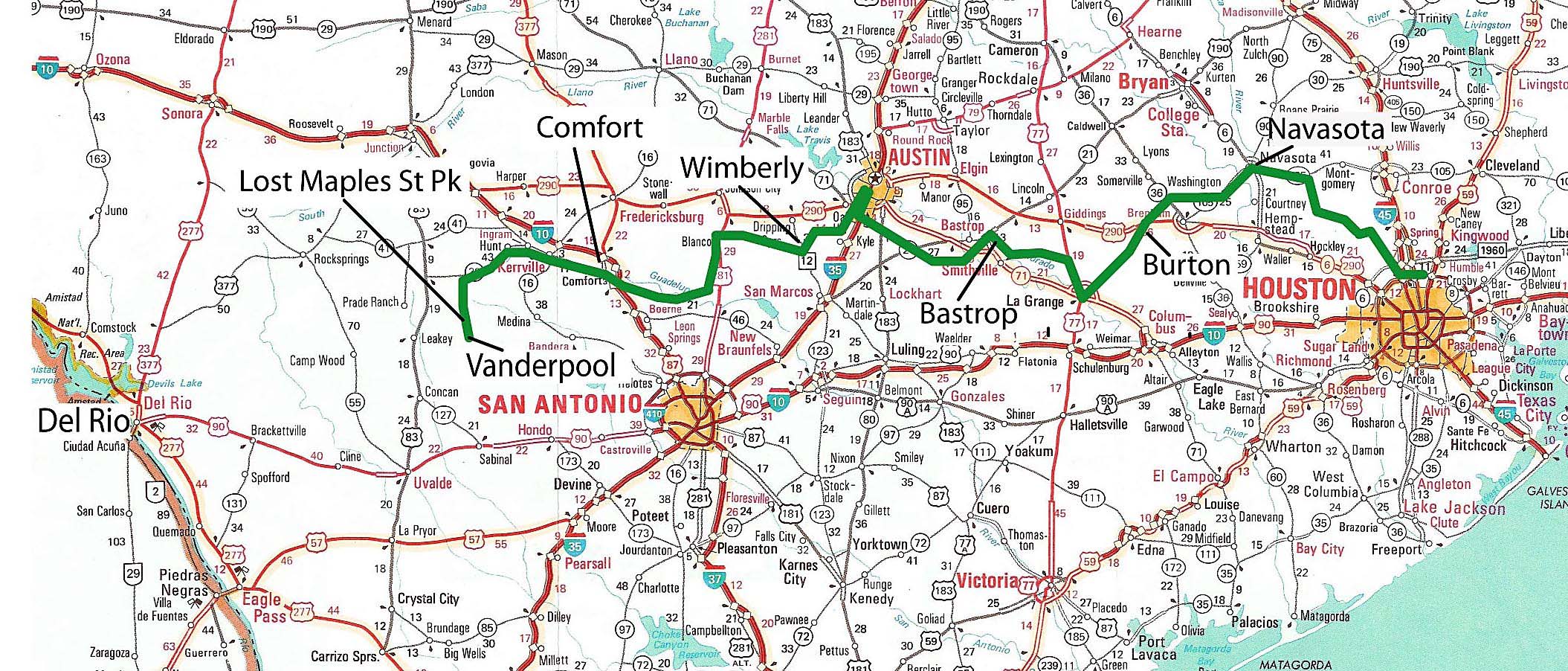 ---
Trip # 13 - Deep in the Heart (Heat, Hills, and Headwinds) of Texas
April 4 - 10, 2006
397 miles
My goal this trip was to see the wildflowers of east Texas and visit with my brother in Del Rio, Texas.
Tuesday, April 4, 2006
I hopped on a plane at Washington National and landed in Houston a little after noon. I unboxed and re-assembled my bike at the airport terminal and started riding north and west toward Navasota -- the starting point of Section 4 of the Adventure Cycling Association's Southern Route across Texas.

The ride out of Houston was flat and the roads were good. It was warm. Suburban Houston goes on and on. I didn't really see much open country until I was 30 miles out from the airport, which itself is a good distance from downtown Houston. I got a great

Adventure Cut in Tomball for $10; I got my hair cut unusually short. I had a large and tasty BBQ dinner in Magnolia, and reached Navasota well after dark.

I couldn't find the city RV park, but the folks at the VFW hall were kind enough to let me clean up in their bathroom during their Bingo night. A policeman directing traffic after Bingo ended gave me directions to the RV Park, which was a 1/2 mile down the road. I slept out under the stars. 66 miles.
Wednesday, April 5, 2006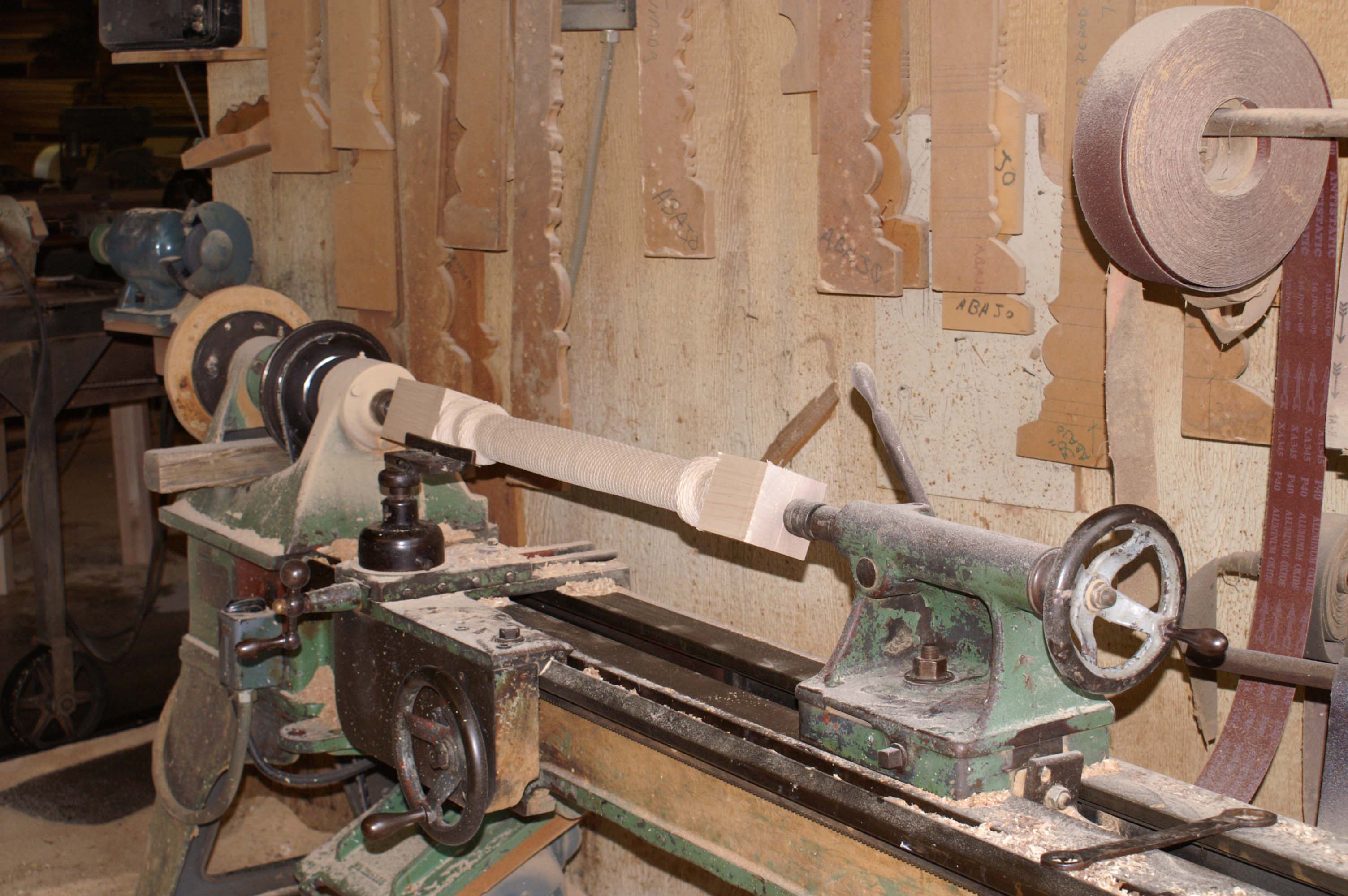 After waking and loading the bike, I rode back into Navasota for breakfast and to look around. It was the first of many small, quaint old rural towns I would see on the trip. The old main street along the railroad (about a block and a half long) had a woodcrafting operation in an large old stone building. I wandered around the old lathes, saws, patterns and sawdust, and learned a little about how balustrade spindles and gingerbread are custom made for all the old (and new) Victorian homes in east Texas.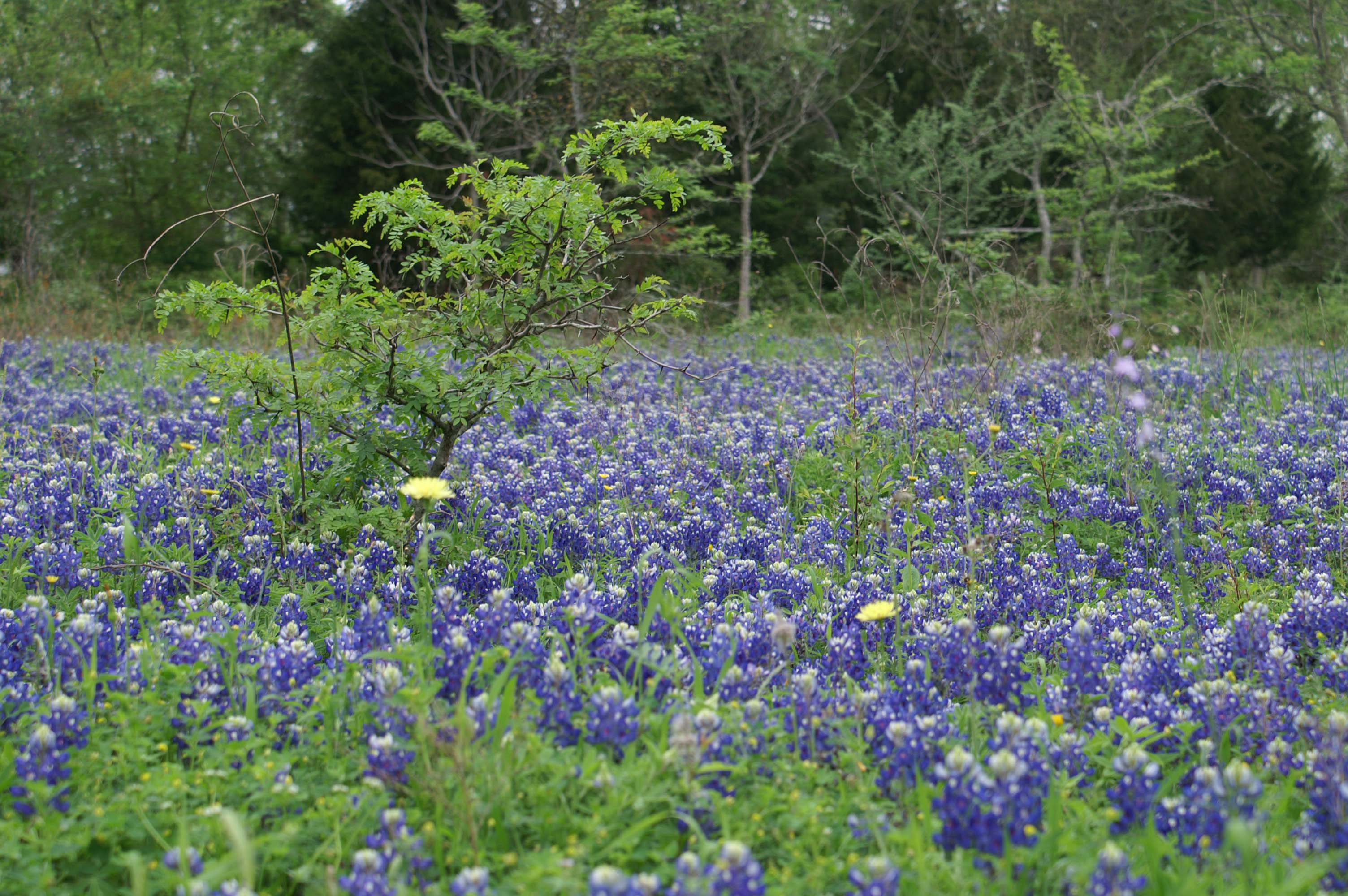 My first stop today was Washington-on-the-Brazos State Park where Texas declared independence from Mexico in 1835. I toured a reconstruction of "Independence Hall". The tour guide's daugher, son-in-law, and kids were on the tour. My first spotting of a nice patch of Texas Bluebonnets was right outside of Washington-on-the-Brazos.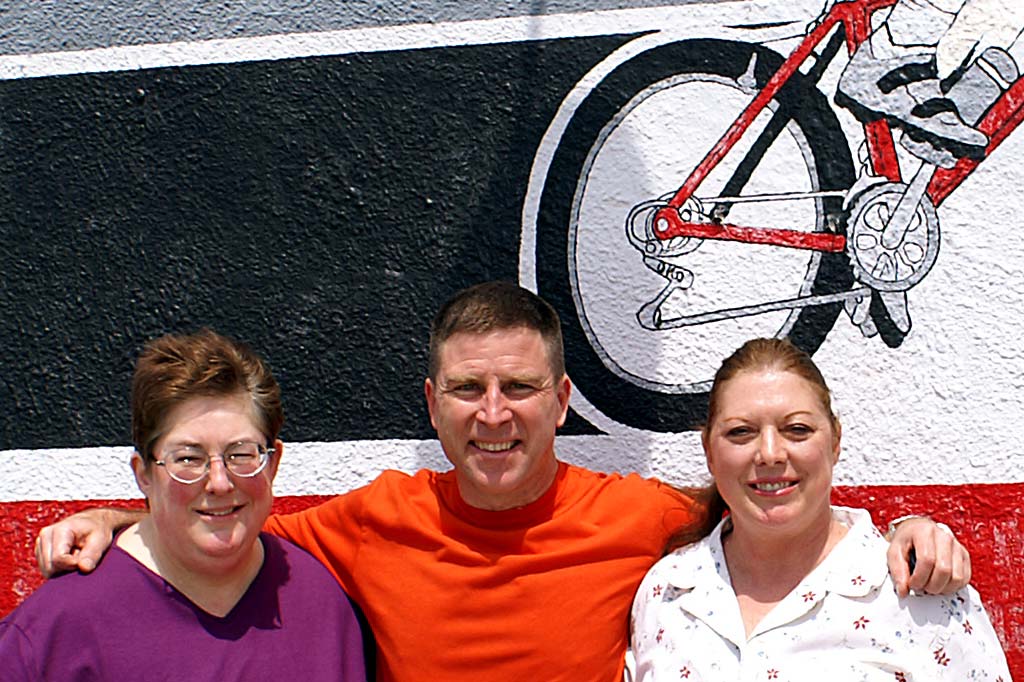 My next stop was on top of a fire ant hill near William Penn. I finally learned about fire ants! I stopped because my rear wheel was breaking spokes and beginning to wobble. My bike route map indicated Houston or Austin were the closest bike shops; my back wheel wasn't going to last that long. No sooner had I pulled my wheel off the bike, stashed my bike and gear in the bushes, and walked out onto the road, than my rescuers Sandy and Betty showed up. What luck! A quick look at the telephone book in their car indicated that there was a bike shop 30 miles away in College Station. Sandy and Betty drove me there, and we shared a wonderful lunch while they were repairing my back wheel. The wheel wasn't ready after lunch, so we parted ways. But, a short time later, as I was coming back to pay for my repairs and reclaim my wheel, there were Sandy and Betty waiting in their car. Dang if they weren't nice enough to drive me back to where I had left my bike. Super heros.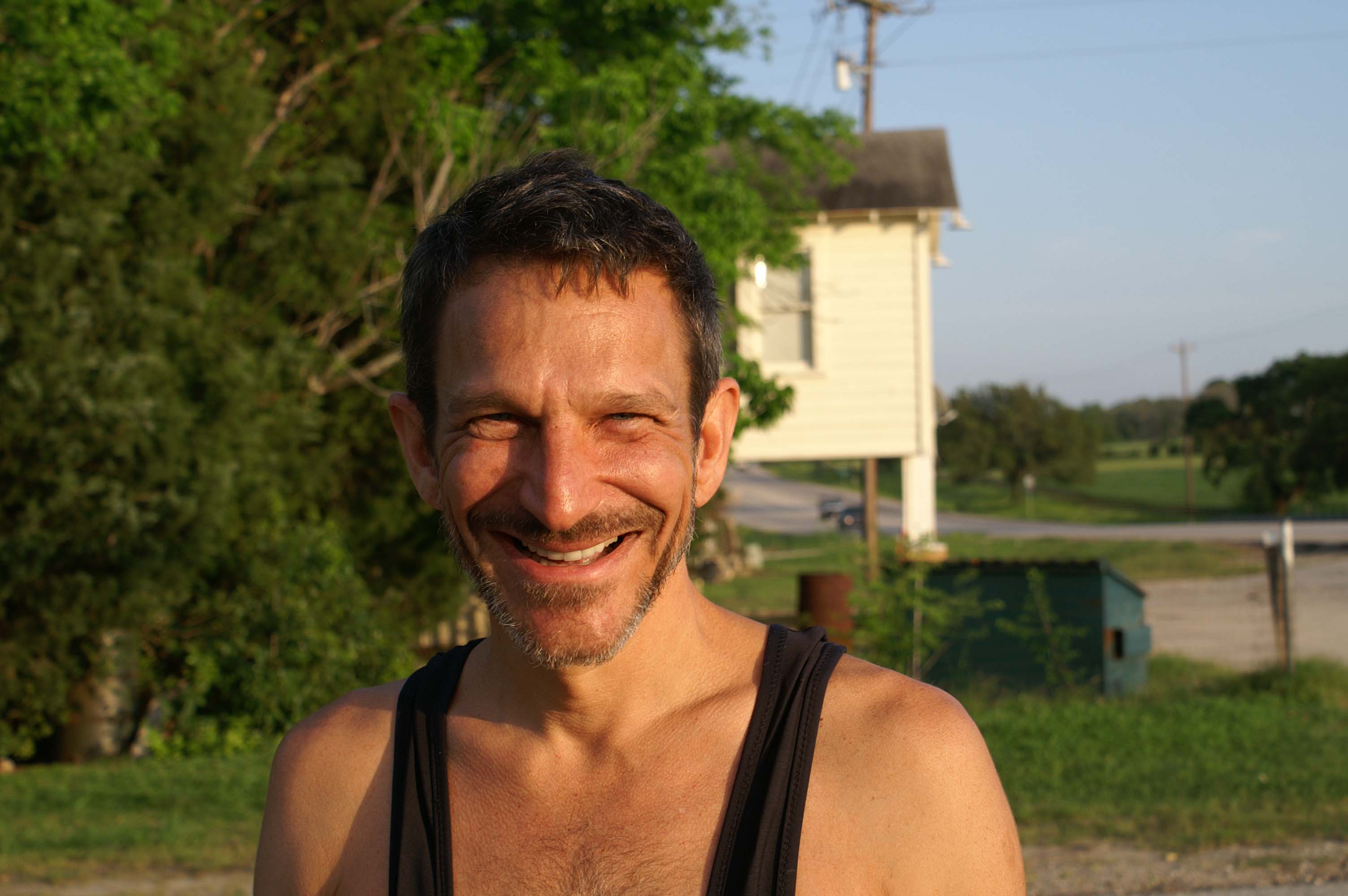 About 4 p.m., having only ridden about ten miles, I started riding west in earnest. I was passing through some gently rolling Texas farm land, with nice patches of bluebonnets. A recent transplant to College Station, Tony F., rode up along side and we biked and talked together for the next ten miles. It was a delightful distraction to have someone to bike with, and we swapped e-mail addresses when Tony had to turn back. I hope to see Tony again when he comes to D.C. in May and show him the great bike trails we have here.

I arrived in Burton, Texas after dark (again) only to find the B & B in town was full. Because of an antique festival, there weren't any rooms for 35 miles. Steve, the proprietor, generously offered five star accommodations for the evening though - a nice level patch of grass out back with a hose, access to a john, no fire ants and a great view of the stars. 42 miles.
Thursday, April 6, 2006
Wow. The diner in Burton has GREAT Buscuits and Gravy; I had two servings for breakfast. MMMM. After breakfast, I mailed my book (which I hated to do) and other unnecessary gear home from the Burton post office to lighten the load. Today was a nice ride through Texas farm country. but there was a fair amount of traffic on the road because of the spring antique festival. For about 30 miles, town squares, community halls, and farms hosted hundreds of vendors selling Texana - late 19th century farm and victorian pieces - and junk (I saw at least four STOP signs for sale). I felt like I had headwinds all day, except for a short section heading north from La Grange. I arrived at Buescher State Park and expected the park road to Bastrop State Park would be quiet and easy. It was quiet, but hilly, and I was a little wobbly myself -- I probably didn't eat enough -- and actually had to sit down for five minutes to end the dissyness. Arriving at Bastrop State Park campground was a great relief. Two beers and a good dinner at the Roadhouse Diner, about ten minutes from the campground, was a very gooooood thing. I set up my tent because there was talk of a line of thunderstorms and hail coming through, but slept in my bag on the picnic table and never had to retreat to the tent. 68 miles.
Friday, April 7, 2006
I headed into Austin today to get my camera battery recharged. It was an easy low-traffic ride through boggy country into Austin. I met a outbound bike racer training as I was heading in. Tony, on his return ride into Austin, paused, introduced himself, and we chatted for a while. He was impressed with my cross country biking and said that he would talk about meeting me and my trip all day. I was more impressed with his speed training.

Once in downtown Austin, recharging the camera battery turned out to be quite a challenge. I bought my camera at the Wolf Camera chain, and the battery charger I needed was out of stock at the Wolf Camera store I found. A nice sales clerk called other stores in the chain, and then competing stores. I offered him lunch if we could work out a solution to my predicament. Lucy, his fellow sales associate, was having none of this "helpful" stuff. After some tough negotiating, I finally worked out a deal with Lucy. I got to tap their electric outlet for a 90 minute with a loaner recharger for 20 bucks. (The battery charger, if it had been in stock, only cost $20.) Lucy wouldn't even let me buy the helpful clerk the lunch I had offerred. Tough lady; but I did get my battery recharged.

It was hot in Austin, so after the battery was taken care of, I wandered down to Town Lake Park and took a nap in the shade under a tree. About 3:30pm I headed out of town, much of the route along the Old San Antonio Road. At 5pm, Austin hit 95 degrees, tying the previous record high for the day.

North of Kyle, I started heading west through some pleasantly flat farm country as the sun started to set. Not a good time to ride. I couldn't see anything and no one coming from behind could see me. After a close call, I pulled over until the sun was behind the trees and I was visible again.

I arrived in Wimberly after dark. I had a little trouble finding the campground (the state highway sign pointed in the wrong direction). After unloading my bike, I walked to the old town square with some soap, contact lens solution, and a change of clothes. I found a nice bar with a band, and between drinks, I wandered to the restrooms to shave, clean up, change clothes, clean my contacts, etc. (I think the doormen thought I was using drugs repeatedly!). The music was good. Wimberly has a lot of character. I slept well. 79 miles.
Saturday, April 8, 2006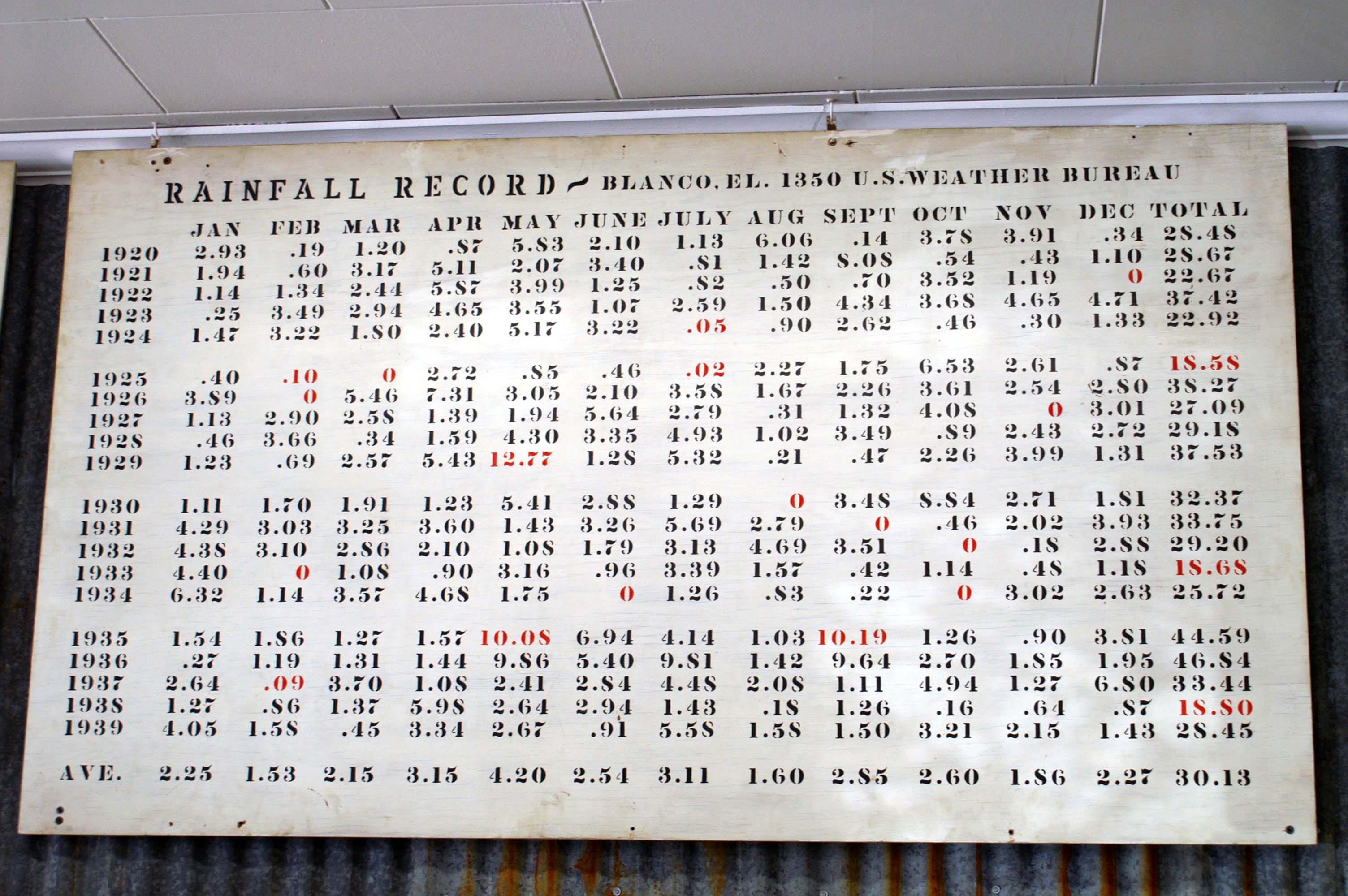 The first stop after Wimberly was Blanco. I ate lunch in a natural food store/cafe that had been the old hardware store. Painted on big boards in the store were 80 years of rainfall records. Interesting to see what was important.

I was again unusually tired (headwinds?? or just getting old??) so I found a shady spot in Blanco State Park next to the Blanco River and napped for a while.

Leaving Blanco, the route crosses over to the Guadelupe River watershed. The Guadelupe would be my friend and companion for the next day and a half. Southwest of Blanco, I ran into a group of 20 women who were biking from San Diego to St Augustine Florida. The all looked fit and comfortable chewing through the miles. The Guadelupe River is lined with cypress trees, climbs gently, and provides lots of shade. The route travels through green rolling pastures and is flanked with impressive looking horse farms. Not much traffic anywhere today.

I arrived in Comfort, Texas at the end of the day. It is a beautiful old Texas town, however all the rooms at the B & Bs were booked. and I couldn't find a campground nearby either. I finally wrangled a spot at an old hotel next to I-10 that was being rehabbed. For a few bucks, I got a shower and a sheet on the floor in a room under renovation. Not great, but I needed a place to rest. 66 miles.

Sunday, April 9, 2006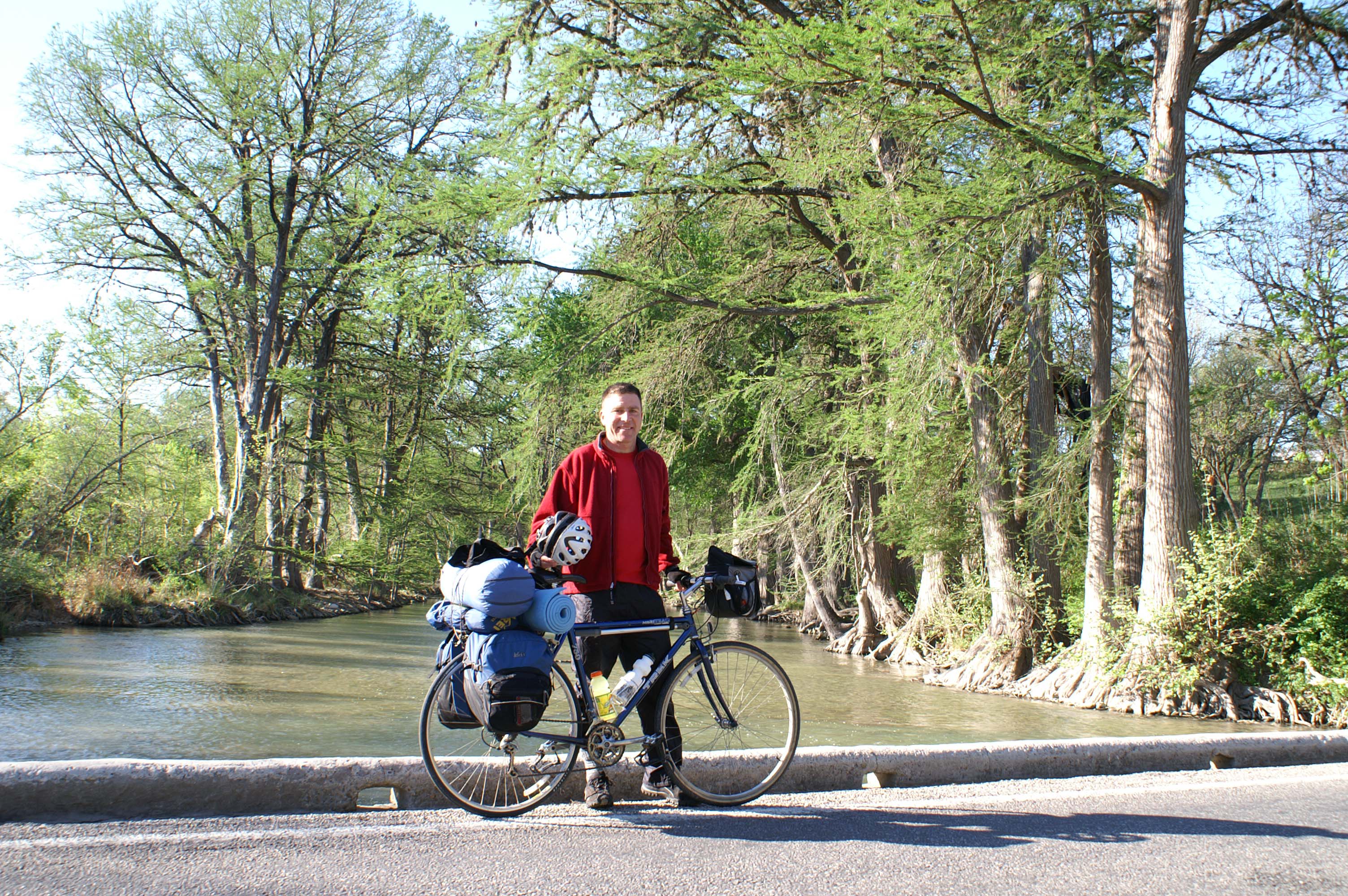 Today was Guadelupe River day. I left Comfort and followed the Guadelupe River to Kerrville, then continued along the Guadelupe (along a little stretch of retail sprawl) to Ingram. The strip commercial tapered off and the good scenery returned on the way to Hunt. After Ingram, there was very little traffic, and the route general followed the gentle climb of the river.

A picture on the eastern portion of the Guadelupe that the route followed.

A picture of the middle section of the Guadelupe River route.

A picture of the western section of the Guadelupe River.

At Hunt, the route turns to follow the South Fork of the Guadelupe to its headwaters. After a traversing a broad ridge,there is a wonderful and very steep descent to Lost Maples State Park.
Lost Maples is a rich green pocket of water and coolness tucked below the dry foothills/ridge between it and the Guadelupe River watershed. My ride today was a long, generally shaded, and gently uphill most of the day. I got a hot shower, and ate a bag of oatmeal cookies for dinner (I wasn't very well provisioned). I chatted with two folks from Monterrey, Mexico, who were teaching English there and spending some of their vacation exploring Texas. Slept well under the stars. 71.5 miles.
Monday, April 10, 2006
Up early, I rode the four miles to Vanderpool and start thumbing a ride to Del Rio. Either because of the headwinds, the hills, the repair-related delays, or just not being in good shape, I'm a day and a half behind my planned schedule. I also know now that my brother in Del Rio is ill, so I need to move quickly.

Well that didn't happen!

It took a long time just to catch a ride to Utopia - about ten miles. In Utopia, after sitting on the side of the road for more than an hour with a "Rte 90" sign, I wandered into a cafe for lunch. The folks at the table next to me graciously offered me a ride to Uvalde. From there I caught a bus to Del Rio.
Downtown Vanderpool in the a.m.

Unfortunately, my brother was not doing well when I got to Del Rio, so I didn't have much of a visit with him. Not a great ending to the trip. I dropped off my bike to have it boxed and shipped back and flew out the next morning early. 4 miles.
Rescuers
Thank you Sandy and Betty for picking me up, driving me to College Station, waiting for my back wheel to be repaired, and driving back to William Penn!!!!

Last Update: May 14 2006