Trip # 24
Down the Ohio River - Lewis and Clark's Travels in the East
Huntington, WV to Cincinnati, OH
June 1 to June 4, 2011
170 miles
---
---
Prologue
My last bike trip got me from Omaha, NE to Kansas City, MO leaving just a 100 mile gap between Portland, OR and Astoria, OR, and a 200 mile gap between Kansas City and Jefferson City, MO on the western or commonly defined "Lewis and Clark Trail". Lewis and Clark's keelboats were made in Pittsburgh. Since the two adventurers picked their boats up and floated down the Ohio River and traveled up the Mississippi River to St. Louis, I decide to use that route as the spine of the eastern portion of my cross country bike. Tuesday, May 31, 2011: From Arlington, I drove out I-66 and Route 55 to 1-79. Lots of nicely paced two lane sections. Made it to Flatwoods, WV and checked into a hotel for the night. In was extremely hot today (mid to high 90's) and my truck has no air conditioning.
Wednesday, June 1, 2011: Starting Down the Ohio River.
I finished the drive to Huntington, WV, mostly on Route 60 from Charleston, WV to Huntington because of an accident on I-64 just outside of Charleston. I parked at the Amtrak Station in Huntington, packed my bike (very lightly for this trip), and start biking. Huntington, squeezed in along the Ohio River, seems 8 blocks wide and about 10 miles long. I pass through neighborhoods with nice, old, well-kept houses and neighborhoods with houses that have fallen on hard times.
I pedal across Huntington, Cerdo, and Kenova, and cross the Big Lick River through Cattlesburg to Ashland, Kentucky. There is lots of old industrial infrastructure along the Ohio River. Ashland was a large pig iron manufacturing center in the 19th Century. But no longer. There is plenty of evidence of that a strong industrial base - old steel plants and large railroad infrastructure (1929) -lasted here through at least the 1930's. I cross the Ohio River to get Route 52 on the Ohio side, which I will follow all the way to Cincinnati. I leave the city and old manufacturing plants behind and finally hit the country.
Old Farming Community Graveyard

I find a hotel in Wheelersburg OH, just outside of Portsmouth. It feels cooler than the high temperatures forecast; biking next to the River really helps.
40 miles today. 40 miles total.
Thursday, June 2, 2011: Floating on down the Ohio
I start at a reasonable hour this morning, and bike to Portsmouth. Again, another town with lots of good old buildings, and industrial infrastructure, but the economic pace has slowed since its hay-day. I walk around and find an interesting Ohio River Bridge with entry ramps set at 90 degrees from the bridge itself (I assume to fit into the existing grid while maximizing access).
Floodwall Mural: Portsmouth in 1803
Portsmouth has an extensive floodwall system painted with a wonderful series of murals about the town history. The historic Flood of 1937 on the Ohio River (not as famous, but on the same scale as, the Flood of 1927 along the lower Mississippi) was probably the progenitor of these floodwalls. Of particular interest is an early view of the city (1803), where you can see a building in the mural that is still standing right across the street. The murals show the town had some very good times.

What a wonder this part of the country would have been in the late 1700's and the 1800's, lots of free or cheap land available, good farming country, easy transportation access via the Ohio River, and easy access to raw materials. All the cities along the Ohio must have seen a lot of prosperity. Also interesting to note, that in the 2nd half of the 1800's, a lot of presidents came from Ohio, clearly a sign that people and production flourished here after it jumped over the Appalachian Mountains.
Floodwall Mural: Portsmouth in the 1930's

The Ohio River West of Portsmouth, OH
There is a rural 30 mile stretch west of Portsmouth with four "towns", three post offices,no grocery stores, and no gas stations. That says a lot about the economy of the area and the US Post Office as it is un-able to consolidate or close post offices. A local, after indicating that the "gas and go" where we talked had closed two years before, advised me to look for a floating restaurant two miles down the road. I had a delightful meal there, overlooking the Ohio River. I was fortunate to find the restaurant because I didn't have any food or water on my bike, thinking there would be more services along this stretch.

It is nice, after numerous trips riding upriver and uphill and over mountains, to ride a long slow downgrade by following the descent of the Ohio River. It really, really is! And being in the East, my "home" geography, it's a little greener and wetter than much of the country I have travelled out west.
I finished off the day in Maysville, KY, a pretty little town on the Kentucky side. I managed to catch by phone an old friend from Washington, D.C., now of Tucson, who grew up in Maysville. He told me where his family's nursery/seed/feed business had been downtown. I hotelled it again tonight at a historic hotel downtown, and enjoyed dinner at a busy local pub nearby.
Riding temperatures were comfortable again today.
Old Downtown Maysville, KY
John Colter was living in Maysville when he joined the Lewis and Clark Expedition on October 15, 1803. He was an excellent hunter and helped provide fresh meat for the men.

65 miles today. 105 miles total. Downhill is good!
Friday, June 3, 2011: Into Cincinnati
I bike from Maysville back over to the Ohio side, and started riding easy grades. The road stays mostly at the foot of the bluffs at the edge of the floodplain.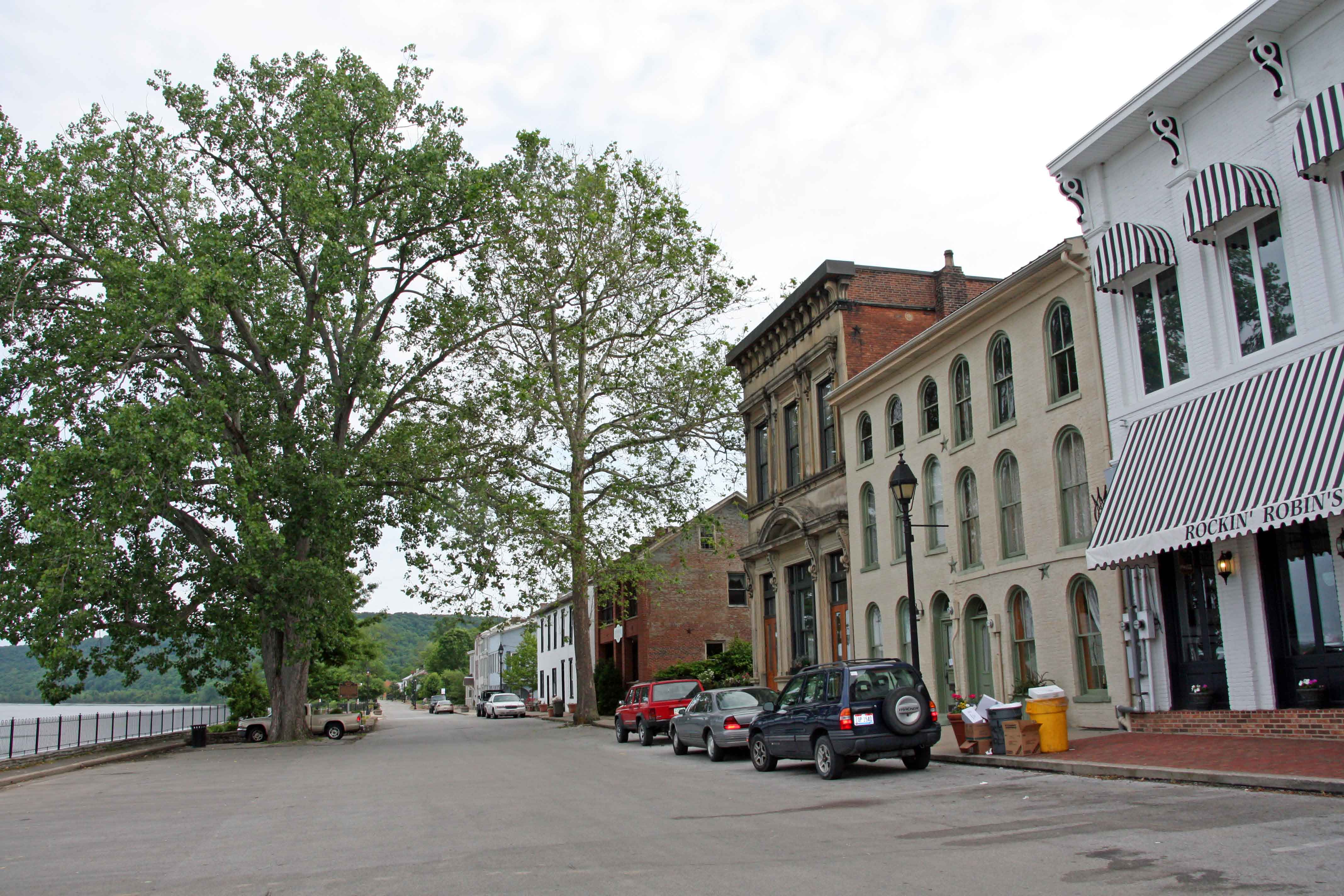 Ripley, Ohio
Ripley, Ohio was another prosperous river town in its day. Note how it sits up on the bluff.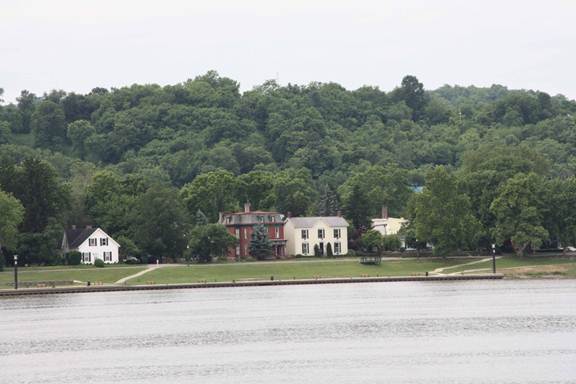 Augusta, KY
Augusta is not so high up from the Ohio.

Chilo Dam and Lock
This is dam and lock complex upriver from Cincinnati.
The Flood of 1937: 73.0 feet above flood stage.
See green plaque to left of "73"
The Corp of Engineers has had its way with the Ohio but with a much lighter touch that on the western rivers. In the 1920 The Corp built as series of 55 8 to 10 foot weir dams to maintain channel depth between Pittsburg and the Confluence with the Mississippi to transform a sometimes seasonal Ohio River into a consistently dependable river for shipping.
In the 1960's these dams were replaced by 19 dams and locks that ranged in height from 17 to 35 feet. The dams are not as disruptive as the ones on the Columbia or the Missouri. The dams are low enough that the old roads are rarely pushed out of the floodplain and up onto the bluffs.
Rural farms turn to distant suburbs, turn to dense and older urban/industrial areas. The southeastern approach to Cincinnati's Riverside Blvd is narrow and noisy in places. The city is building a continuous bike path into the city, but it is not yet complete. It is interesting to see local efforts to bring upscale housing back into a narrow corridor between the bluffs and the river. The area is a mix of some architecturally interesting old residential properties, some significant old industrial areas, and new riverside parks and amenities.
I camped at a Ramada Inn, just west of the Cincinnati's downtown ring of freeways. I have some time to explore. I wander into a bar during Lesbian Volleyball Night; explore the (huge, sturdy, granite) Longworth Baltimore and Ohio Railroad warehouse redevelopment; grab dinner in downtown Cincinnati's lively entertainment district.
Saturday, June 4, 2011: Visiting Cincinnati.
I bike around and through "Over the Rhine" (OTR), an old German neighborhood, and up the hill (well almost all the way up the hill), to the William Howard Taft National Historic Site on Mount Auburn. OTR has an large collection of ornate late 1800s residential and commercial structures. Many believe that discrimination against the Germans in WWI and WWII caused them to leave OTR; then poorer blacks moved in.
Too bad none of the many former inclines/fenuculars remain. They were used to get residents and their cars up to the higher and nicer neighborhoods. They were useful because Cincinnati's geography is rumpled with steep hills and ravines.
I also biked through Mount Adams Park and the adjacent neighborhood - very nice. Also I discover why Central Parkway follows such an interesting path through Cincinnati. It used to be a canal.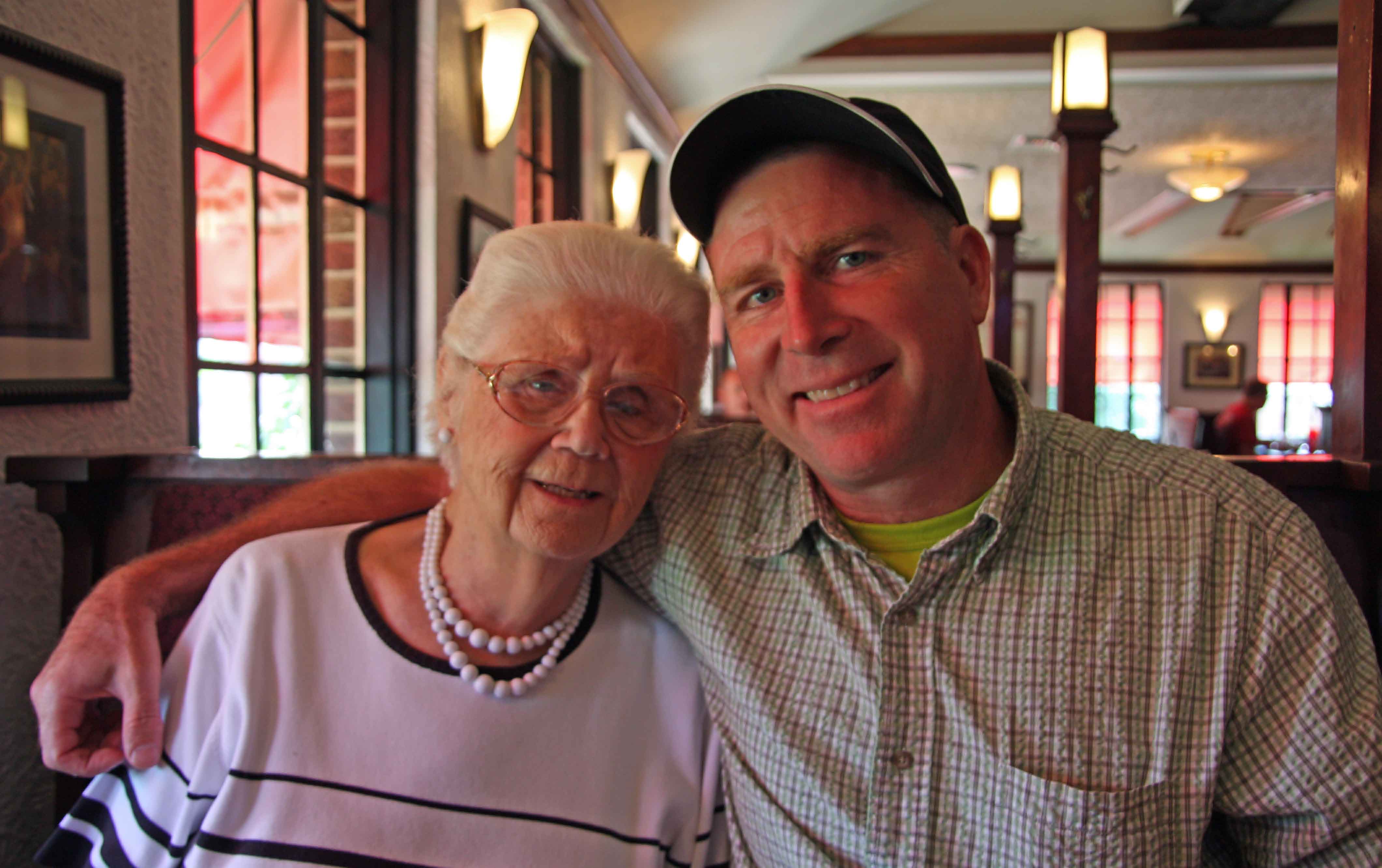 Rosemary and Me at Dinner
Rosemary and Bob pick me up for an early dinner. Rosemary is the mother of a roommate of mine in 1985, who has since died. Bob is her son-in-law. Both Rosemary and Bob are doing well. Nice visit.

Sunday, June 5, 2011: Heading home.
I was planning to take AMTRAK from Cincinnati back to Huntington, but the eastbound train as terminated due to tornados around Indianapolis. I rented a car (one way - $$$) to Huntington on the AA highway.
After returning the car, I biked from Tri-City Airport to the Huntington Amtrak station, and then drove Interstates 64, 81, and 66 home. 550 plus miles Cincy to Arlington.
---
Last Update: March 15, 2013
---
---
OK, so this is the first time I have linked to another site for my trip map. I am just learning and find it frustrating that Google et al make it hard to download the complete graphic file and manipulate it yourself. Either that or I don't know how to pull a graphic file off either site.
Thank you Map My Run. Thank You Google. But...
So while I have linked the Map My Run map to the top of this webpage, I then printed out the web page, scanned the map, then cropped and edited that scan in Photoshop, and reposted it here, so I could be sure I have a map of the trip on this webpage.
I'm sure there is an easier way, but the paranoid side of me says May My Run and Google want to keep control of the basic data and what you do with in. OK, I quess if it is free, that's reasonable.