---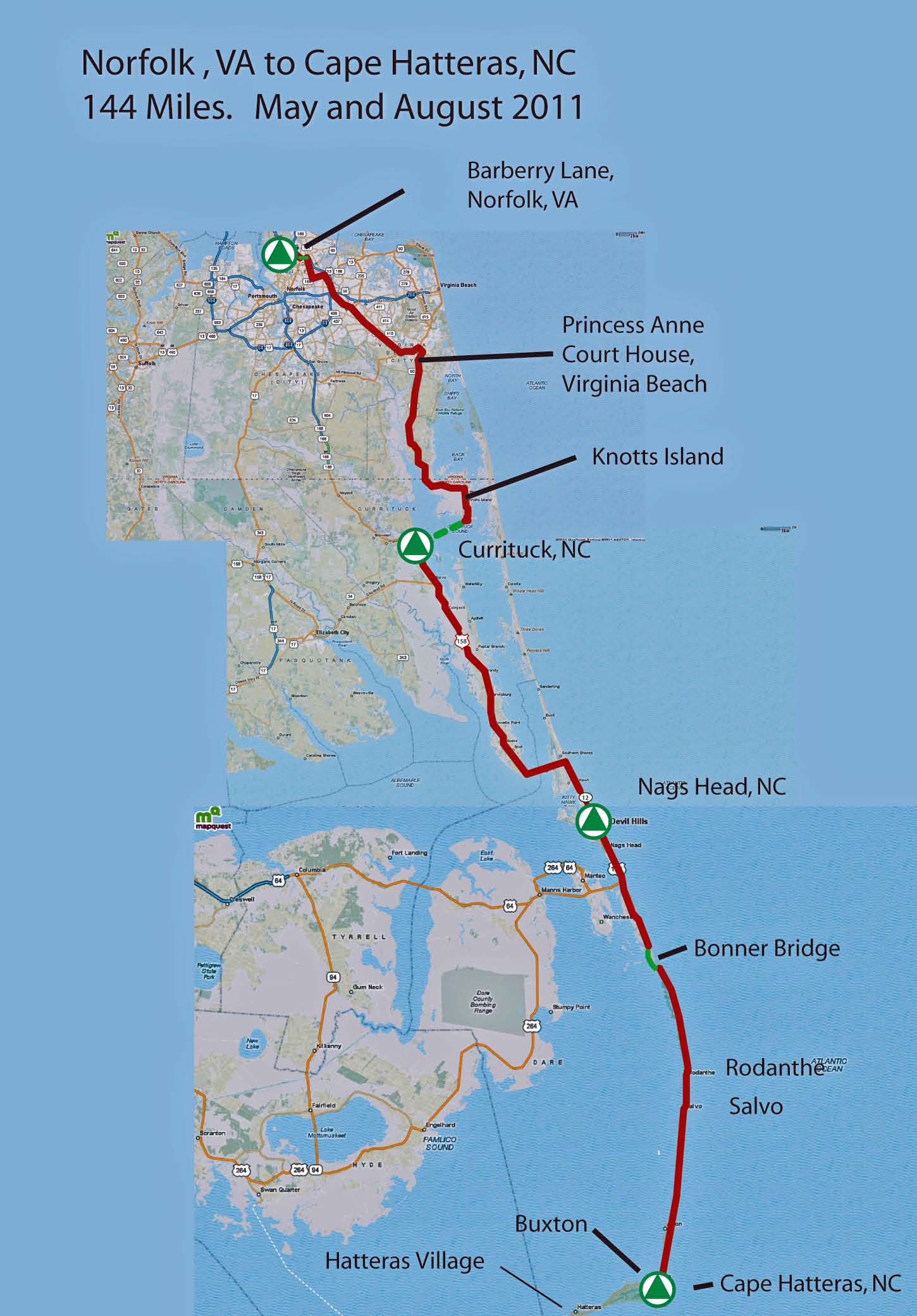 Norfolk, VA to
Cape Hatteras Lighthouse
Trip # 27 - "The Green Trace"
May 14, 2011, August 6, 2011, and August 8, 2011
144 miles
---
I did this trip in three sections. I rode Section 2 between Nags Head and Currituck in May 2011. I rode Section 1 from Norfolk, VA to Currituck, NC and Section 3 from Nags Head,NC to Cape Hatteras in August 2011.
Section 1: Barberry Lane, Norfolk, VA to Currituck, NC via Knotts Island Ferry. Friday August 6, 2011
I grew up in Norfolk and in Virginia Beach. The first part of this ride traverses Norfolk, through older neighborhoods, past "long-acquainted" places, and over familiar roads that I have traveled for more than 35 years. Norfolk: changed, better, but still very recognizable and of understandable scale.
Heading east and south, beyond Kempsville, Princess Anne Road (once a small two laner passing through country woods to Princess Anne Courthouse) is now 8 lanes in many sections. And up to fourteen lanes at intersections with double left turn lanes and right turn slip lanes! This part seems unsettling and out of place.
Beyond Princess Anne Courthouse, Rte 615 runs south through the flat farmland that sits between the marshes and lowlands that hug Back Bay to the east and the fields and swamps backing onto West Neck Creek and the Northwest River to the west. While still a shoulder-less, narrow, two lane country road, there is a fair amount of traffic, odd for what essentially is a road that dead ends at Knotts Island in North Carolina. But, the new subdivisions and traffic simultaneously die down after I pass Old Pungo Ferry Road. Ah.
The last 15 miles to the Knotts Island ferry are great. Quiet, a sprinkling of fields. Old "Norfolk" style crape myrtles, richly pink and purple, mark sagging farm houses. This resembles the old rural part of Virginia Beach I remember. The new "standardized" farmers market direction signs signal an attempt to hold on to the old ways.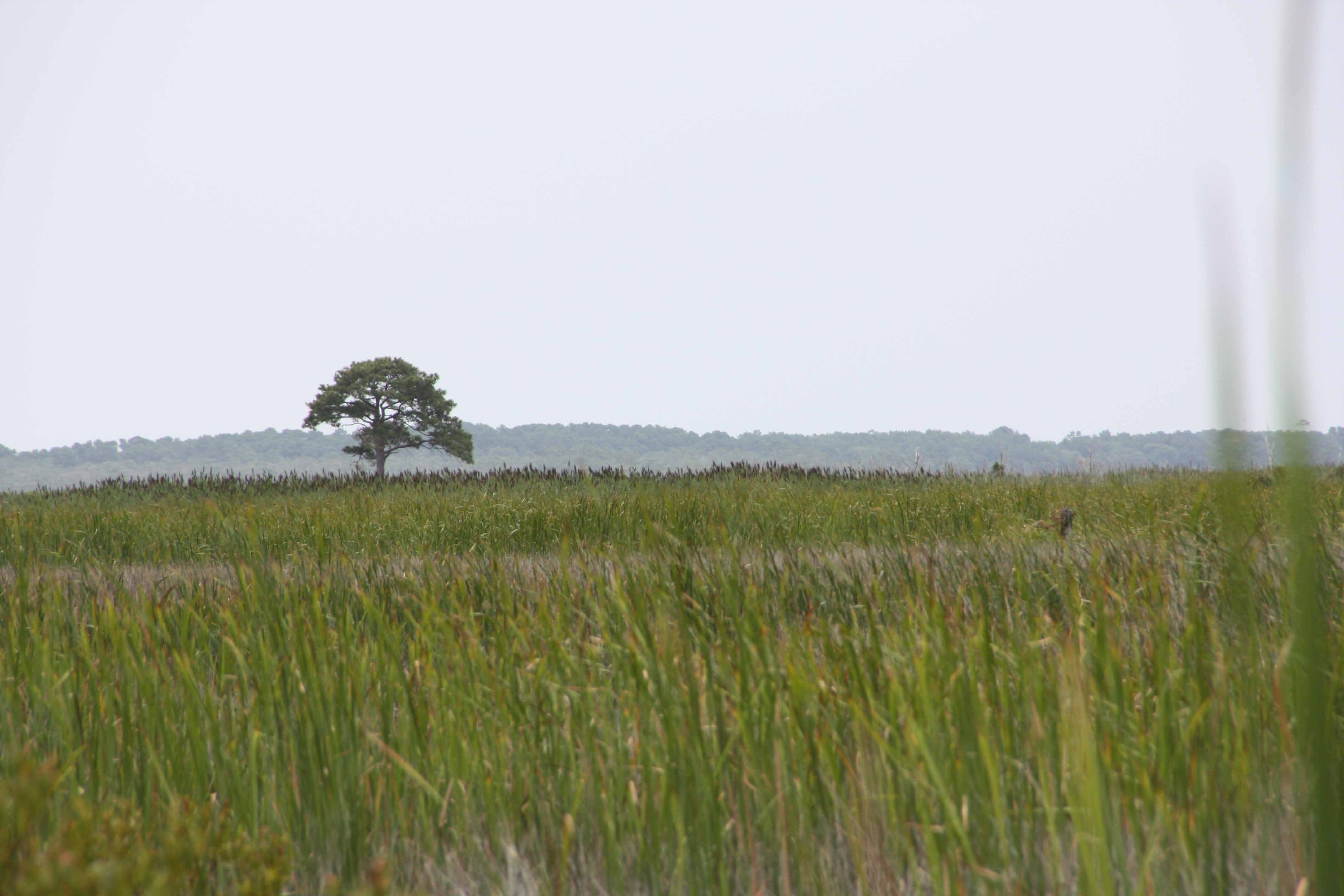 Once you cross the Virginia state line, the road turns east, and becomes a causeway across the still healthy marshes of the northern reaches of Currituck Sound/southern reaches of Back Bay.
Looking back at the Knotts Island ferry dock.
I get to the Knotts Island Ferry with an hour and ½ until the next ferry. I clean up in the rain, and read a book under a covered picnic table.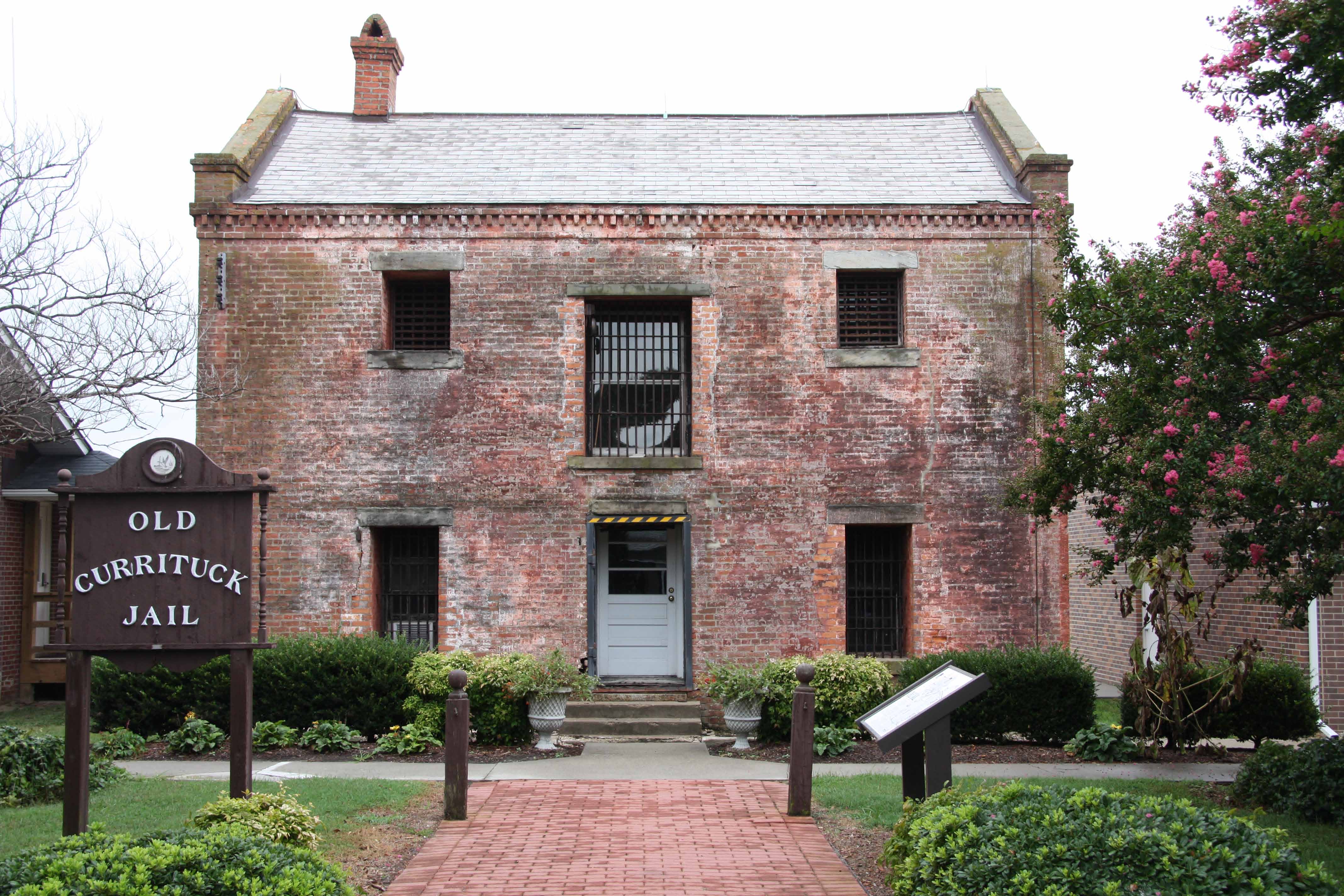 Currituck jail house.
I have another hour to nap in Currituck, until my brother, Jon, picks me up and drives me to Nags Head.
Bittersweet:
1) Had dinner the previous night with four good friends from Virginia Beach. Too short. Too fast. Didn't get to catch up enough.
2) Seeing the changes in the central part of Virginia Beach. Is this really the best kind of community America can envision and produce??
3) Smiling at riding the ferry to Currituck, being picked up by my brother, and heading to visit all the "East Coast" Greens in Nags Head.
Strong SE (head) wind. Hot. Sunny. Humid.
48 miles
Section 2: Saturday, May 14, 2011. Nags Head to Currituck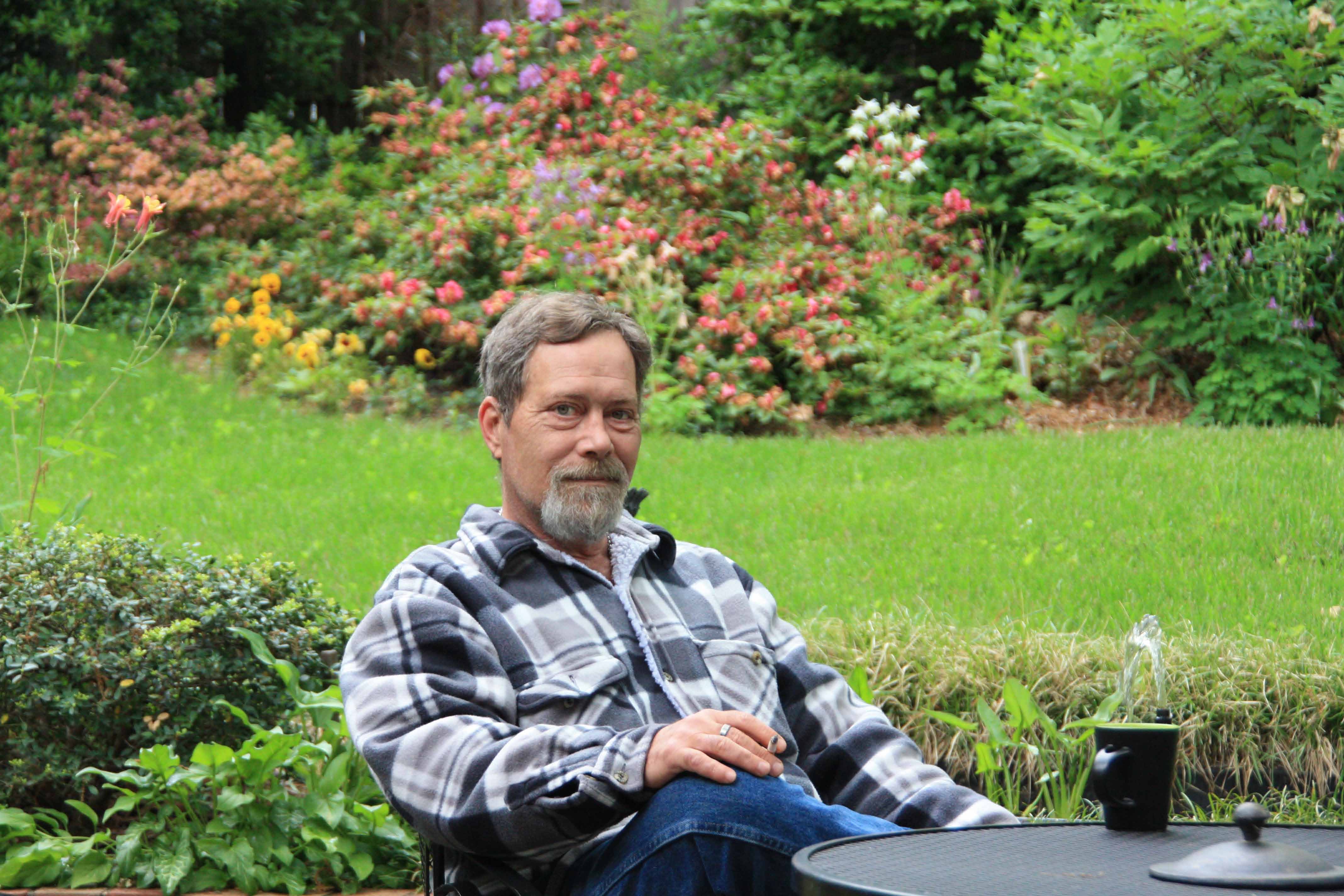 < Berry in my back yard in Arlington.
Berry, my brother from Texas, came east to visit. The first four days he stayed with me in Arlington, the last three days we drove to Norfolk and Nags Head to visit the family, giving me the opportunity to get in a ride!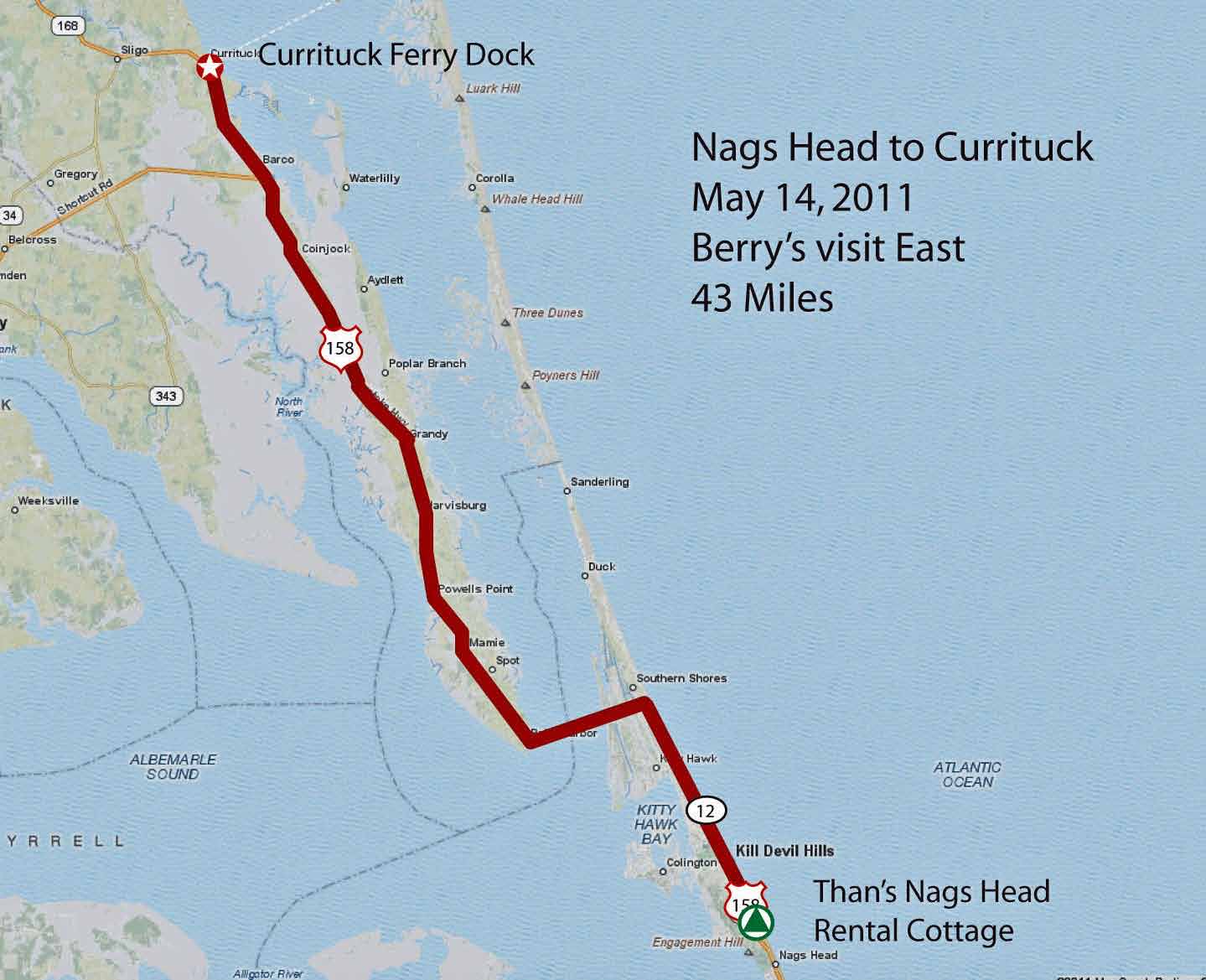 This was a pretty straight easy ride; the ride across the Currituck Sound Bridge passed without incident. Currituck County is flat, and, if it is possible, closer to sea level than Norfolk. Again, the county has changed over the last 30 years, from principally agricultural, to a more diverse economy of tourist services, second homes, with a fair amount of farming remaining. Rte 158 has also changed from a two lane to a four lane highway.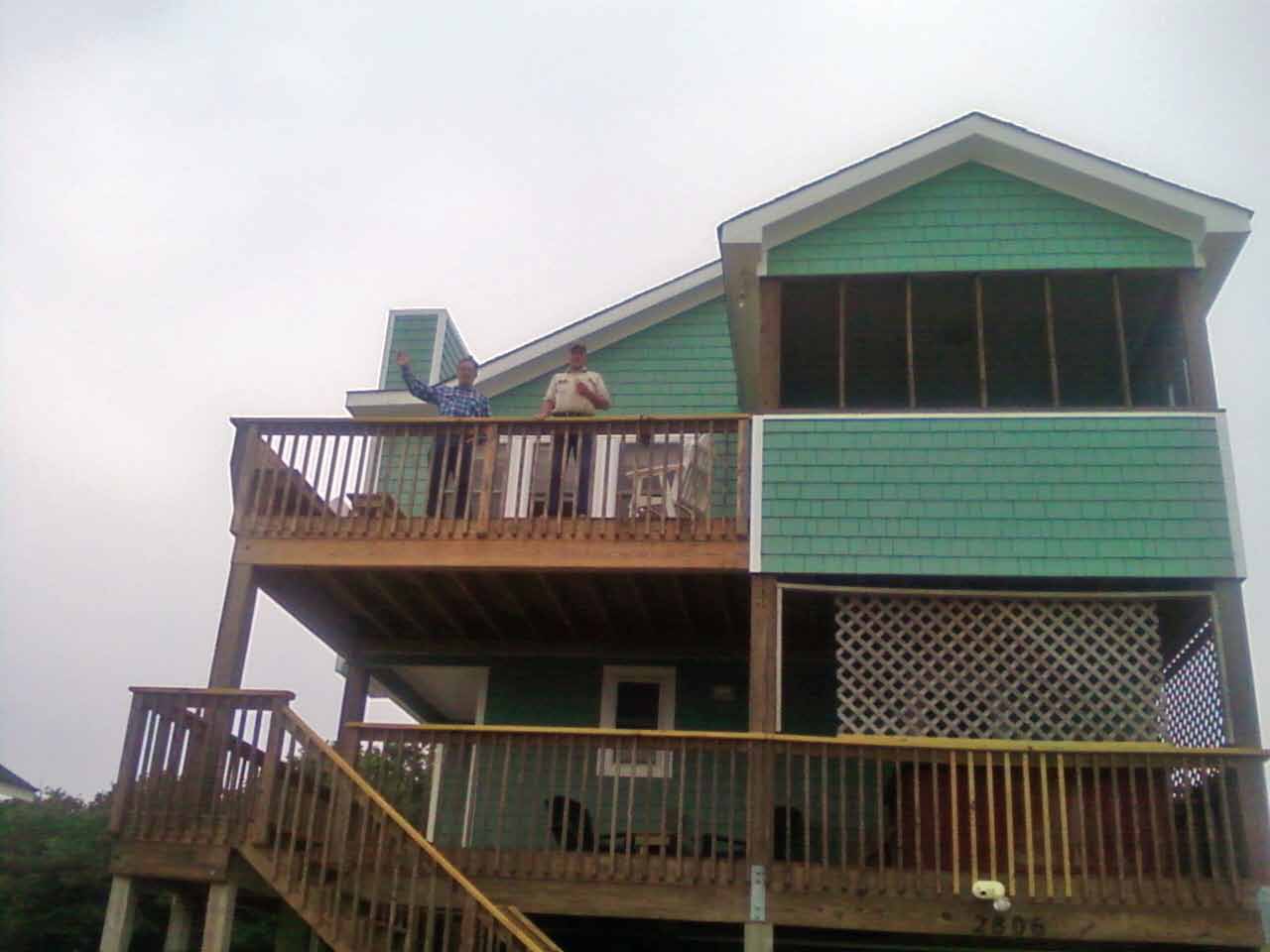 < Than's new cottage in Nags Head.
Saturday morning, I biked from Than's new cottage in Nags Head to Currituck. My brother Jon picked me up on his way from Norfolk to the Nags Head.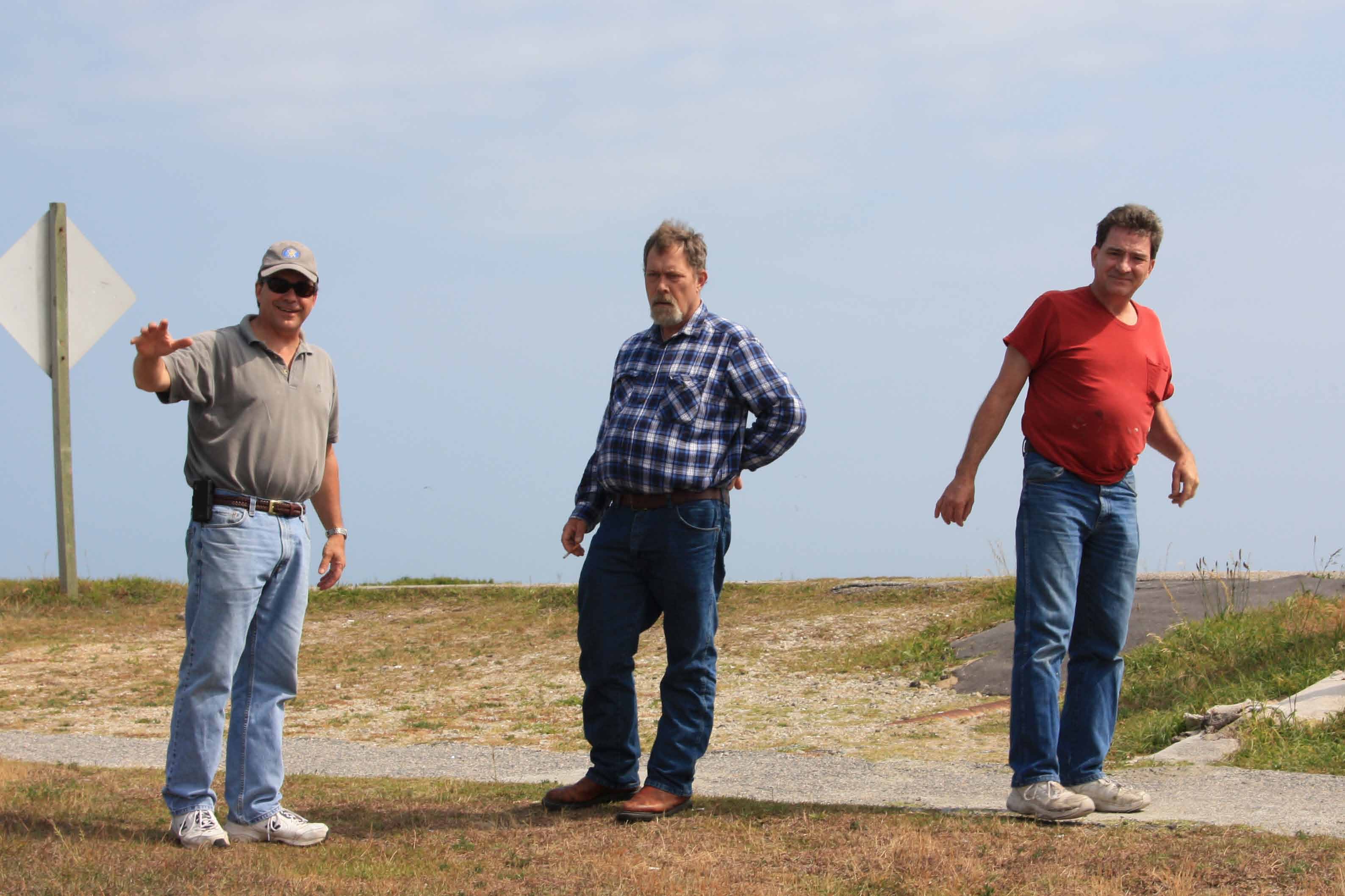 Once the clan has gathered --> field trip to Oregon Inlet to check out the problems with the inlet sanding up.
Ocassionally, I can snag a picture of my niece, who doesn't like the camera.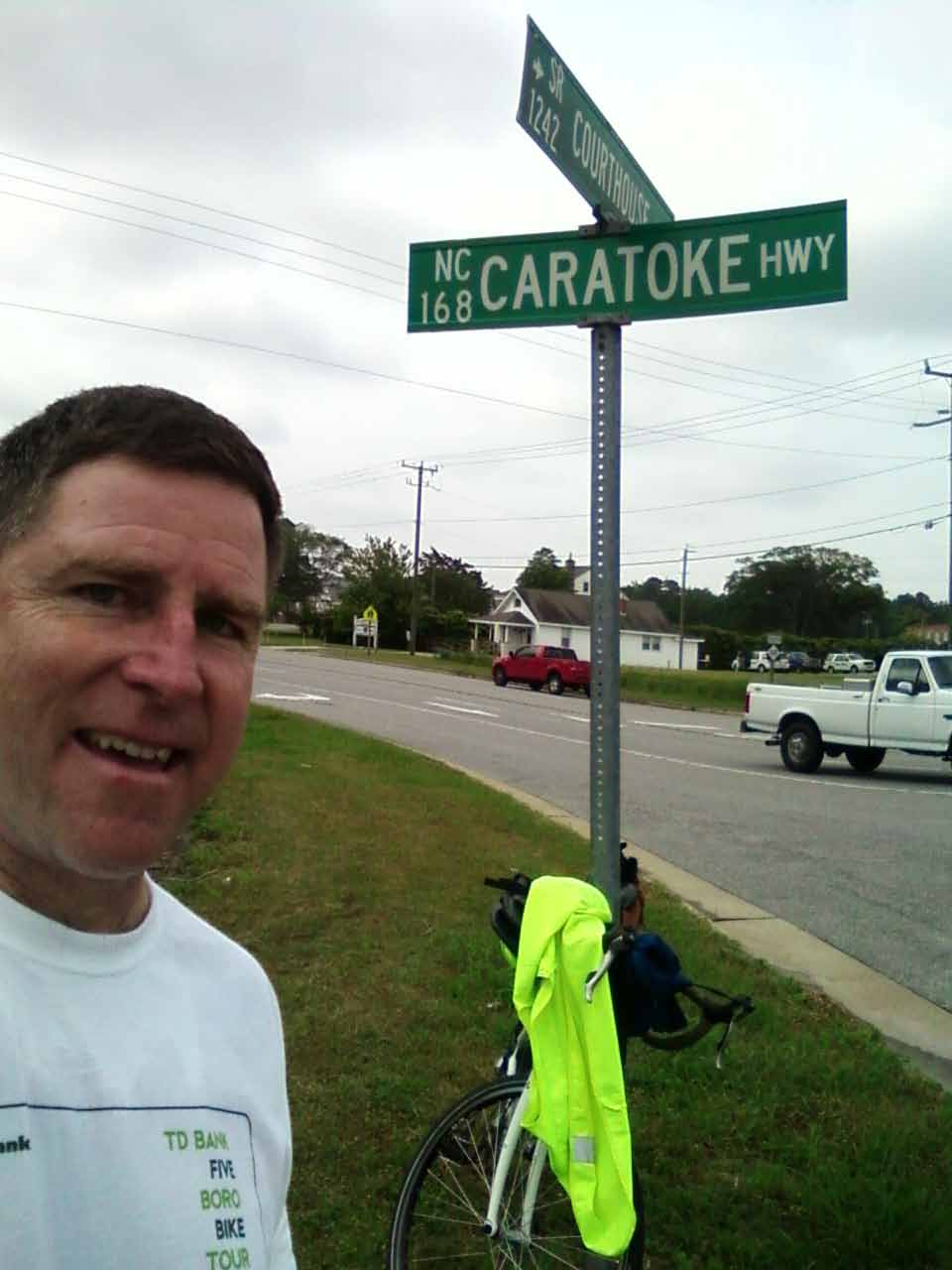 I'm smiling because I got my first and only flat of the day just as I was coasting to my pick up point at Rte 158 and Currituck Court House Road.
43 miles
Section 3. Nags Head to Buxton, NC and the Cape Hatteras Lighthouse. August 8, 2011
Celebrating brother Jon's big 50th birthday (a little early) on Sunday night !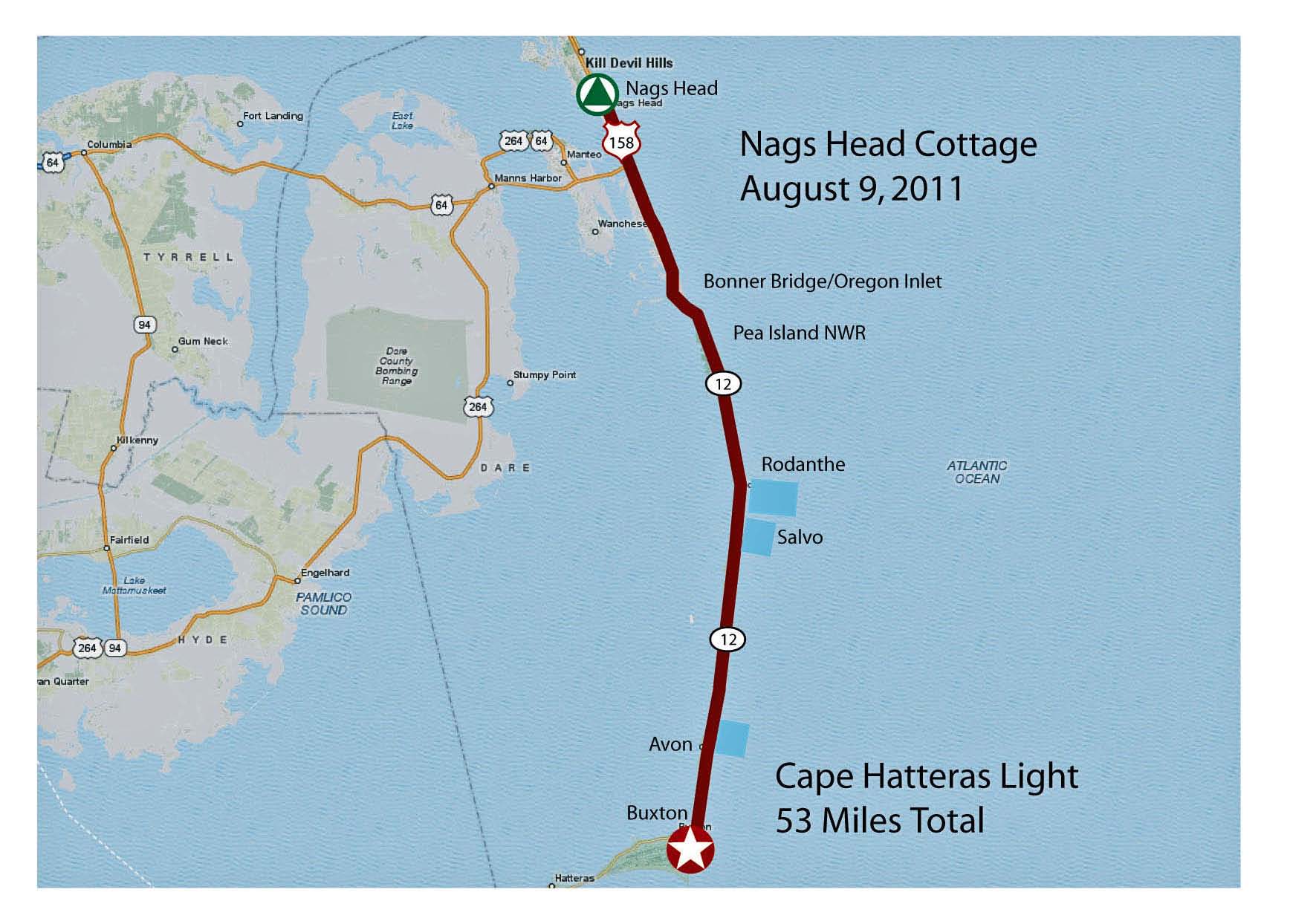 This ride was pretty straight forward. The only minor challenge was arranging to get picked up in Buxton. Turned out everybody came to pick me up !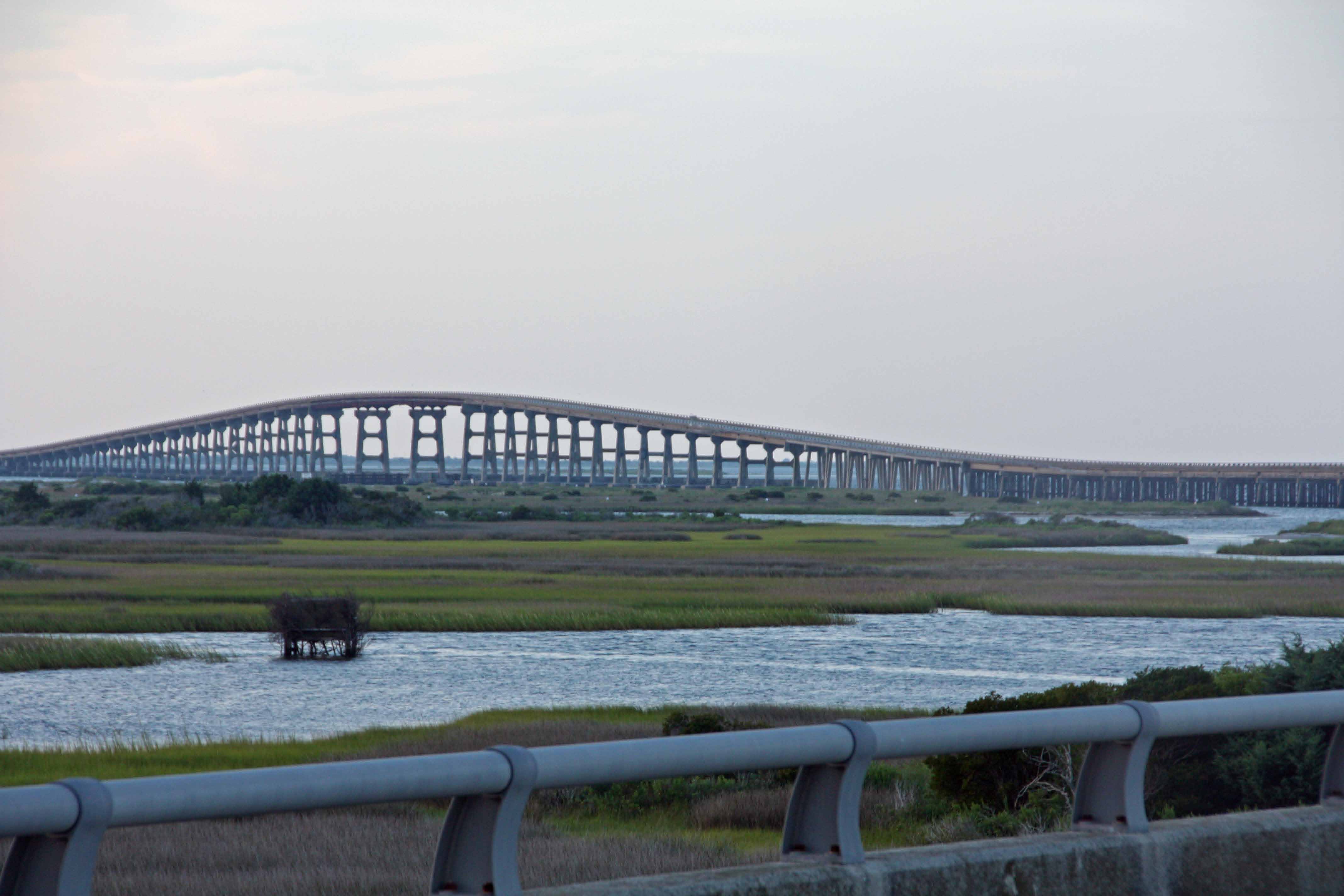 I left the cottage in Nags Head before sun up, and hit the Bonner Bridge over Oregon Inlet just as the sun was coming up. I spent some time taking pictures while I was on the bridge and while traffic was light. (The bridge has a narrow shoulder, but a shoulder none-the-less.)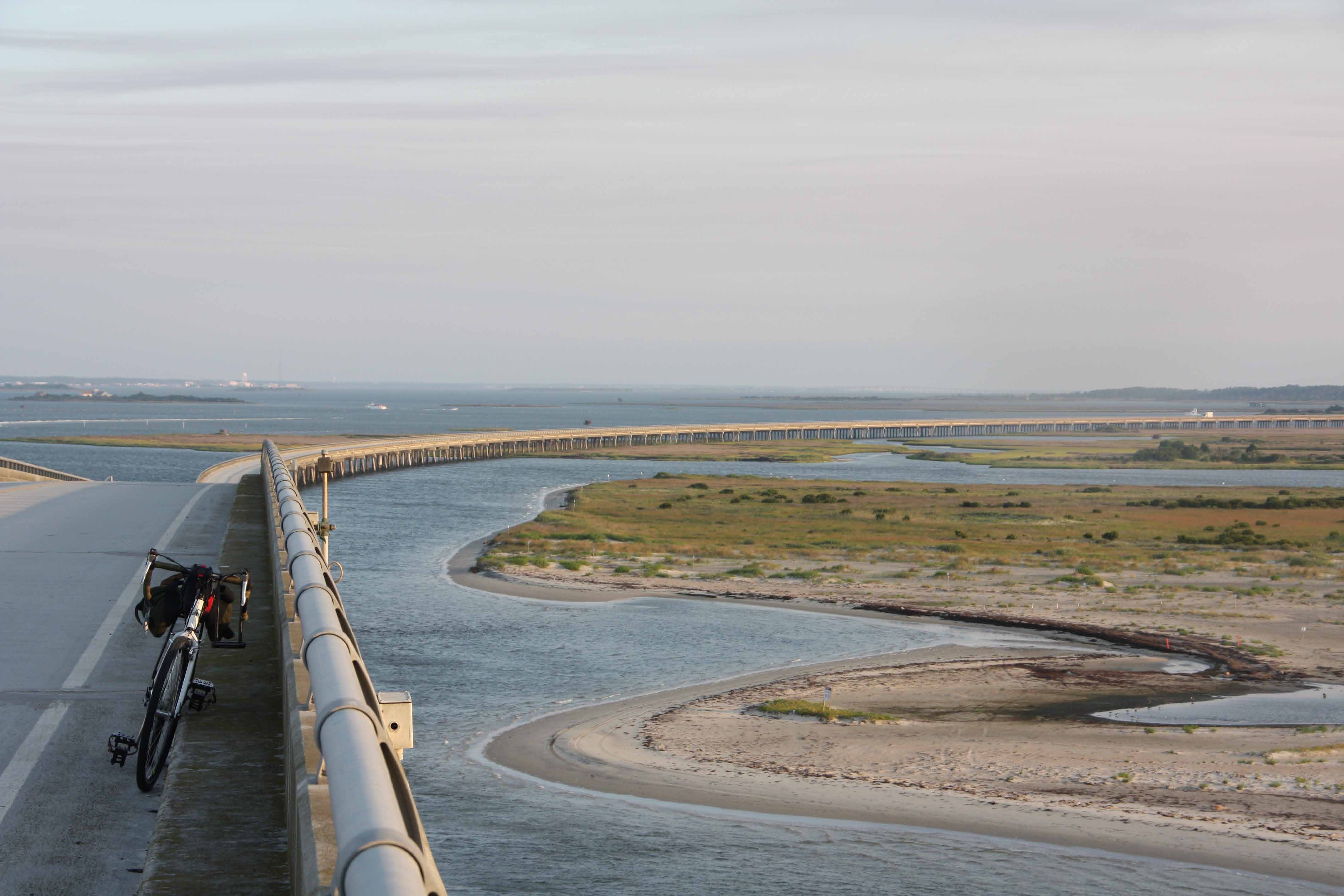 The Bonner Bridge has an interesting history. I remember taking the Hatteras Island ferry before they built the bridge. Once the bridge was completed in 1962, things started to change. A spit of sand started piling up at the north end of the bridge. What was once open water is now sand, dunes, dry ground, or marsh. Recently, the dredges have hard time keeping the channel between the Atlantic Ocean and Albemarle Sound clear. There is talk that the pilings supporting the bridge in some places are being undermined by the current. A static structure in a dynamic environment.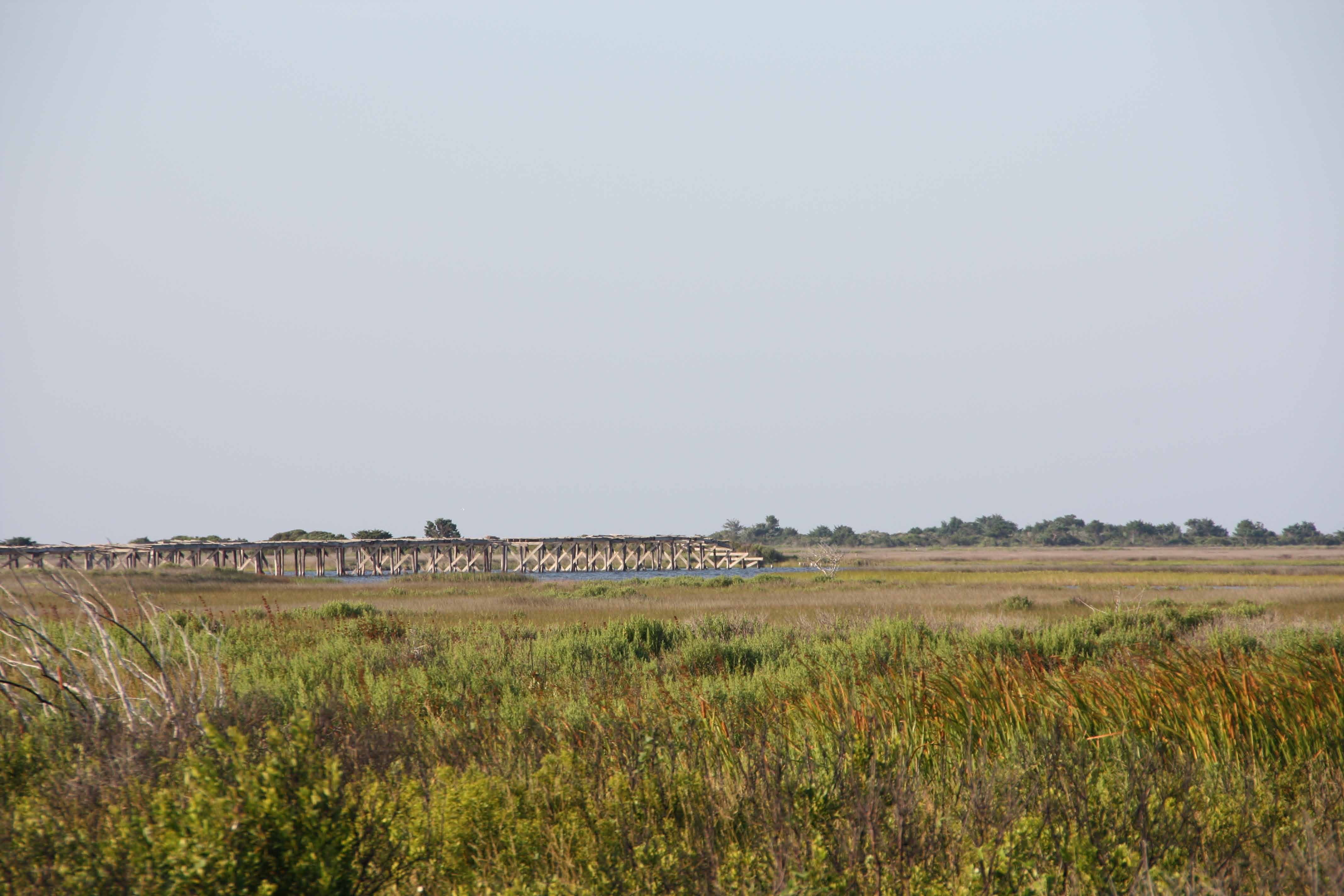 The ride down Hatteras Island was a delight (though lord knows, the Rodanthe area ended up with some especially ugly development). The road as far as Avon is freshly paved (i.e. fast biking) and has a wide shoulder. (Note: I still have vivid memories of squeezing a Ford Country Squire station wagon and a travel trailer down what seemed to be the narrowest lane of asphalt that ever existed — i.e. the wide shoulders are nice!) At some points you can see the sound; occasionally you get a peek at the ocean. The Island is literally a ribbon of sand. The stiff west breeze kept things cool, without slowing the ride. I was surprised to see a lot of longer distance riders (maybe 20). The real treat – 5 to 10 miles stretches of dunes and sea oats to the left and scrub cedar and pine, marsh, and Albemarle Sound to the right.

I arrived at Buxton about 10AM, went to the original site of the Cape Hatteras lighthouse, and jumped in the ocean to cool off and get rid of the sweat and grit. Then, I made my way to the new site of the Cape Hatteras lighthouse.
All the "East Coast" Greens piled into the Yukon and drove down to pick me up. :-)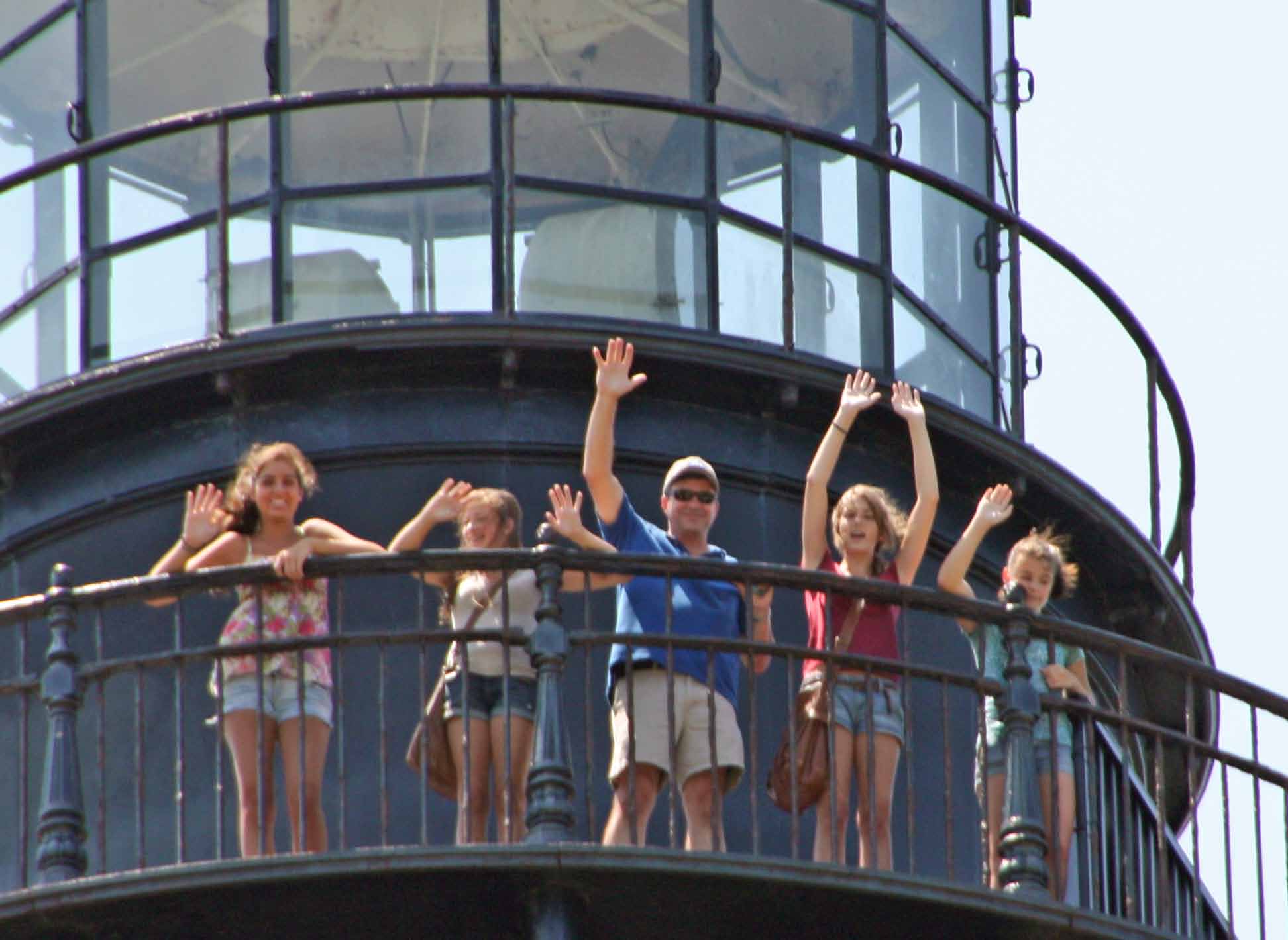 Than and the girls climbed the lighthouse. Everyone was a good sport about the heat. A quick lunch, then back to Nags Head in the car.

Hot, humid, sunny. Nice cooling breeze from the West.
53 miles
Epilogue
Though I have several large stretches of biking left along the Ohio River, and a few gaps on the Lewis and Clark Trail west of St. Louis, I'm starting to get excited about finishing my cross country trek.
"Homestretch" can't quite describe the feelings associated with this set of rides.
"Trace" refers to the ground this course covers. It details the last 50 years of Green family history, like a sunken wilderness road defines a geography, an era, and a way of life.
Cape Hatteras is one of my spiritual ending points of my trek. It holds a special place in Green family life and lore. Many, many stories here growing up and many, many memories. Mom's and Bee's ashes were scattered over the waves at the Point at Cape Hatteras.
Last Update: August 15, 2011