---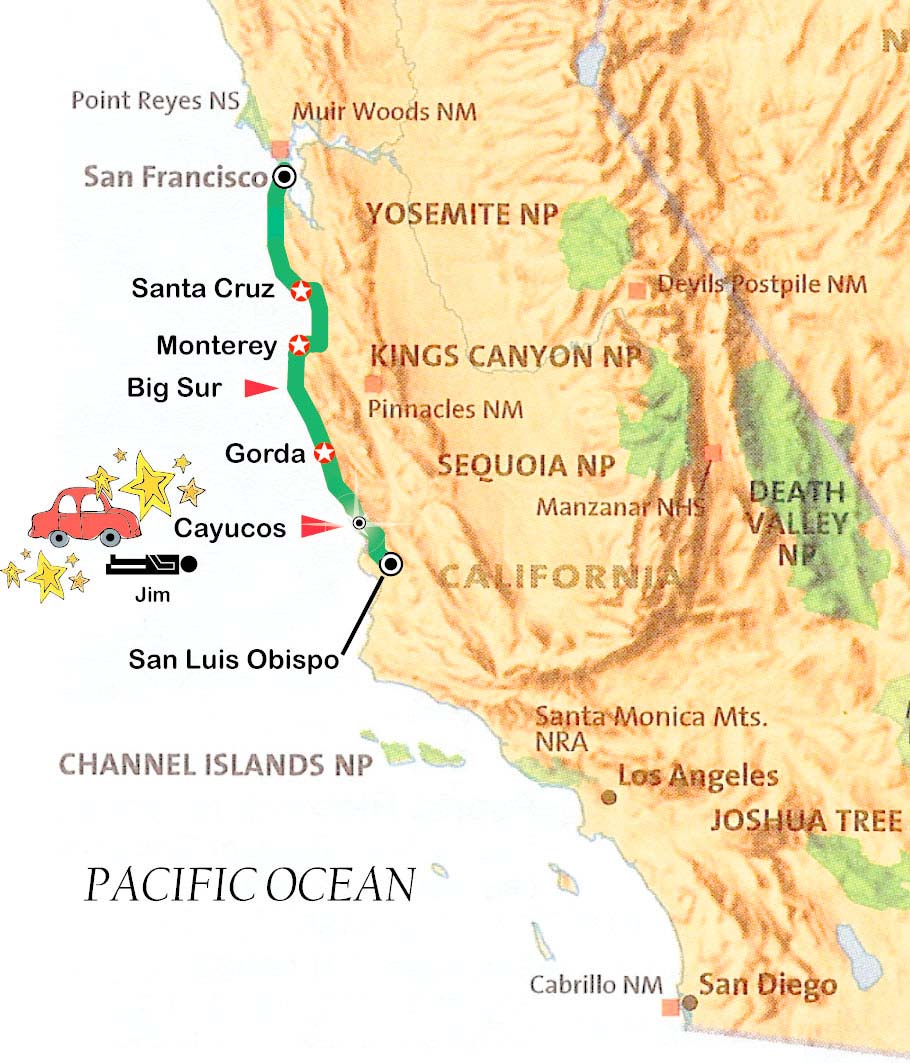 San Francisco to San Luis Obispo, CA
Trip # 18 South of San Francisco along the Big Sur Coast
May 19 - 22, 2007
288 miles
---
Saturday, May 19, 2007 - San Francisco to Santa Cruz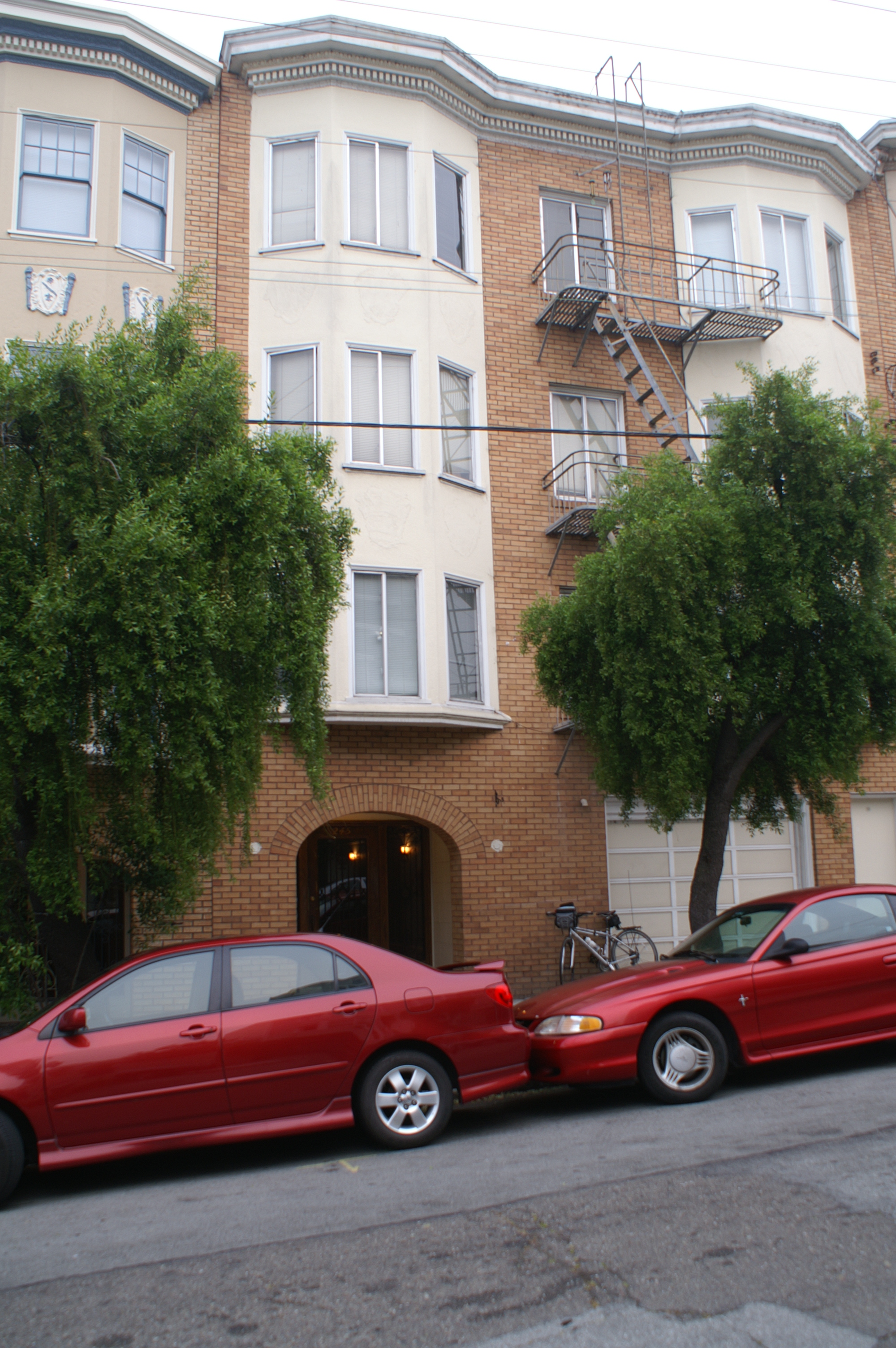 < 245 Shrader Street, San Francisco, California
At about 8am this morning I left my hotel, near Union Square, and biked out to "The Haight". I wanted to start at 245 Shrader, where I had finished my first long distance bike trip - from Seattle to San Francisco - 28 years ago. Upon arriving in San Francisco that 1979 summer, I picked up apartment keys from Anne, Patrick M.'s future wife, at her workplace, and headed to Patrick's sister, Linda's, apartment on Shrader.
Beginning at 245 Shrader seemed like the appropriate thing to do. Small world, connections, permanence, friends. Wonder (As in "It is a wonder) that I am still biking after so many years, and wonder (As in "why?") it took me so long to make the commitment to bike across country.

<< Out in Front of the Palace Hotel
I rode back to my hotel, checked out, and wandered the two blocks up Market Street to the Palace Hotel, where the band of riders met, some for the first time, and started our ride. From left to right:
Me,
Jim W., husband of a great friend of mine, Mad. Jim just spent a year in Iraq riding around on a junker bike, and currently lives in San Diego,
Eric, owner of the Slippery Pig Bike Shop in Phoenix, and a friend of Paul's
Paul F., friend of Jim's, Mad's, Eric's, and mine (Paul and I met and rode from San Diego to the Mexican Border in 2006), currently from Boston, and
Iz, a personal trainer from Boston, and friend of Paul's.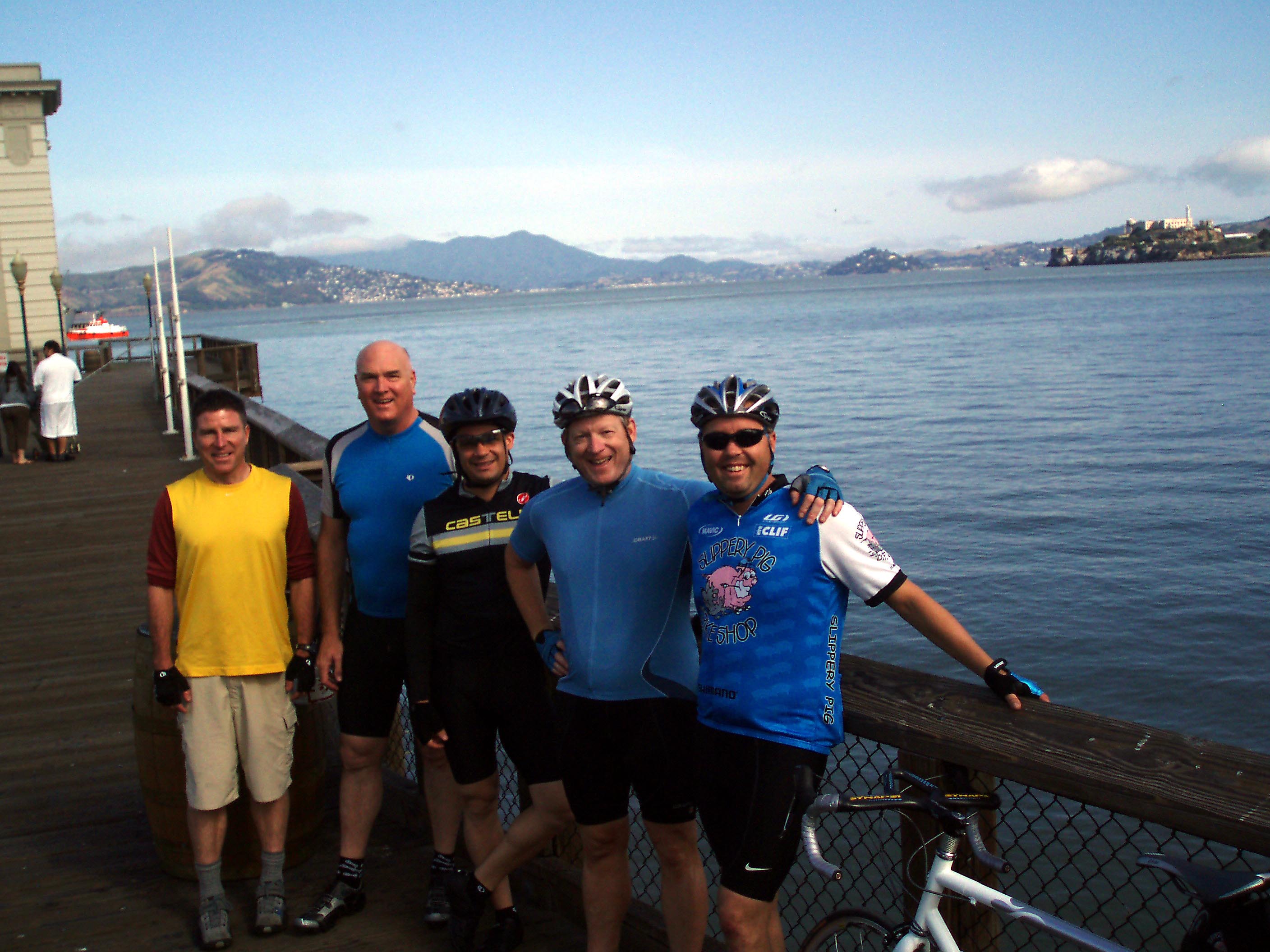 << First Break at Mile Three - Fisherman's Wharf

<< Second Break at Mile Five - Fort Mason and the Golden Gate Bridge
To start, we headed east on Market Street to the Embarcadero, and then around the Bay to Fisherman's Wharf, through the Marina District, past the Crissy Field area of the Presidio. We paused at the southern end of the Golden Gate bridge, the natural starting point for any journey south from San Francisco.
From the Golden Gate, we swung around to Lincoln Boulevard and the northwest section of San Francisco, stopping at the Cliff House. This was our first contact with the Pacific Ocean, which we would follow for the rest of our trip.
From Cliff House, we rode south on the Great Highway, past Golden Gate Park and the famous windmill, along urban and some limited access sections of Route 35. Sand dunes and ocean to our right, houses to our left.


We stopped for lunch at a din sum restaurant in Pacifica, where Route 35 joins with California Route 1. Pacifica obviously has a large asian population. The entire shopping center is filled with "chinese" restaurants. I thought this was a little funny/unusual. And while the food was great where we ate, I have a small nagging regret that we didn't eat at "The Porridge House", another one of several asian restaurants in the shopping center.

South of Pacifica we hit a 4 mile stretch of old Route 1 - it passes through a hilly section of the coast. It is lined with Eucalyptus trees, the travel lanes are narrow, and this section doesn't have any shoulders. It's probably one of the last "original" sections of the Pacific Coast highway near San Francisco and gives you a great idea of what it would have been like to drive down the California coast in the 1930's. Traffic is fairly heavy, but polite to/understanding of bikers.
After Montara, we have moderately heavy traffic as we head south. Nothing too bad because of the generally wide shoulders, but once we pass Half Moon Bay, traffic drops off a knotch.
It's been off and on again cool and foggy in the morning, and eventually clear, sunny, and warm by early/mid-afternoon. Typical Pacific Coast whether, that we will continually adapt to during our trip.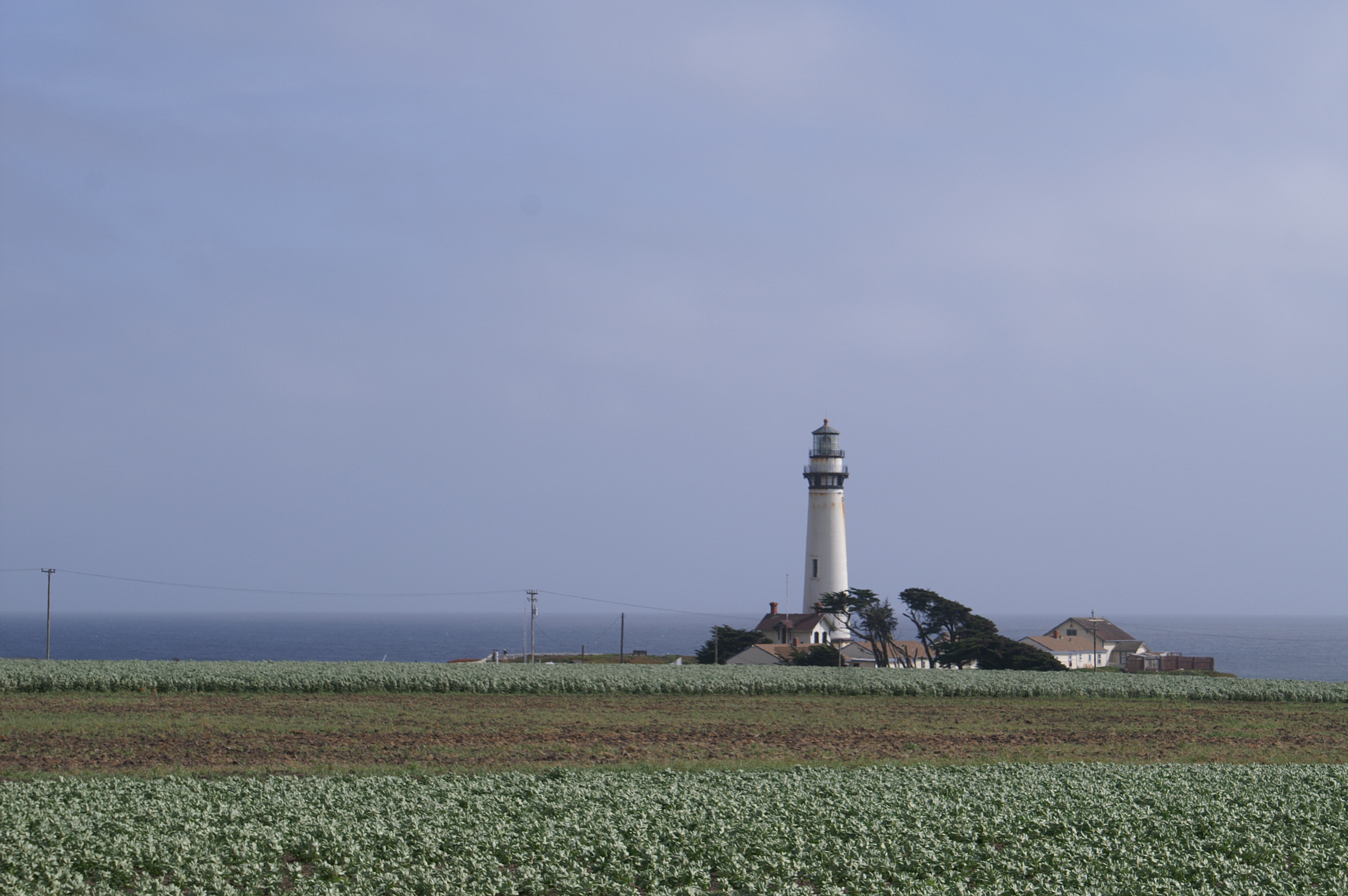 << Pidgeon Point Light House near Pescadero, California
Onward to Santa Cruz. An interesting city, because it seems to be several cities in one. Once we turn off the main highway, we pass through a neighborhood of nicely restored victorian houses, then through the lively, clean, downtown section of town, with its mix of older and new buildings. Next we look for the "ocean resort" part of town, where the amusement park and roller coaster are, and where the hotels should be clustered.
Somehow the various parts of town are not logically, visually, or socially connected. Each has its own distinct character. After a few pauses for bearings and directions, we come to the oceanfront/resort side of the town. It has a well maintained amusement park, some small worn hotels, vacant lots, and none of the comfortable patina of the other sections of town. Finding most hotels full, we finally find a room at the Big Six Hotel.

Big Six looks like it was kicked out of the Hotel Six chain long ago, but the rooms were clean and comfortable. This part of town is a western version of Altantic City or Asbury Park, New Jersey, before casinos or gentrifiers showed up. Some interesting old houses, empty lots, careworn motels, separated by more than the mile from the bustling downtown and quaint neighborhoods we rode through to get here.
Overnight in the Hotel Six, in Santa Cruz, in what is probably the most interesting section of town. 91 miles in today, more or less.

Sunday, May 20, 2007 Santa Cruz to Monterey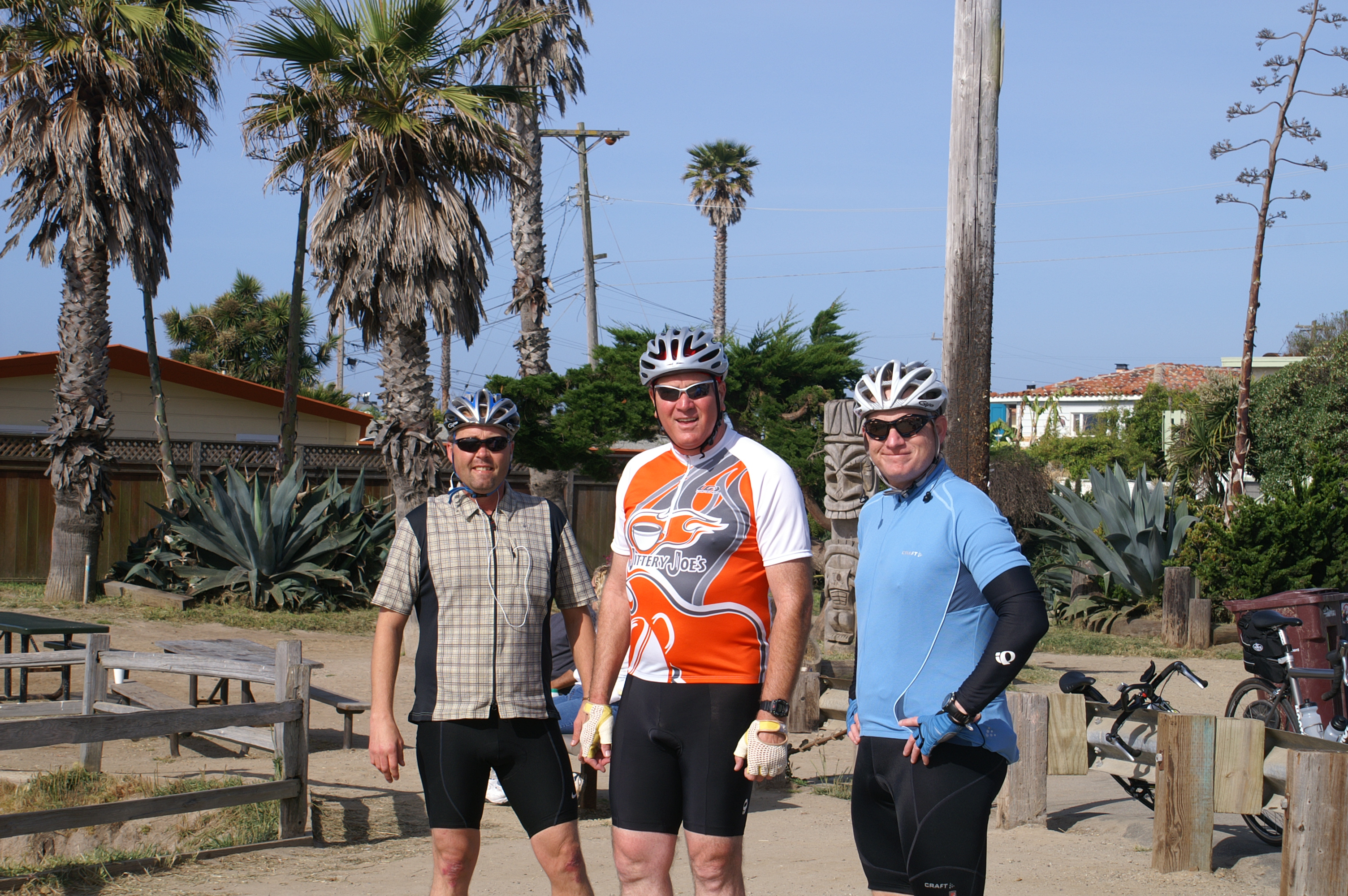 << Sunday Morning in Santa Cruz
Leaving the resort section of Santa Cruz, we climb up the bluffs to the south. Here the ambiance is "Summer Resort: Sunday Morning". Folks out drinking coffee, reading their newspapers, walking their dogs. Life is good and unhurried, as it should be in any beach community. We pause to take it in: Nice houses, nice trees, nice ocean, nice weather.
<< Dog Walking in Santa Cruz
Like I said, folks playing with their dogs on the beach, this fine, unpressured Sunday morning. AAAAHHHH. Something an East Coaster should learn.
I stop to take a photo, and lag behind. By the time Paul and I arrive in the nice old town center of Capitola - the others have gone right, along the coast, or left, up the hill. We continue on, weaving our way around, not really following the map, and arrive at the ocean front in Rio Del Mar.
Paul and I have three choices. A flat level road along the beach, a very steep climb up a hill to a bluff above the beach, and a flat level road behind the ridge that curves inland. Of course, we choose the flat level road along the beach, and enjoy a quiet small ocean community, with little car traffic, because .... it dead ends. Back we go, and up we go. A short steep climb out of Rio Del Mar gets us back in business. We catch up with our other riders somewhere before Moss Landing. Passing lots of strawberry fields, which looks like industrial farming, plastic sheeting covers the mounds, with strawberry plants planted two abreast in each row. They look good, but I fear our society will tomato-ize the strawberry too.

<< Taking a Break
After a break at a produce barn, where we ate some delicous fresh strawberries, everyone (except me) takes off like a shot. After about five minutes out, I can't see hide nor hair of anyone, so I just go on cranking through the artichoke fields surrounding Castroville. Certain that I am behind, I find the Del Monte Boulevard bike route, and pedal through Marina, Sand City, and Seaside. A cell phone call seems to confirm that my compadres are ahead of me on the bike path. I arrive in Monterey anticipating a re-union with my mates somewhere on the outskirts of Monterey, only to discover, after another cell phone call, that they are behind me!!
<< Lots of Artichokes Around Here!
We have had a pretty strong headwind over the coast marshes northeast of Monterey as we ride southwest into Monterey. When we all finally meet, we regroup down at the Monterey Wharf a little after 3PM, taking turns watching bikes, finding food on the pier (good clam chowder in a sourdough bowl), and resting on the grass. About 5PM, restored, we wander over and get a government rate at the Marriott. Shower up, pizza for dinner, and then to bed.
Only 45 miles today! Headwind for sure, Crack of 9am start?? No system for getting lost and getting found?? Stiff legs from yesterday's ride???

Monday, May 21, 2007 Monterey to Gorda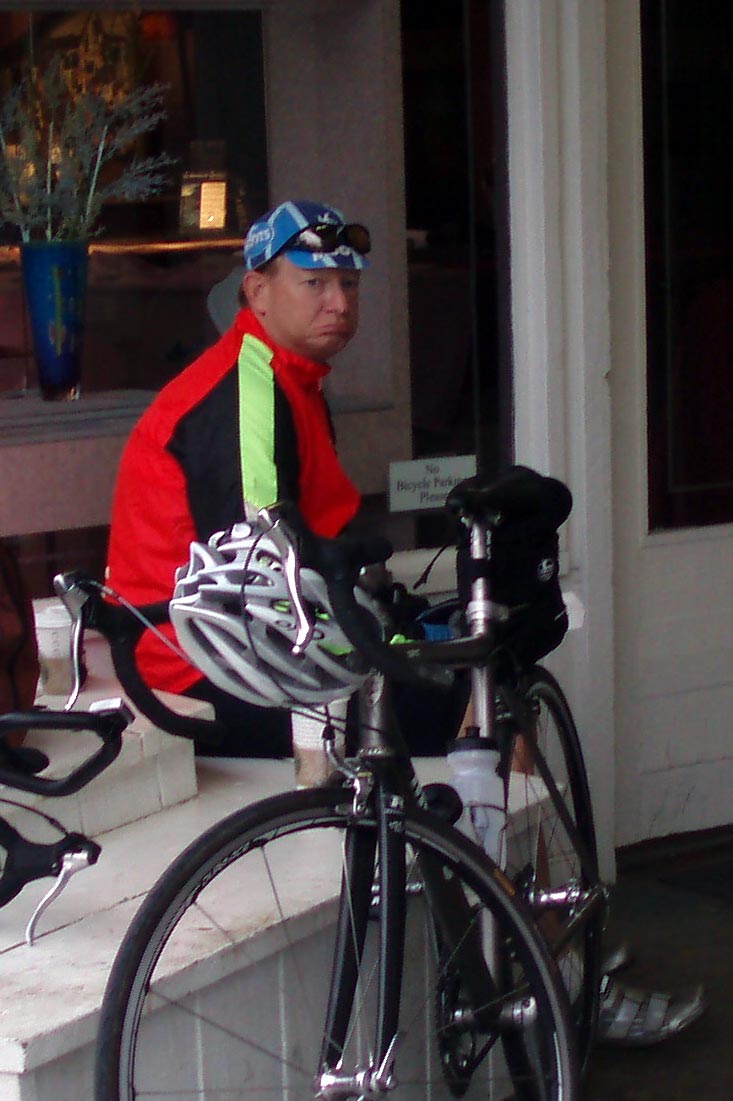 << Paul Must Be Missing His Wife and New Baby or Maybe He Just Needs Some Coffee
From the Presidio at Monterey (i.e. downtown), we bike along the trail following Monterey Bay towards Pacific Grove.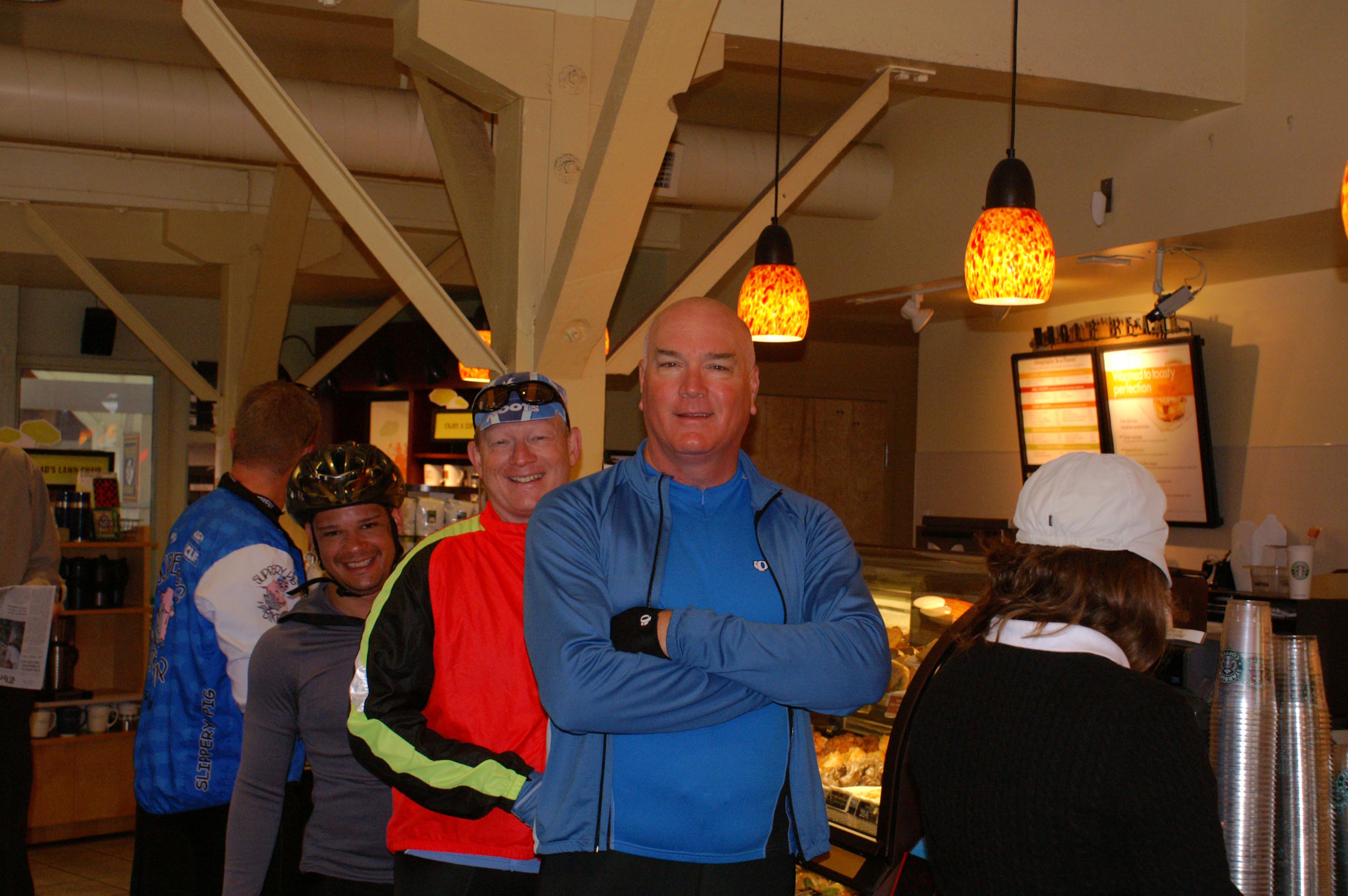 << Good Coffee = Good Start. Monterrey, California.
Of course we stop for coffee (notice Paul is smiling now), and converse with the locals. Folks seem to be moving here in the morning, but not with that east coast hectic anxiety. They appear friendly and talkative, even before their first cup of coffee.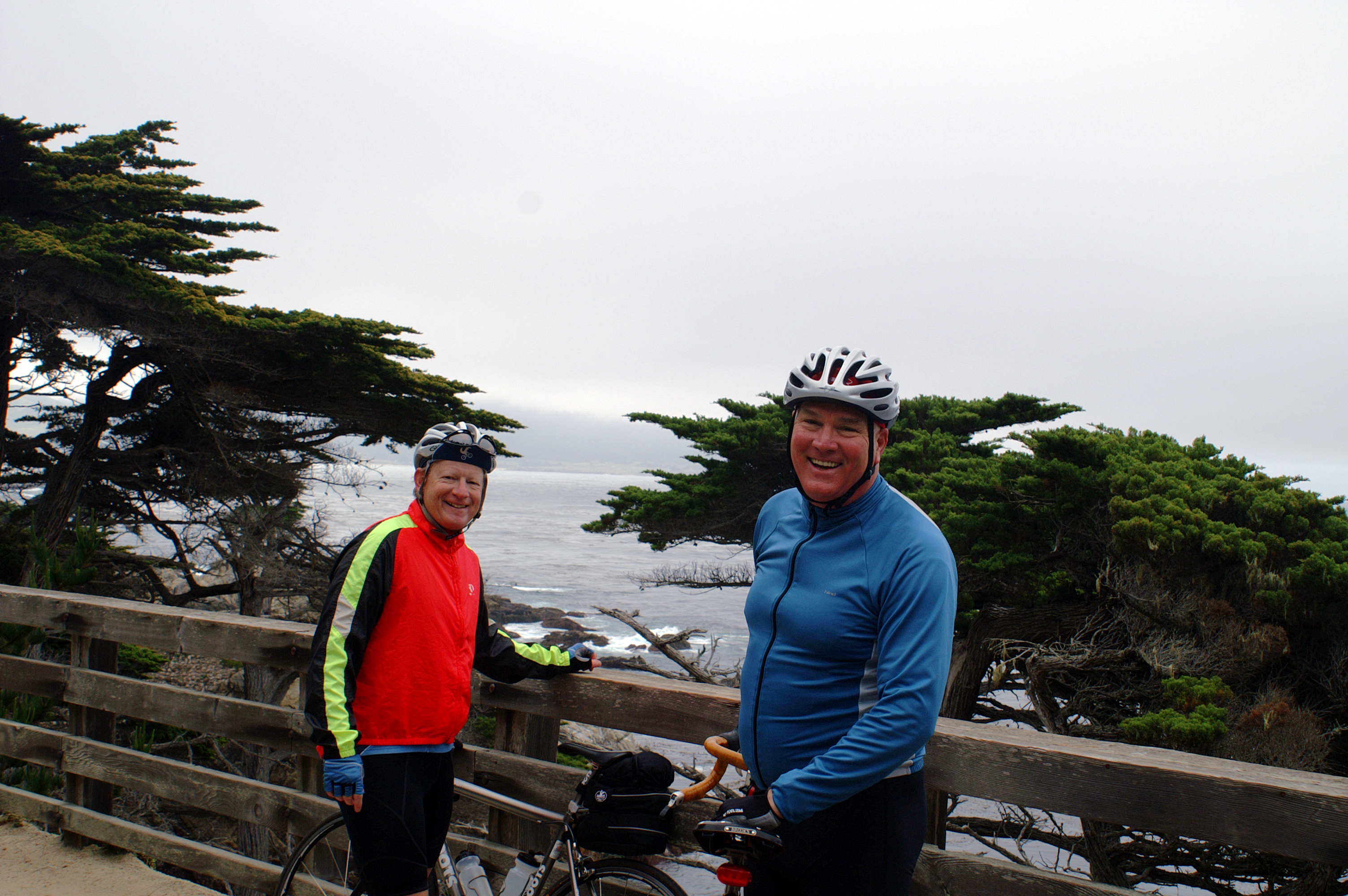 << Coast near Pebble Beach
After coffee and some directions from a local jogger, we continue along Monterey Bay through Pacific Grove. At the Pacific Ocean side of the Monterey Peninsula we pass beautiful surf and a semi-fogbound lighthouse. Onto the 17 mile scenic drive takes us past lush golf courses, big, well landscaped houses, Asilomar State Beach and its crashing surf.
Again, somehow we get split up. Paul, Jim and I continue along the coast, and I pause at the Pebble Beach Post Office to mail back some extra clothes (I love those U.S.Postal Service Flat Rate Boxes << the biker's friend). Now I can say I've got clothes from Pebble Beach.
Rather than take the signed route to Carmel, we continue on the 17 mile Scenic Drive, which takes us back up to the crest of the Peninsula. (One rationale for the extra miles around the peninsula was to avoid the climb out of Monterey). Never mind. It was worth it. Crashing down Route 1 into Carmel, we rejoin Iz and Eric.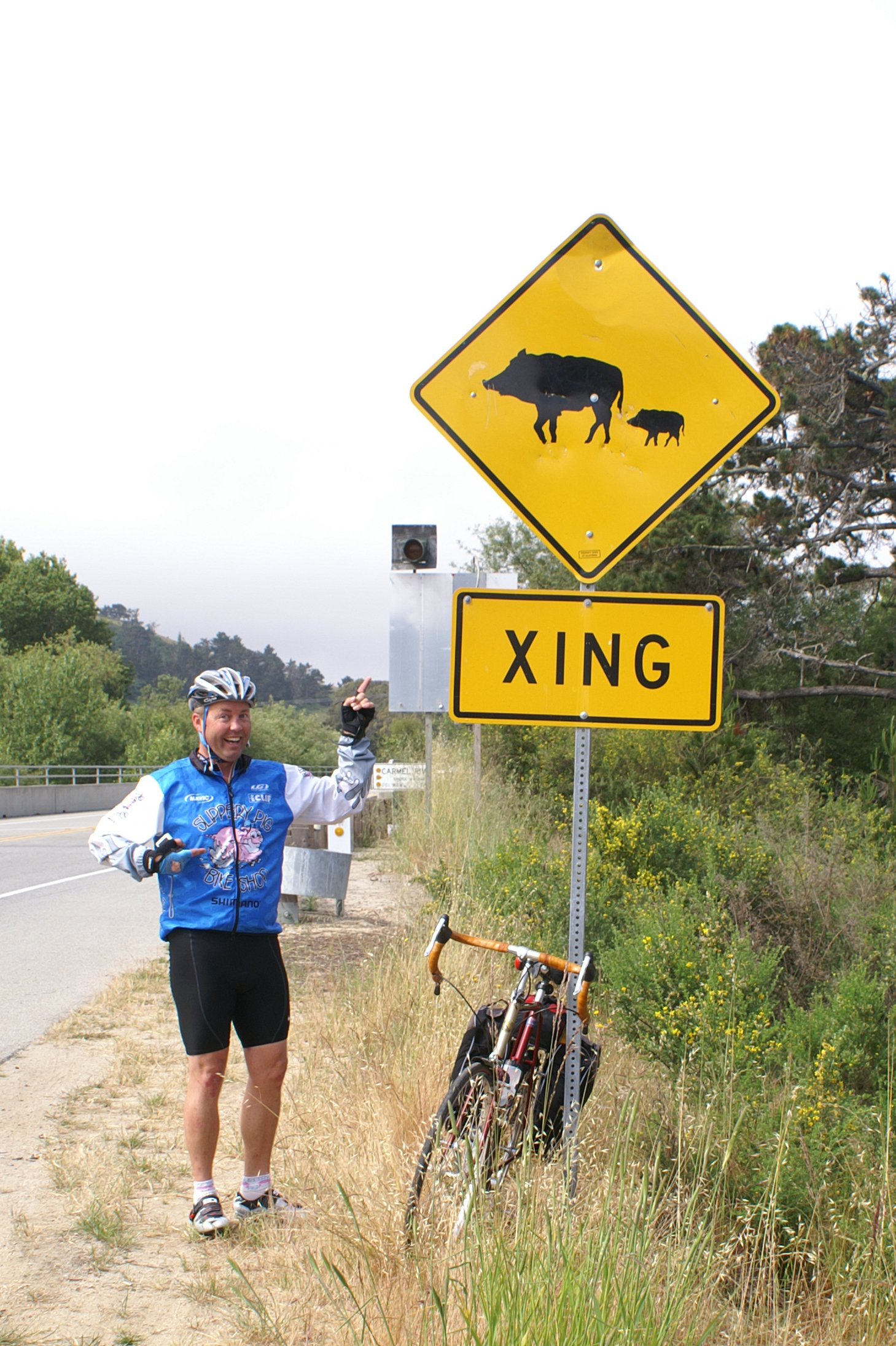 << Free Advertising for Eric's Bike Shop

Just south of Carmel is the Slippery Pig crossing sign, and of course we all want a shot of Eric next to the sign. To find out a little more about Eric's bike shop in Phoenix see.

Slippery Pig Bike Shop.






<< The First Farm that Looks Like a Farm, Just South of Carmel
We have left what seemed to be the more mechanized strawberry and artichoke farms of the north and hit our first farm that looks like a farm. It looks like an anachronism. Nestled along a hillside where it should be, but juxtaposed to about the most civilized golfing community around, mechanized farms to the north, and lots and lots of people in the San Francisco Bay metropolitan area.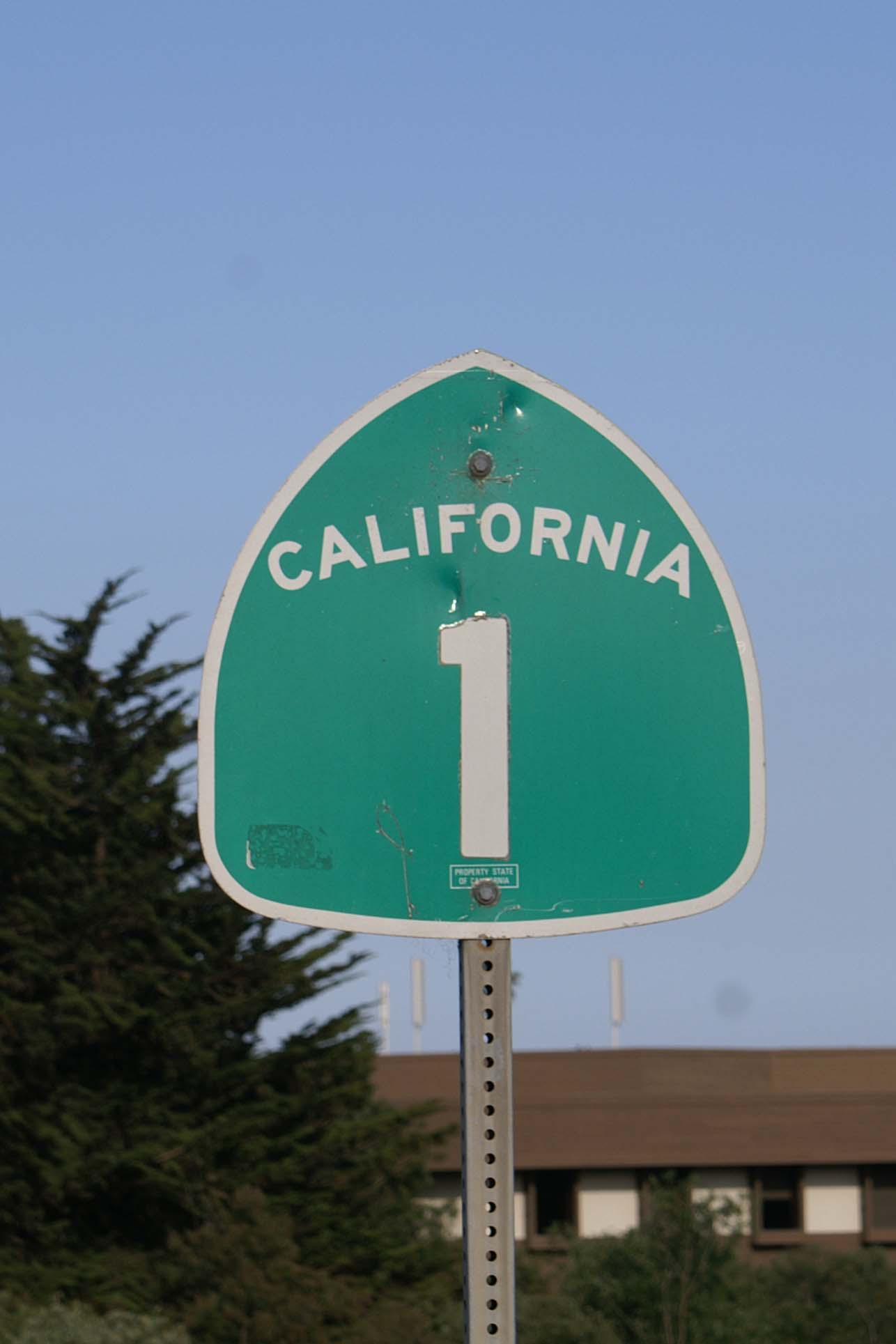 Now we start our real biking - in what many consider the most beautiful part of California Route 1 in the southern half of California. Traffic drops off dramatically south of Carmel, and we start our 26 mile ride to Big Sur.
I note the 26 painted on the shoulder and then 25. Must be a marathon from Big Sur back to Carmel. The riding isn't challenging, and we pass through a series of redwood groves. We wander into a little town just north of Big Sur, and we still haven't started to climb. Soon enough. After a short break at a restaurant/bar/convenience store, we start our long haul up the cliffs.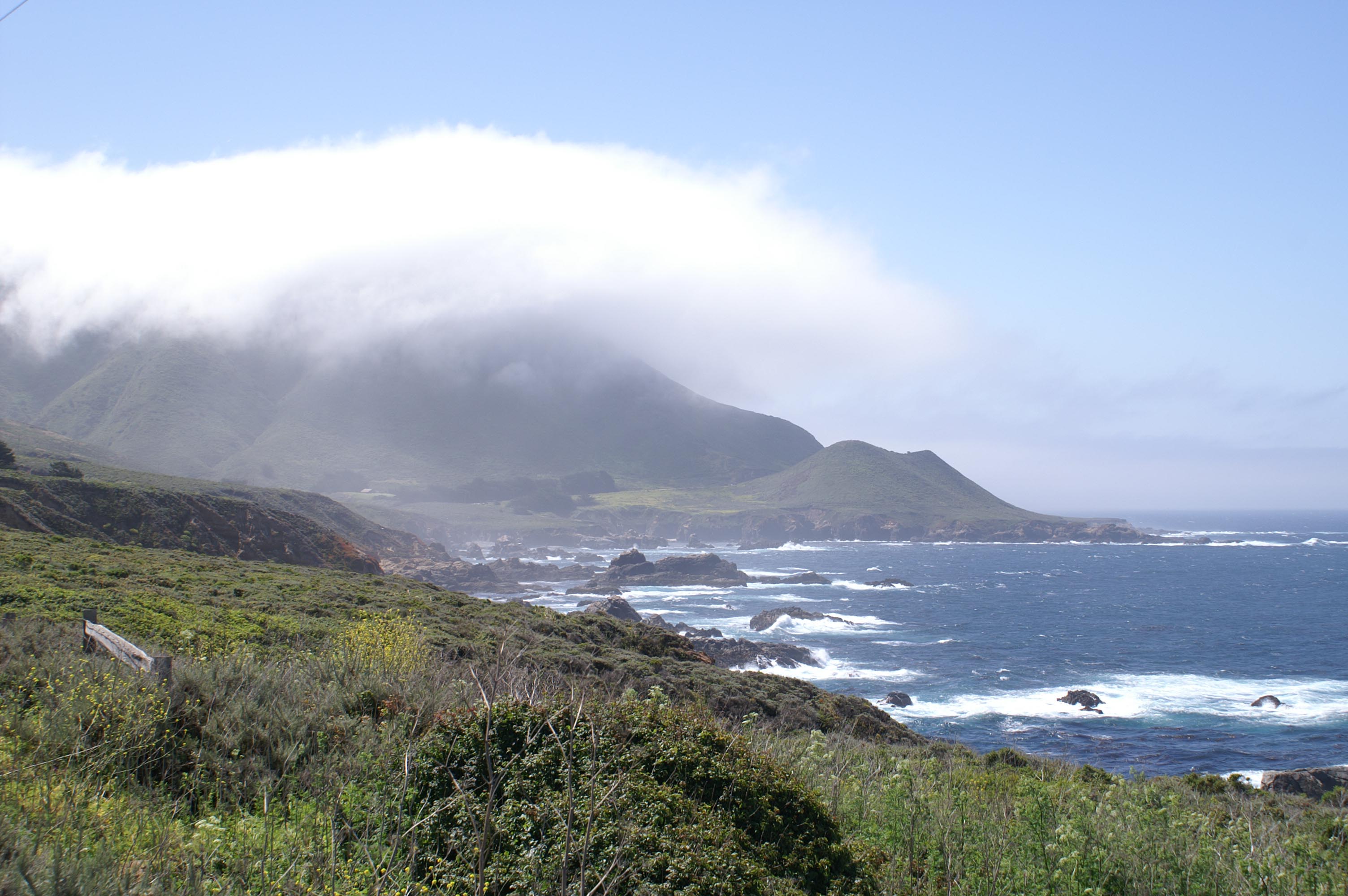 << Sweet California Coast !!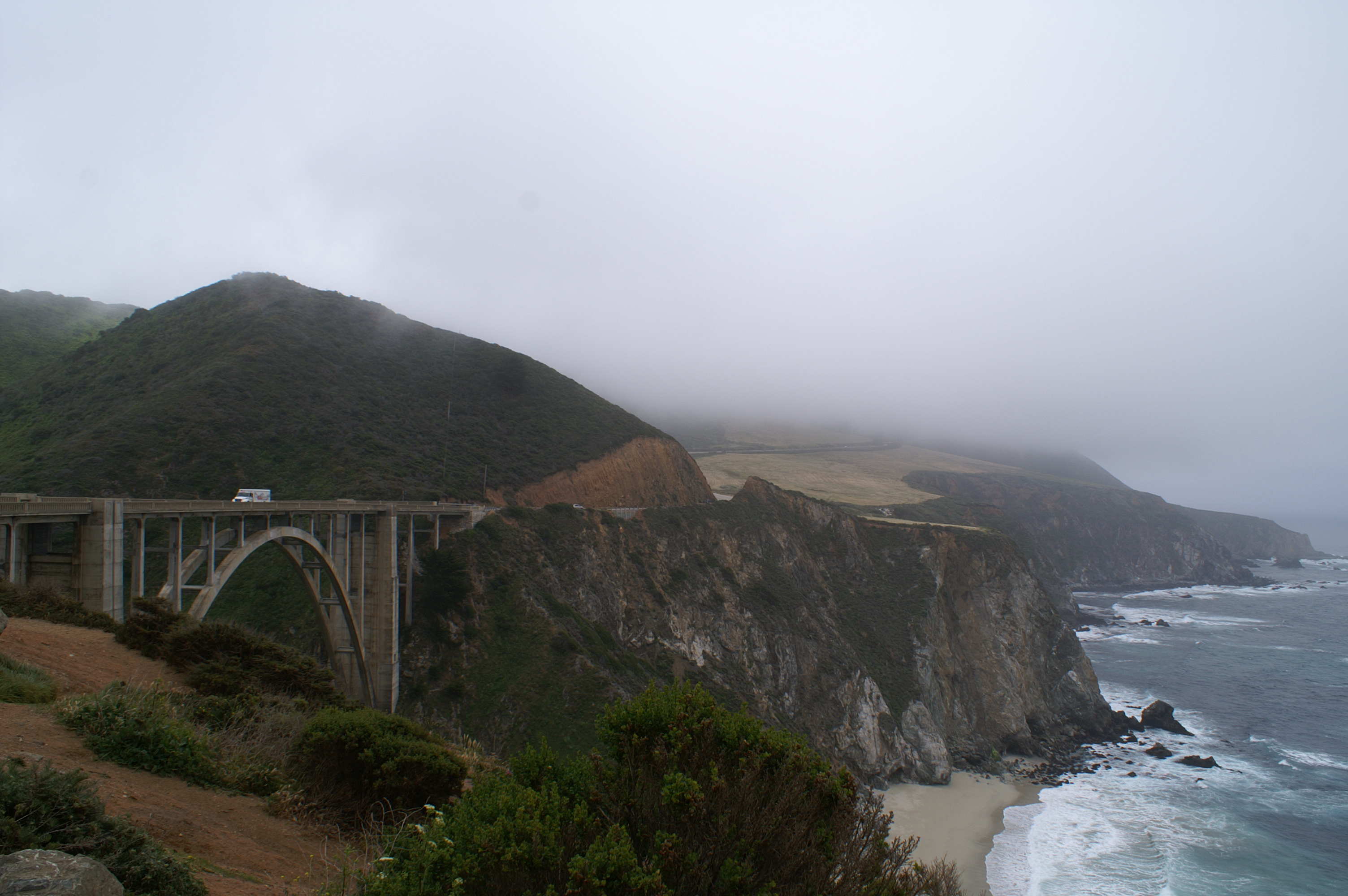 << The Beginning of the Big Sur Coast
As you can see, the weather comes in puddles. Patches of warm sunny weather, puddles of cool foggy ocean air. You're sweating climbing up the grades, and freezing going down. Here is a picture of one of the concrete arched bridges, similar to the Bixby bridge. It is typical of all the bridges that cross the short coastal mountain rivers that eat their way to the coast. These bridges were originally built in the early 1930's to connect/complete Route 1 along the California coast. They also are very similar to the bridges on Route 1 between Seattle and San Francisco.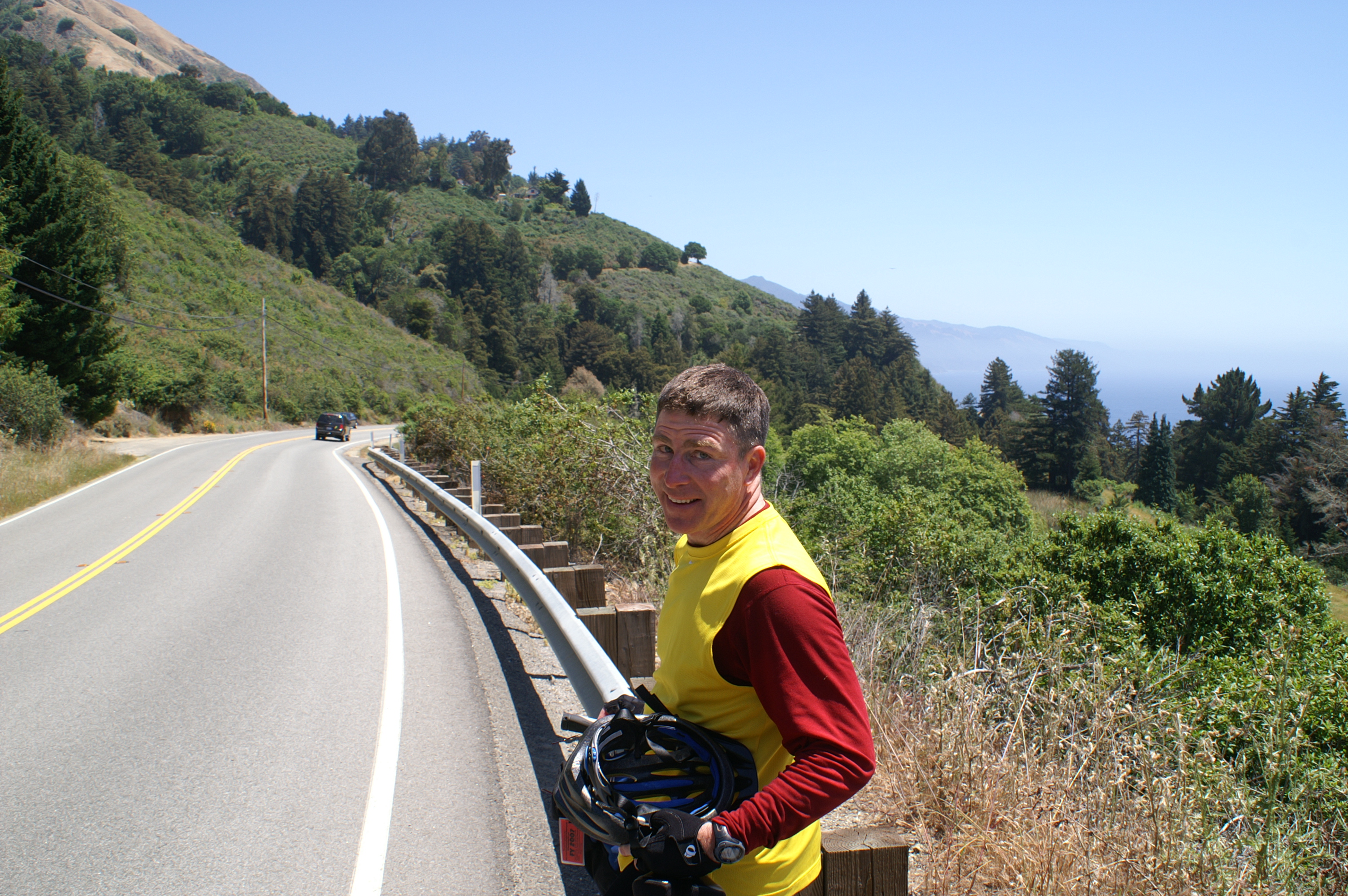 << Smiling After Making it to the Top
It is quite a climb up to the top to Big Sur, which is just a stretch of road with a small number of restaurants, hotels, inns, and homes. It's spread out so there is no "one place" to call Big Sur. (OK, maybe I missed the Post Office). You can see the sun has come out. Now we get to enjoy a little downhill.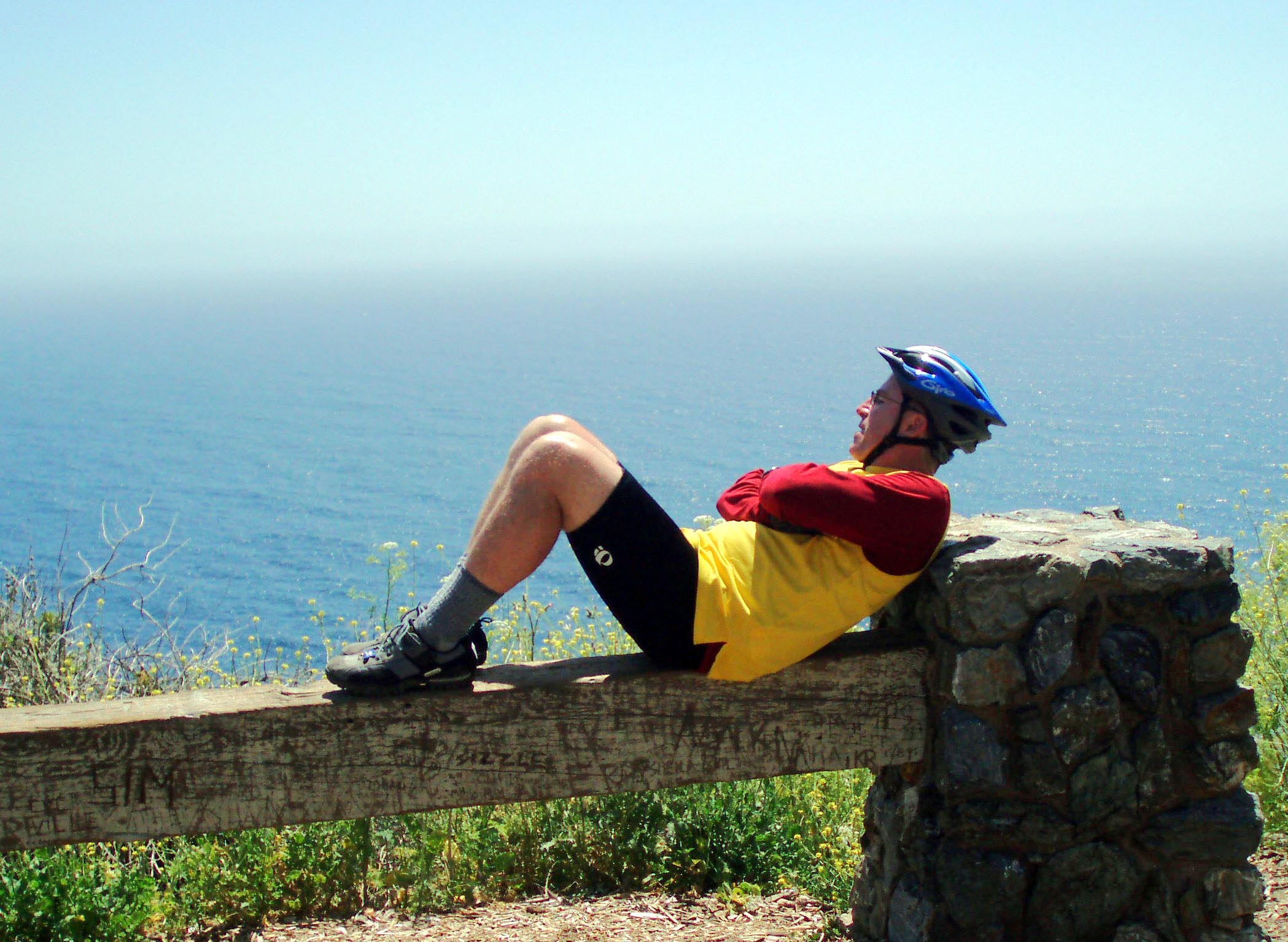 << OK, Now I Can Rest.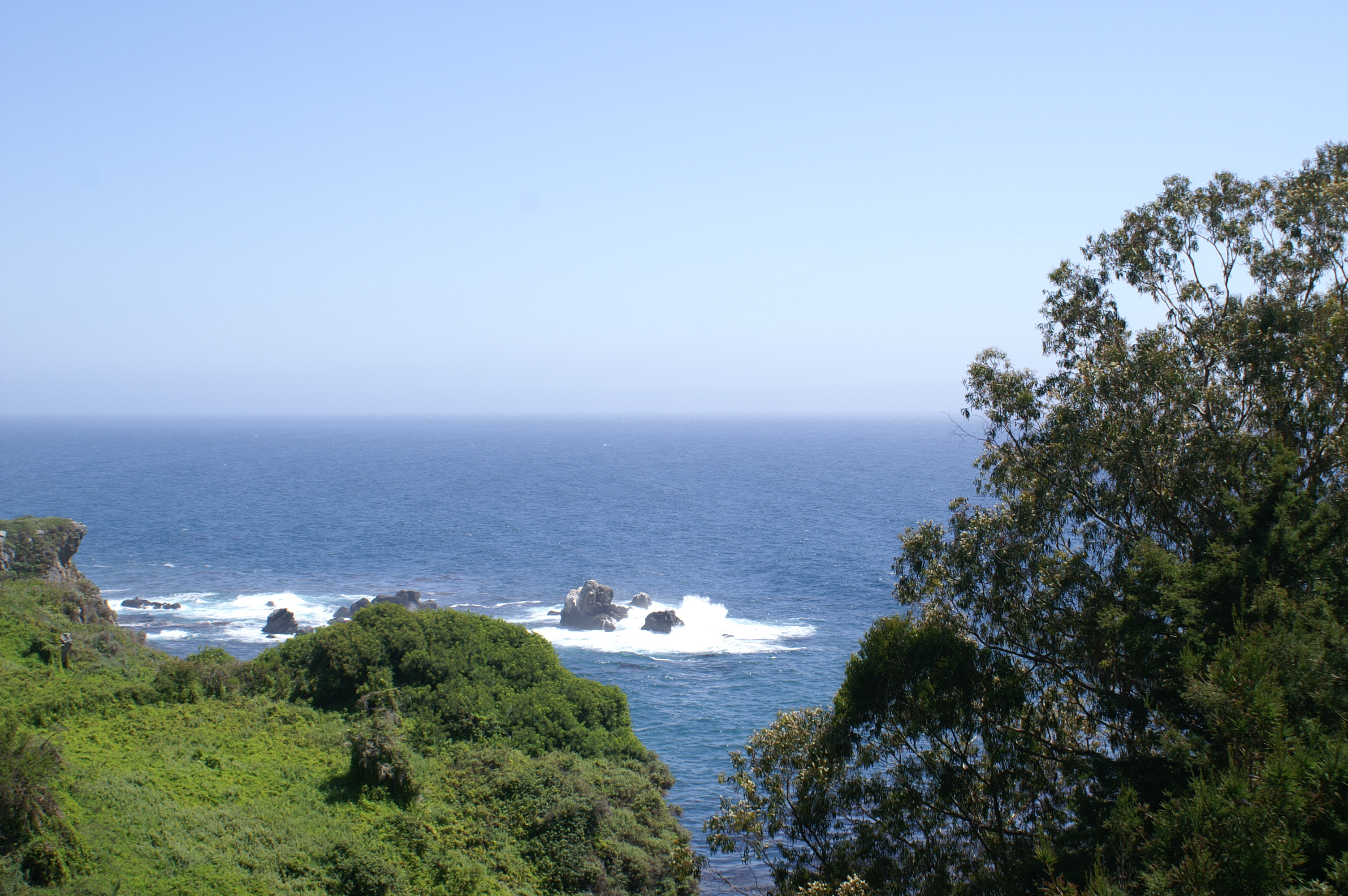 << The Coast South of Big Sur
I always say that no matter how slow I go, I feel like I'm going to fast. This stretch of highway is a great example of that. Beautiful green coastline, Pacific air rising up the cliffside, crashing surf below. Very little traffic. Sun.
After Big Sur, the coast settles down a little bit. There are not quite so many or so steep climbs. Vistas broaden on both sides of the road, and replace the steep cliff faces on the left and steep drops on the right.
Of course, we split up again today. Jim and I end up riding together. Jim bonks about ten miles outside of Lucia, and we rest a bit at a pull over. I lay down with my eyes closed listening to the surf wash in. After a short rest, we are off to Lucia.

<< The Coast near Gorda
When Jim and I arrive in Lucia, we find Paul, Eric, and Iz. They have just finished eating, and after we catch up on the days events, and order, they depart. My fish and chips comes with some great tarter sauce. Wow. I never knew you could get high of mayonaise! MMM. It was good. Enough fuel to get to Gorda, if we can find a room.
Our waitress gives us two numbers in Gorda, one for the cabins and one for the convenience store. I call the number for the cabins, but am quoted $450 for a three bedroom cabin. Even this late in the afternoon (5:30PM), I pause,and say I'll call back. I check with Jim. He doesn't wince too badly. I call back. Line busy. I call back. Line Busy. You get the picture. There is not much along the coast here, and the next stop past Gorda is 25 miles from here. Several more busy signals. I finally call the convenience store. They walk their phone over to the cabin guy who accepts our request for the cabin. I ask if he needs a credit card to hold the room. No, he will hold it until six. I say we are on bikes. He says he will hold it until 7PM, no 7:30PM. He seems to soften up a bit. But we still are talking $450.
Jim and I start the last ten miles or so to Gorda.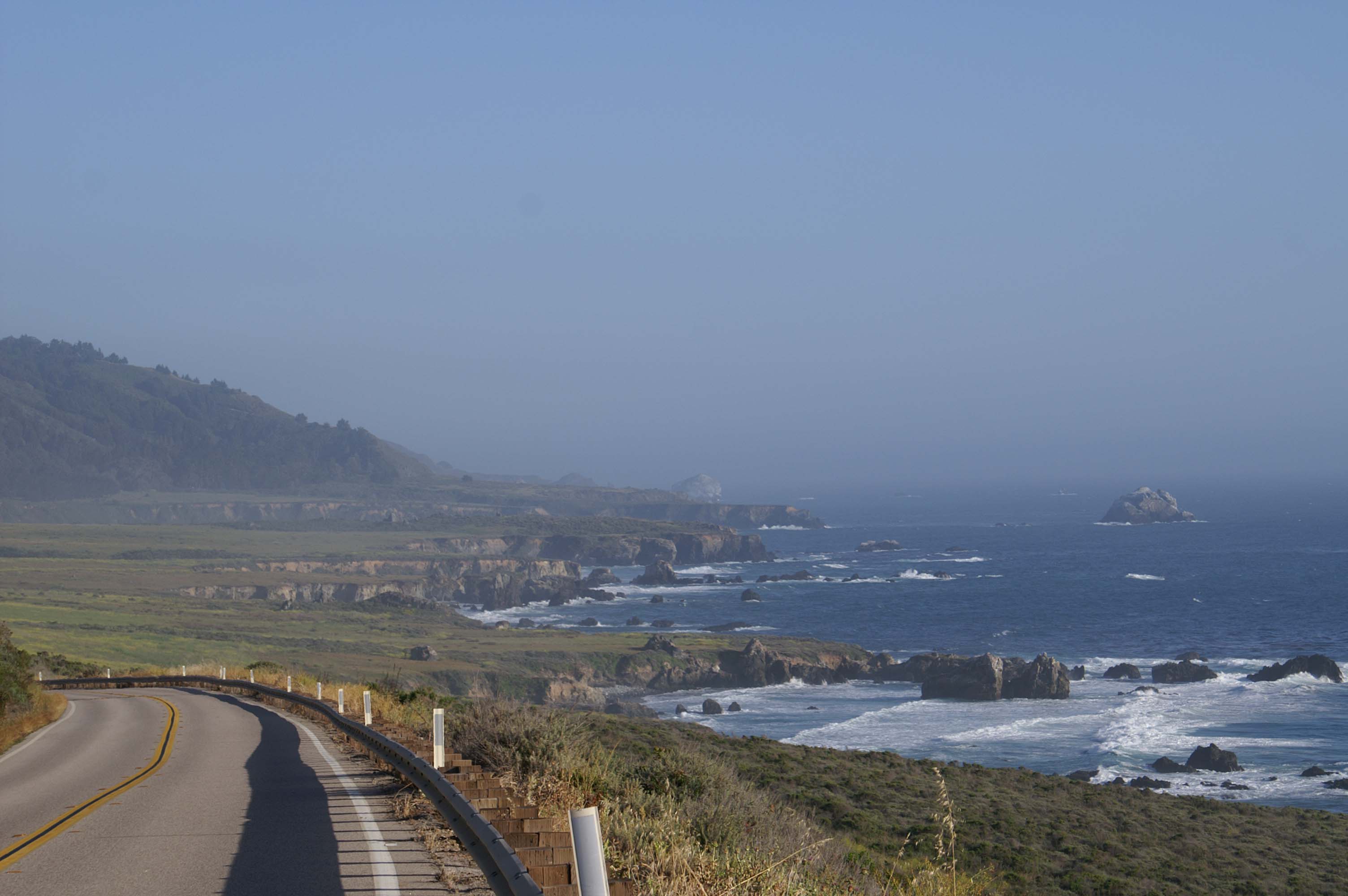 << Arriving at Pacific Valley
Pacific Valley is a splendid place. Short ragged coastal cliffs, green fields, white surf, layers of waves and fingers of land sticking into the Pacific. It's just north of Gorda.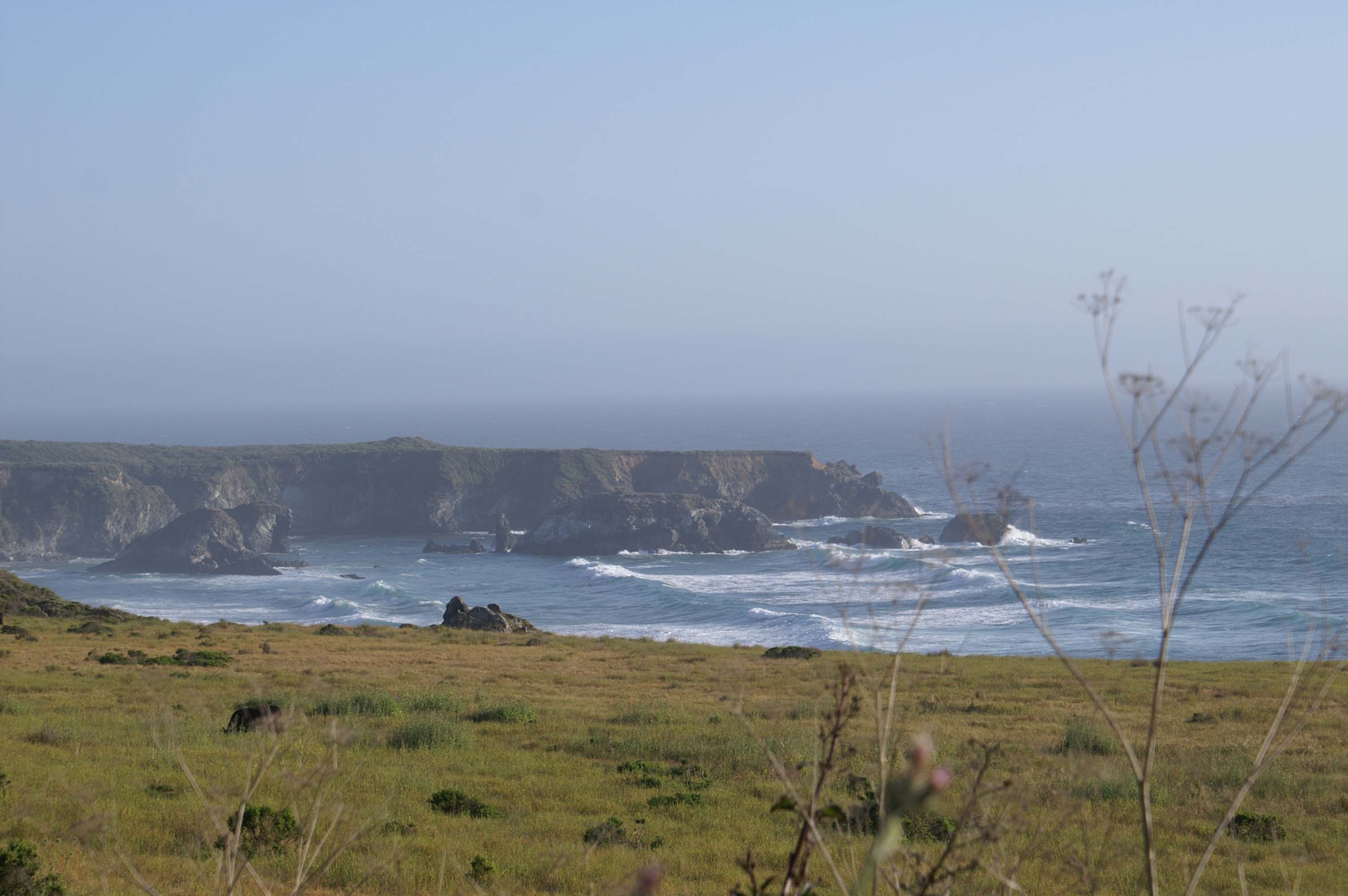 << Another shot of Pacific Valley
As we travel south from Lucia to Gorda, a number of slides have taken out sections of the road, one large enough to require major structural improvements and a single shared lane traffic light controlled section. We arrive in Gorda, to find Eric, Iz, and Paul have gotten two rooms at $275. That's a little bit better. Never did run into the guy that quoted me $450, but there were plenty of rooms available.
We grab some dinner at the restaurant next door, and call it a night. I end up sleeping on the porch for a while - who knew bikers snored so much?? But was invited onto the floor in the room next door which was a little quieter. Met some folks who came in late last night - their last 15 miles was in the dark. Sad they missed some scenery, but maybe the moon and stars were out. 78 miles for the day.
Day 4 Tuesday, May 22, 2007 Gorda to San Luis Obispo - By Bike and By Ambulance
"Does anyone have any whiskey to treat this cold I've got???" asked the person I'll call Whiskey Girl as I walk across the parking lot early this morning to mail a few post cards. She is stretching her arms upward, arching her back, apparently loosening up from a good nights sleep in the van parked adjacent. "Does anyone have any whiskey?"
"We have some stale wine from last night" comes the response from one of the two rather sunburned (or slightly burned out?) guys that seemingly work at the gas station section of our hotel restaurant convenience store complex, "but it's thirty miles to something harder." Initially, this seems to be unusual, but after some thought, it must be an expectable scene here it Gorda.
Gorda is way off the beaten path, there is no easy nearby road east from the coast over the mountains into the Central Valley and miles to the nearest small settlements north or south. And, no disrespect, most of the help here looks sunburned, or having been in rehab at some point, or aging participants of the summer of love in San Francisco (drugs, sex, surfing, Rock and Roll, and Vietnam War protests), or, with much respect, Vietnam War veterans.
Whisky Girl: "Aughktt." Spitting a little. "I really need some whiskey."
It is sunny and clear in Gorda, even though it is still early in the morning. Most of us start out with fewer layers than usual. We have a long grade up out of Gorda, and don't want to get too hot and sweaty. A shortway out, the cool Pacific fog envelopes us, the warm sunny puddle of Gorda turns out to have been an aberation. It is quite a climb out of Gorda, and with the fog and wind, we really can't see much ahead, below, or above. We are working hard to get up the cliff face. No traffic though.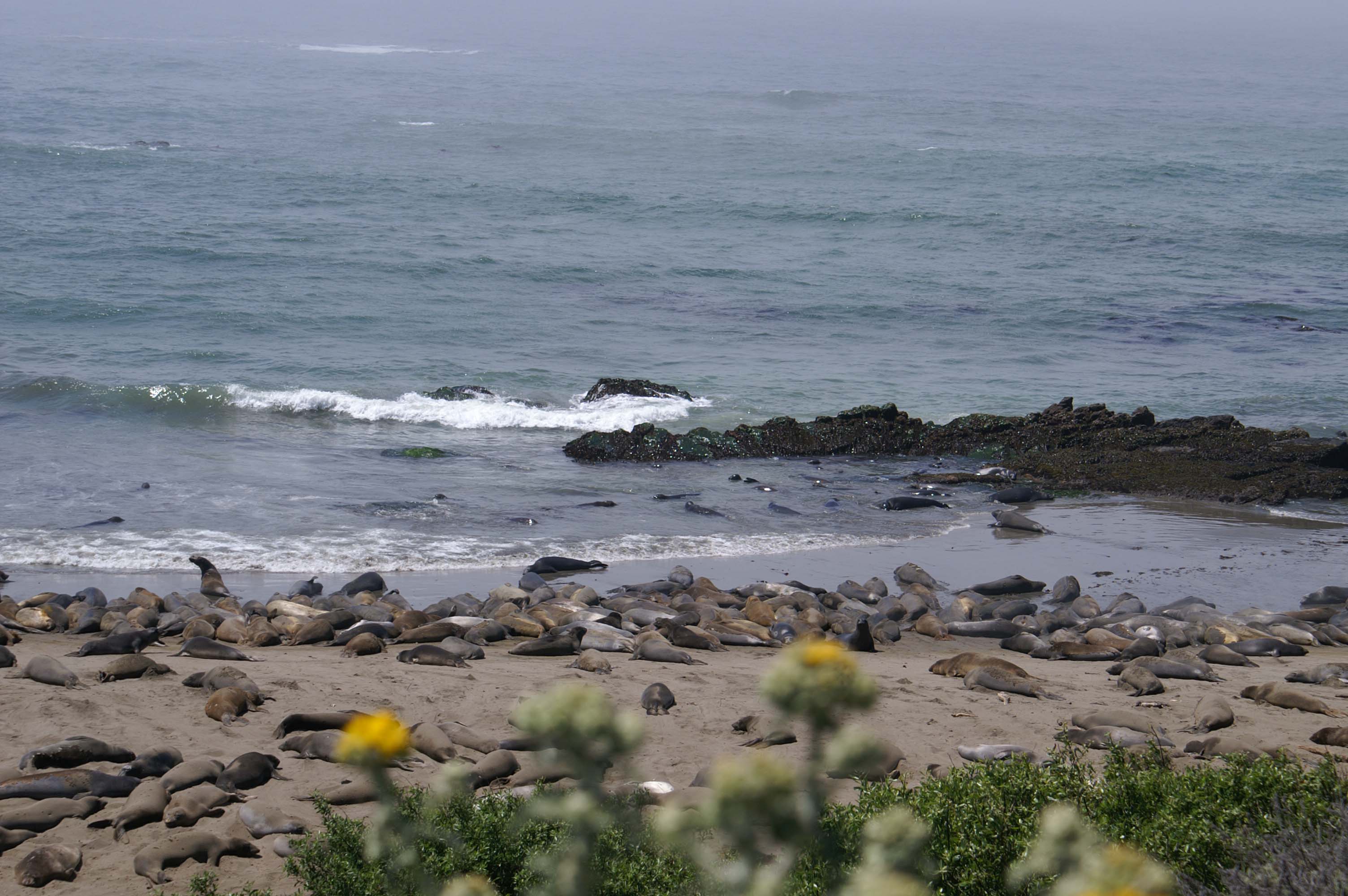 << Sea Lions on the Beach
Once past the peak, we start picking up the pace and we begin our general descent south towards Ragged Point. The country again opens up and we pass though green pasture, rangeland,open country. The bluffs get shorter as we move south. The sun finally burns off the coastal fog and our vistas expand. Several colonies of large sea lions dot the pocket beaches we pass (OK technically Northern Seals). The good news is that they are making a comeback and have expanded their range from a few islands off the coast, to a number of beaches on the continental portion of the California coast. These seals makes funny sounds (almost as bad as the ones you hear in our hotel rooms at night). We pass San Simeon, perched on a hilltop west of California Route 1. The road is flat.
I am not being a "sprocket head" (only in the best sense, guys). Before this trip, I'd thought I was doing well knowing how to spell Shimano, a bike parts manufacturer, only to find out no respectable multi-thousand dollar bike would have this brand of parts! (For reference to readers, I drive a 14 year old "beater" pick up truck.) I had never heard of the world famous Cambria Bike Shop, which of course is in Cambria, the next town down the coast. I always stop by the original Starbucks when I am in Seattle (in the Pike Street Market area), so I understand my fellow bikers need to reverentially stop to check out the store.
Turns out the big Cambria bike store is now in San Luis Obispo, down the road, and this one is perhaps, just a sentimental hold over from the company's early days. We did get a great lunch next store at the Creekside Cafe, and got air in our tires from the Cambria Bike Store's own bicycle pump. Cool.

<< Heading Up and Inland Away from the Coast
After regaining Route 1 by climbing out of Cambria, we proceed south. Traffic is picking up a little as we get closer to the Southern California megalopolis, but isn't bad. We pull off the Route 1 bypass to take old Route 1/Main Street through Cayucos. Just as Main Street ends and turns into a well marked Bike Route on a narrow entry ramp back onto the main thread of Route 1:
HOOOOOOONNNNK. SNAP, CRACKLE, POP. Or rather the sound of bike wheel scrutching over loose gravel, the crash of human flesh, the crunch of human bone on asphalt.
(Sorry folks - no picture of the victim or the bloody scene here - though I'm sure you saw in on one of the cable networks national news shows. It was probably just before the story of Paris Hilton and her skin rash and her temporary release from prison.)
Our compadre Jim has been forced off the road by two local women, who still haven't figured out that 1) bikes can use roads, 2) literally hundreds of people can be seen riding down Route 1 on bikes at any time (through-bikers are a common sight here) 3) Bike Route signs do not indicate locations where vehicles have prevailed and thus the bikers have been "routed", 4) there are other means of transportation beside automobiles, and 5) people don't die, in panic and abject fear, if they have to live any part of their moving life physically detached from the steering wheel of their car.
Iz has been forced off the road also, but not injured.
Of course Paul and I - having been a little behind, pleasantly ride up to the scene at its end. Jim is lying on the ground. (I'm embarrased to say that, at first, I thought Jim was resting, waiting for us to catch up. ) Then I notice a truck is pulled over on the shoulder of the ramp 60 yards down. Iz is helping Jim, and Jim has blood, road rash, and an unhealthy look as he lays morge-like flat on the ground.
After an unpleasant series of exchanges with the driver and her feisty sister, the rescue squad and California Highway Patrol show up. Jim is put in a neck brace, lifted onto a gurney and placed in the ambulance. Paul joins Jim in the ambulance for the ride to San Luis Obispo (SLO) hospital. After taking our statements, the CHP officers agree to transport Jim and Paul's bikes to the SLO hospital emergency room. Eric, Iz,and I must bike the last 20 miles in to SLO.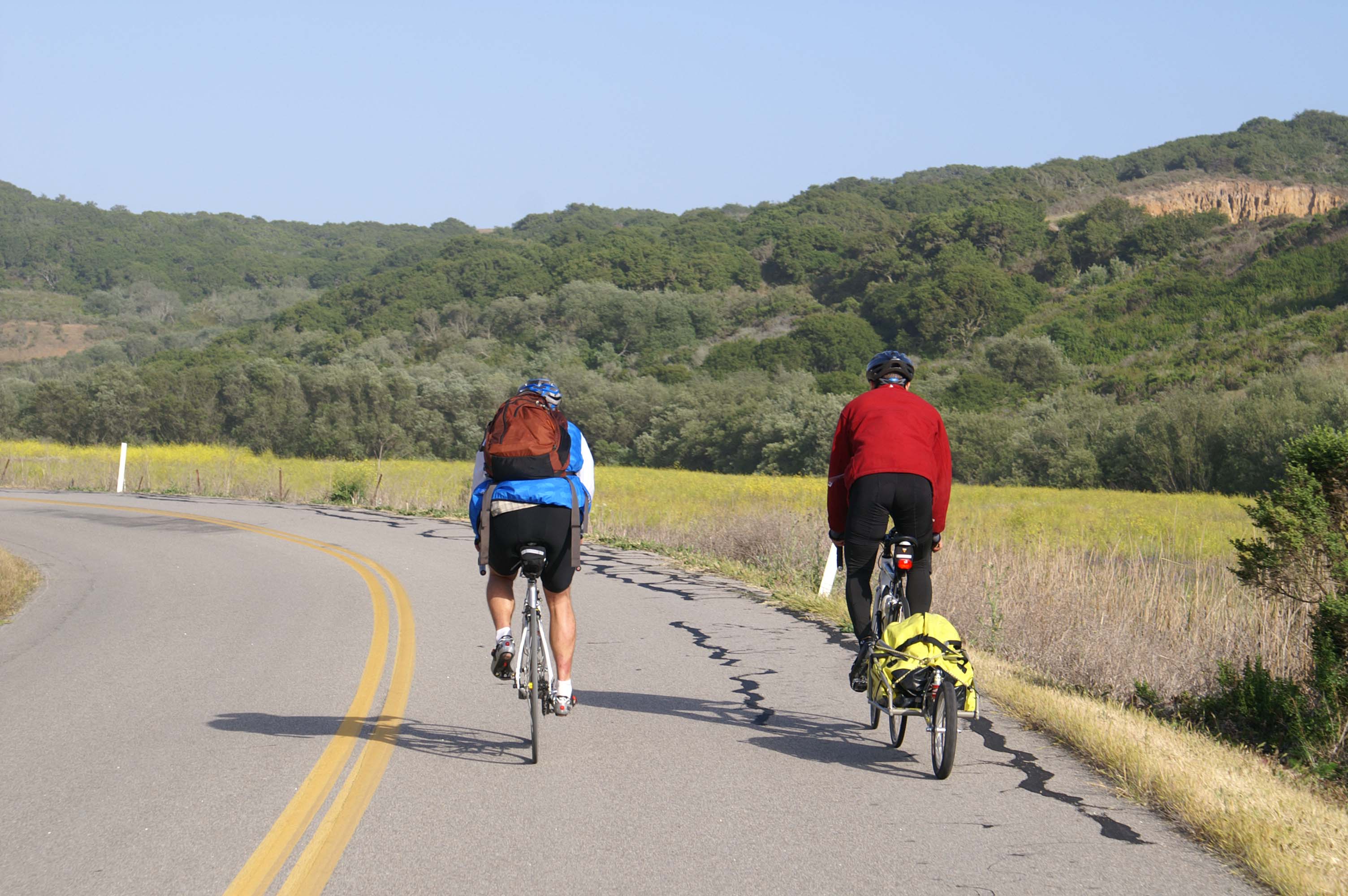 << Bad News - Good News
The saddest news is that Jim has been badly banged up.
The next saddest news is that Jim is missing a really nice stretch of biking between Morro Bay and San Luis Obispo.
Once we wander through the built up areas of Morro Bay, we enter Morro Bay State Park, which, at the beginning, is nice enough. It has the feel of a slightly overused and under maintained urban park. But as we go further into the Park, past the gulf course, it gets quiet and green. At one point the traffic picks up a little too much (this road seems to be the back way south, parallel to California Route 1), but after a short distance, and a moment of map confusion, we turn left onto Turri Road, and have a wonderfully unused road all to ourselves. The road follows a stream that feeds into Morro Bay.
<< I Get By With A Little Help From My Friends
It is getting to be late, late in the day as we work our way through this backwater farming area.
It's been a long day with lots of excitement. I'm pretty tired, but at least it is "sweet light" time of day. Iz has been hauling the bob trailer all day, which from all appearances and reports is not the easiest way to travel. Having pulled a muscle, Iz gets off his bike and starts walking up (for the first time all trip) a steep, and seeming our last, big hill. Eric comes up from behind, and gives Iz's bike a push up the last part of the hill.
We turn southeast onto Los Osos Valley Road which runs through farm and brown rolling pastureland. Turn onto the back road into SLO, and ride over to Sierra Medical Center to find Jim and Paul.
At the Emergency Room, Jim looks much better, though he has broken his shoulder and his arm is held tight against his chest in a sling. There is a hint that he is comfortably floating a bit because of the pain killers he has received. The emergency room nurse, who has a great sense of humor, helps us find a hotel near the train station. After courtesy vanning and biking our way over to the hotel, spending some time settling in, everyone except Jim (he heads off to bed early) gathers at the mexican restaurant down the street for drinks and dinner. Then we all head off for some much needed sleep. 74 miles today.

Wednesday, May 23, 2007 - The Parting of the Ways
<< Bucky and his Bike Victory Dance
Well, this is where we part ways.
Paul et. al. have graciously agreed to make arrangements to ship my bike back to D.C. from SLO. This means I don't have to find a bike shop in LA to ship it back or drag my bike through trains, light rail cars, hotels, airports, rental cars, etc. to get it home. Many thanks guys.
I grab the early morning train to Los Angeles, where, after meeting some old running buddies in Long Beach for a meal (which included fried pickles), I fly to San Antonio to check in on my brother, Berry.
Jim, obviously won't be doing much more biking this trip. And though he originally planned to take the early morning train also, he chooses to sleep a little later and visit the world famous Cambria Bike Shop in San Luis Obispo. He grabs the early afternoon Amtrak train home to San Diego.
Iz, Paul, and Eric, also after visiting the Cambria Bike Shop, head on south along the coast. They should make good time since the geography looks like it is a little flatter than along the Big Sur Coast. The map though does show three big climbs before Santa Barbara. I'm anxious to hear about the rest of their trip in a few days.
Another bike trip done, good friends, good scenery, good food, good road, good times, and good tires. It doesn't get better than that. As always, I wish I had a few more days. I wish I could cover more of the coast. Well, next time.
I do my ceremonial victory dance! And smile at the thought of returning to ride the last 300 miles of the West Coast from SLO to San Diego.

Epilogue Part 1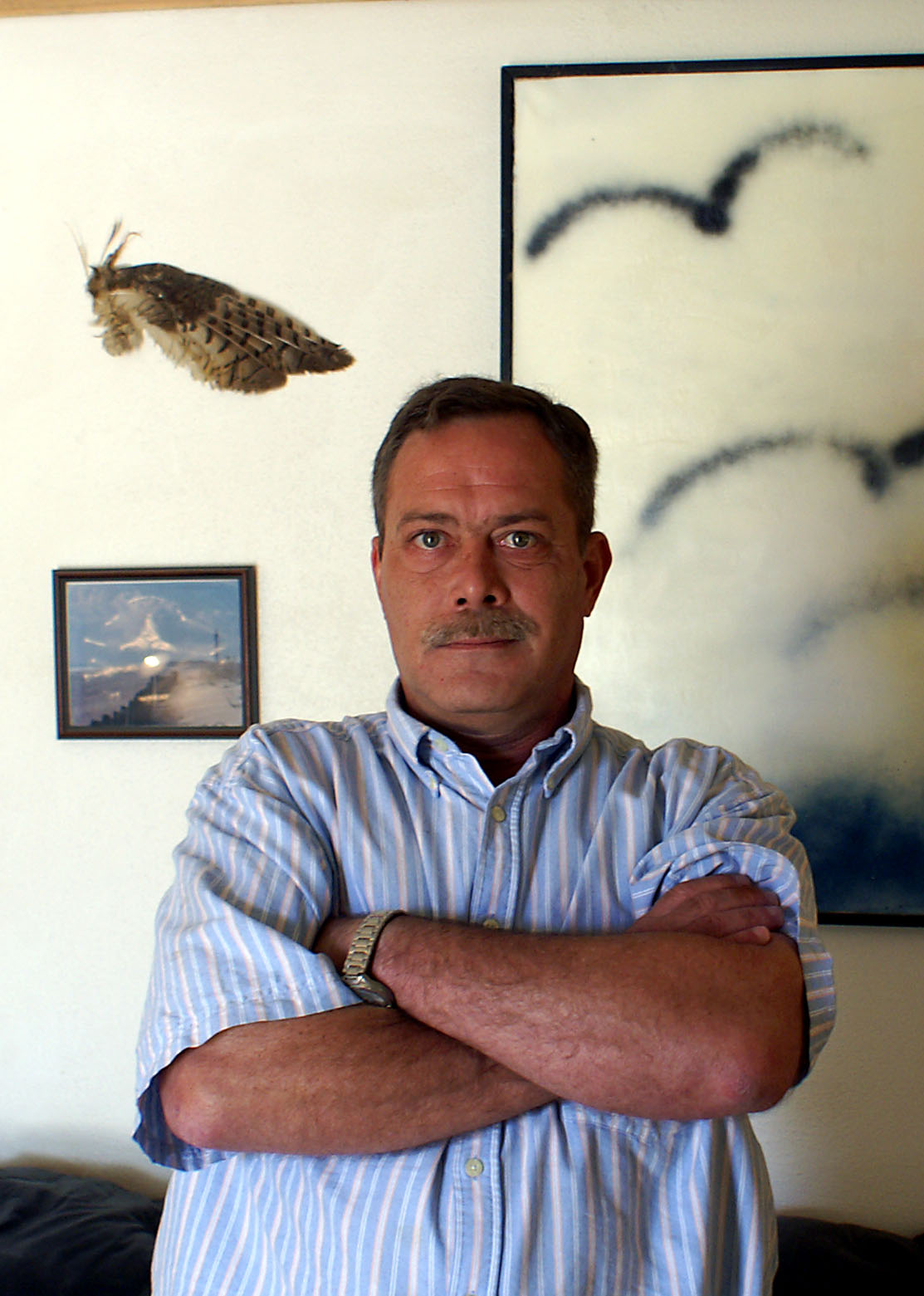 I am extremely happy to see my brother in San Antonio. He is doing very well, and looks and feels better than he has for 18 months. I had a wonderful Thanksgiving dinner with him in Del Rio, Texas in 2005, but then he got ill. I thought for a while that I had lost him for good. About 8 weeks ago, they changed his medications, and he is doing very very well, and I hope he will be back on his own and living independently again soon.
Worrying about my brother has been like having one of those really, really bad days on the road, be it a strong headwind, taking a wrong turn, running out of food/fuel, too many flat tires or a combination thereof. You just have to keep plugging, having faith that people will step in to offer assistance when needed and that things will work out in the end.
Great to see you, Bro. :-)
<< Berry in Del Rio, Texas November 2005

Epilogue Part 2
I had a voice mail waiting for me when I arrived home, from my friend Patrick (see story about where I started this trip.) Says he biked 48 miles on the Colonial Parkway in James City County, Virginia recently. The wheels are turning already. How can I recruit Patrick for a ride???
Last Update: Oct 11, 2007