---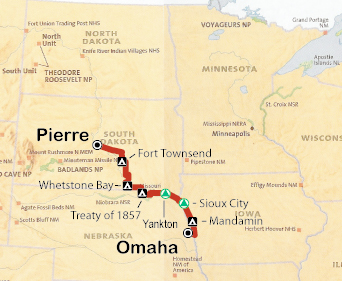 Pierre, South Dakota to
Omaha, Nebraska
Trip # 21 - Following the Lewis and Clark Trail Along the Missouri from Pierre to Omaha
September 26, 2008 to October 2, 2008
477 miles
---
Day 1: Friday September 26, 2008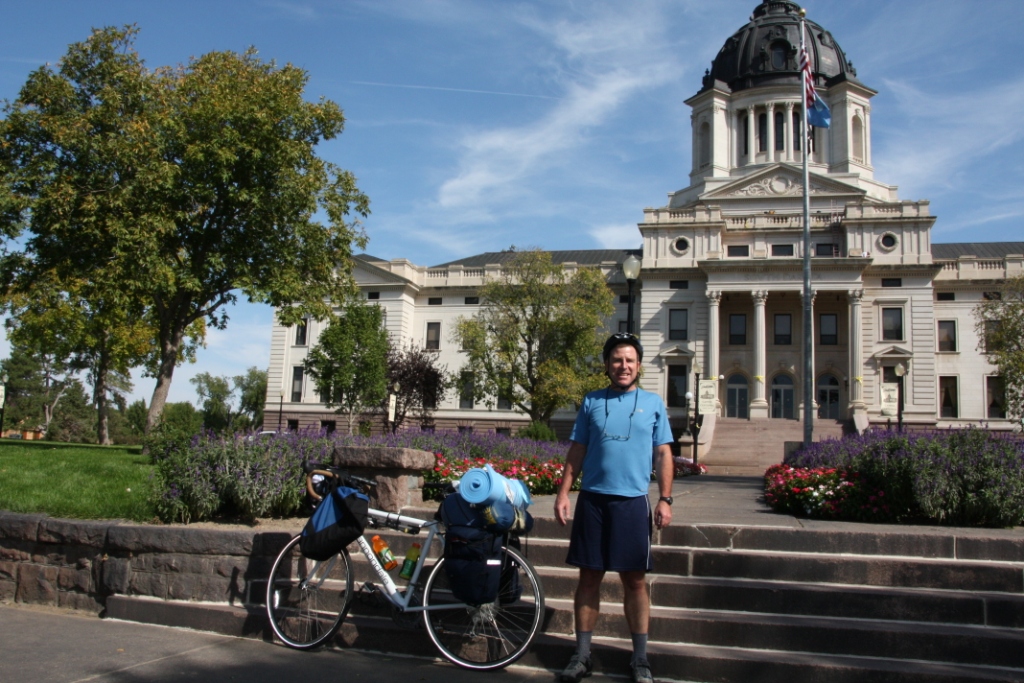 I made an unusually late start today. I had to purchase a sleeping pad and sweatshirt, and get a prescription written and filled for some medications that didn't make it to Pierre. I also got a really bad adventure haircut: high for an adventure cut, $12, and I ended up with some distinct valleys and ridges, which reflected the smashed areas of my hair caused by my bike helmet. I also had to make some last minute arrangements on the sale of my brother's house in Del Rio, Texas, which unfortunately did not go to closing. Lastly, I had my first flat of the trip in the hotel lobby !
I didn't head out of Pierre until 12:30 pm. But when I did, via the north side of the river, I had a beautiful clear ride, through Stephen to Fort Thompson. I found a nice shady Corps of Engineers campsite on the far side of the Big Bend dam, with showers. I headed back into Fort Thompson, a scruffy little crossroads, with an Indian Casino, an Indian community, and Shelby's convenience store, where I got a fresh fried dinner of chicken strips, jo-jos, and broccoli/cheddar poppers.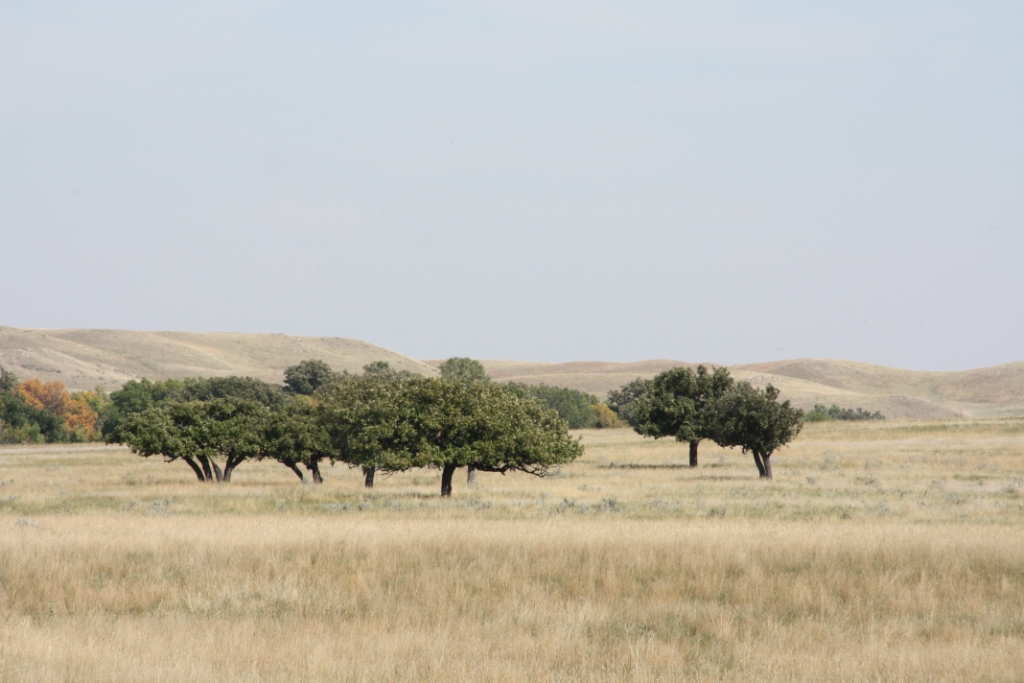 I am a little nervous about this trip. This is the first bike trip I have taken since last August, when I rode from Great Falls to Missoula via Lemhi Pass and Lost Trail Pass. That was a challenging trip, and I ended up irritating my back on that trip. Eventually, I lost the use of my right foot, and couldn? sit, stand, or lie down in any comfortable position. I had back surgery in February 2008. I did buy a new bike in July 2008, a longer road bike, with a larger frame. I think my old too small hybrid did my back in on the Great Falls-Missoula trip.
Sunrises late out here, not until 7:30 am. It was about 60 degrees early in the morning, 75 degrees by afternoon, sunny all day, and no headwinds. Very little traffic.
Rode 61 miles today, plus 4.5 miles around town. Total 65.5 miles.

Day 2: Saturday, September 27, 2008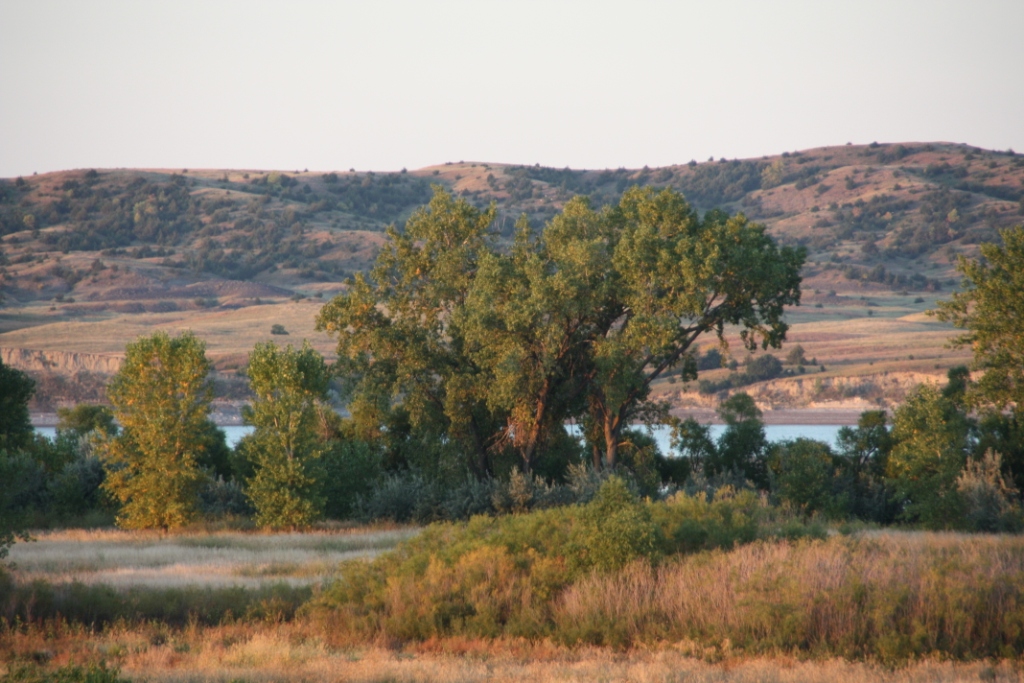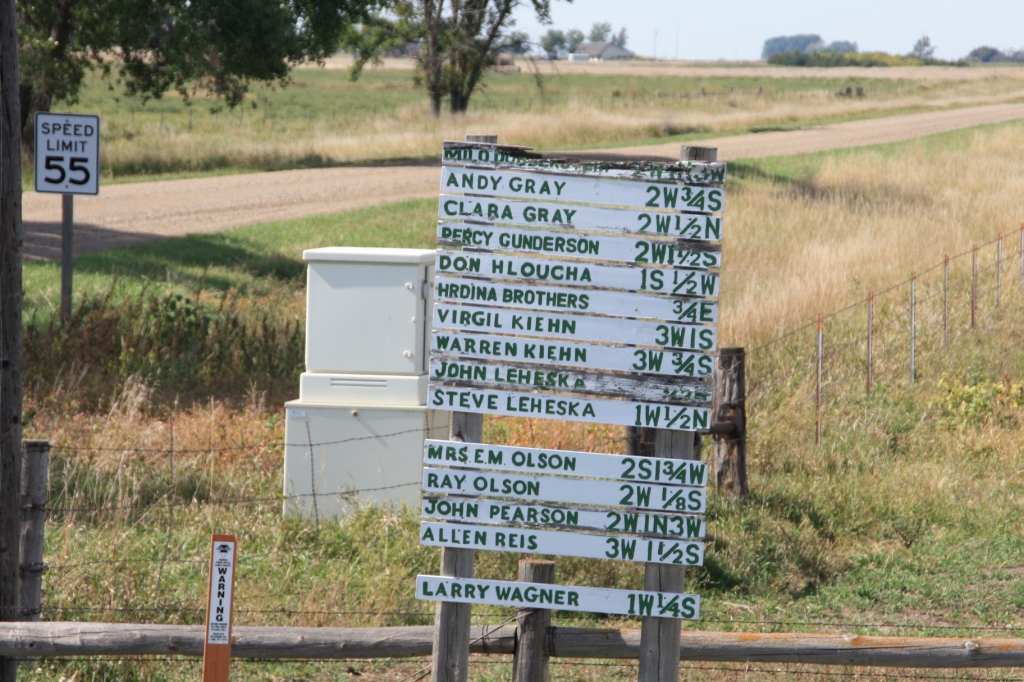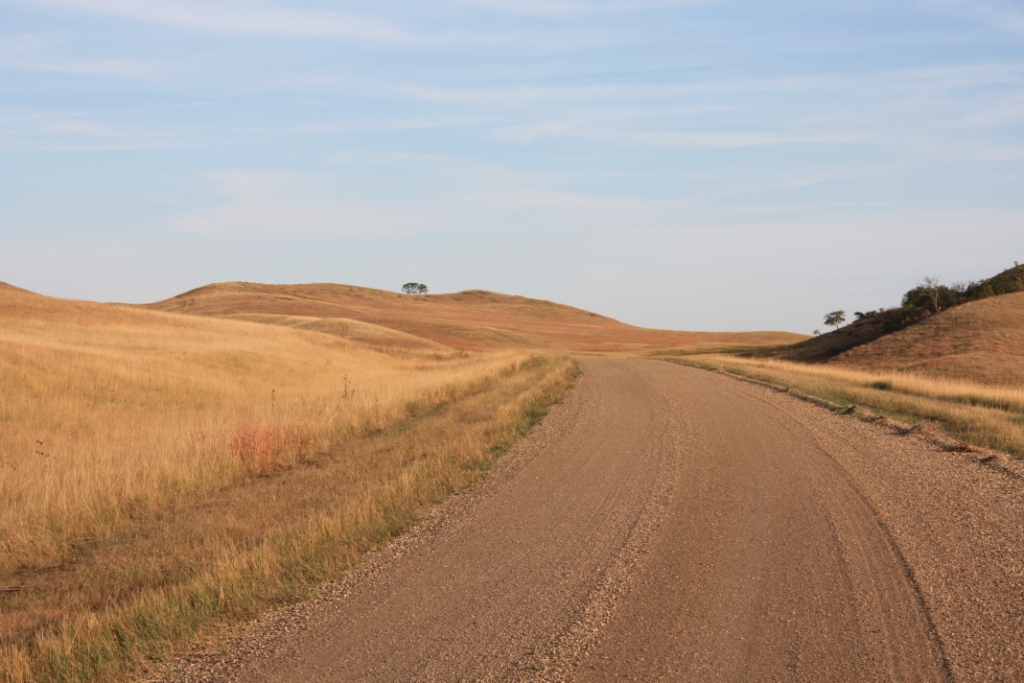 I am up at 6am, packing in the dark and heading out at first light. I follow Indian Road 4 and South Dakota 50 along the river to Chamberlin, a mostly flat route, except near Chamberlin. After getting a good breakfast in Chamberlin, I head out on a 70 mile stretch with no services. After a short climb out of Chamberlin, the route is flat to Snake Creek Recreation Area, where I roll down and take a pause to jump into the Missouri River. After cross the Missouri River bridge, there, I have a tough climb up the steep bluff of the west bank of the Missouri.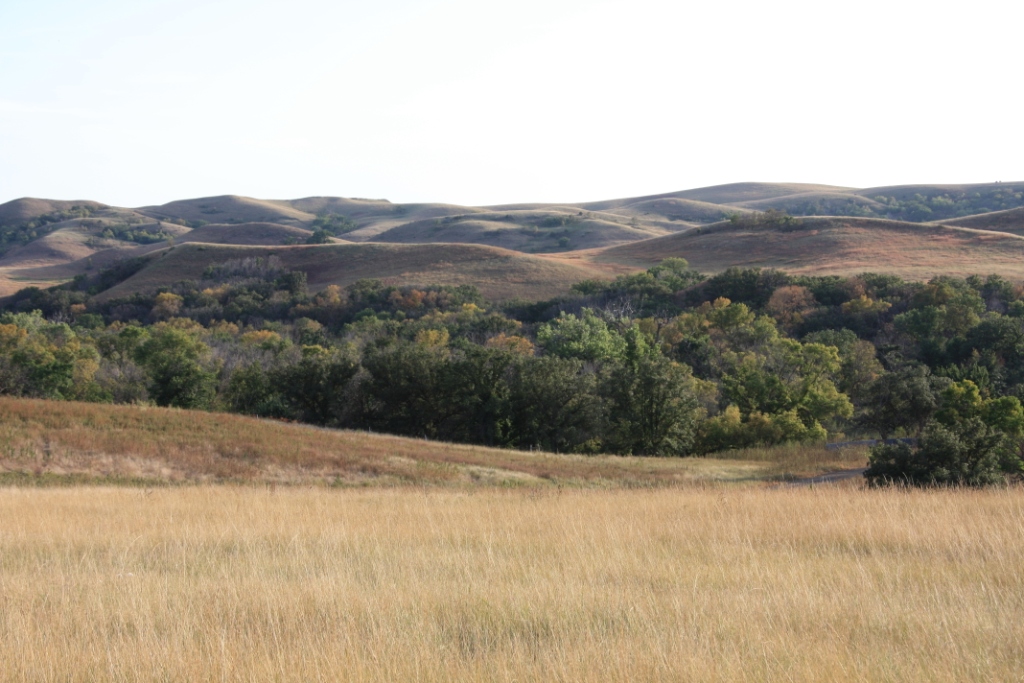 I guess because there aren? many trees out here, the spiders spin long thick whispy strands of silk that blow in the wind. No webs. They just snag bugs or snag you. At this point, I have the option of taking a paved but longer route, or a shorter gravel road, which follows the Missouri River more closely. I choose the gravel road, and what a great choice that is. The first eight miles follows the top of the western bluffs of the Missouri, with great views of the Missouri, and the broad vistas of the lands behind the lower eastern bluff. The next ten miles is through beautiful rolling pasture and farm country. Just sweet (and downhill).

I had thought I might make the steep climb ot of Whetstone By to Bonesteel, but I bonk just before Whetstone Bay Campground, so I slowly coast into the campground, lay out my sleeping bag, clean up at the spicket, have a fig newton dinner, and settle in for the night. Lots of stars out.
About 50 degrees this morning, 68 degrees by mid-afternoon. Sunny blue skies all day.
101 miles today. Total 166.5 miles
Day 3: Sunday, September 28, 2008
The beautiful sunrise over Whetstone Bay, set me up for the tough climb out onto the plateau and Bonesteel. After a huge breakfast that included 2 pieces of cherry pie, I have a flat to downhill run east to the Fort Randal Dam and Pickstown. I settle in for a early afternoon snack, and the owner of the hotel next door offers quest laudry service, and then washes and dries my dirty clothes. THANKS.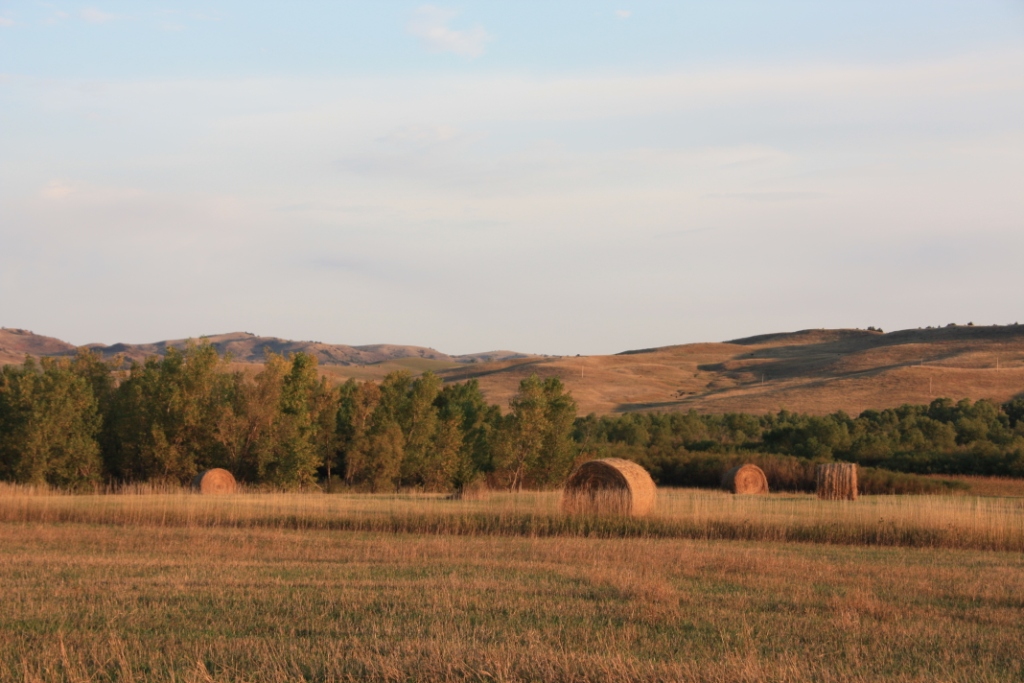 After a moderate climb out of Fort Randall, I pass through Marty obviously the home of a large, but seemly abandoned Indian boarding school, which includes a huge, beautifully maintained church, with a high steeple (a Zulean transmitter?? See Williston to Great Falls trip.). I continue past Marty to the Missouri, somewhere near the Treaty of 1857 monument, which I never find. I find a flat piece of bushwacked ground near what I thought was an abandoned community center. A large cluster of thunderstorms is approaching from the west, so while it's only 6PM, I figure I should get my tent up and be ready to settle in. To my surprise, I see a man on the property, and walk up to ask him if its OK if I stay the night. He informs me that, yeah, it's OK. And that he is chief Standing Elk, and the building I thought was abandoned was his home. Thanks Standing Elk. It did start to sprinkle shortly thereafter, and I slept well, but was awake often enough of know, the wind was blowing and the rain spitting for most of the night. Lots of crickets.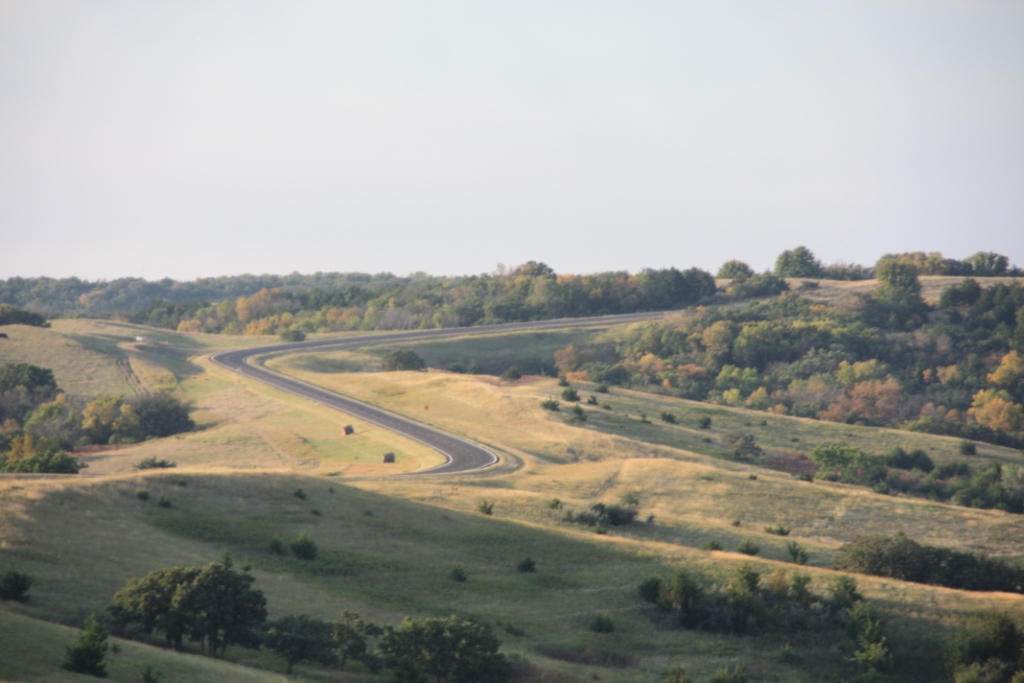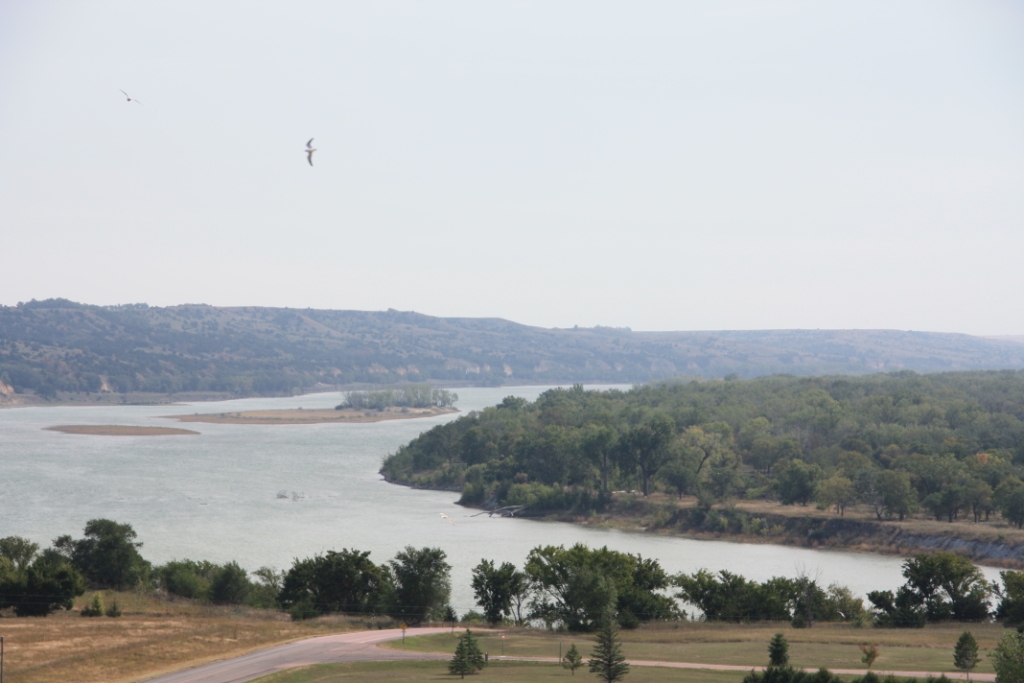 I had a slight SE headwind today. The afternoon high was a comfortable 70 degrees. Clear skies, except for the line of thunderstorms at day's end.
59 miles today. Total 225.5 miles total.
Day 4: Monday September 29, 2008.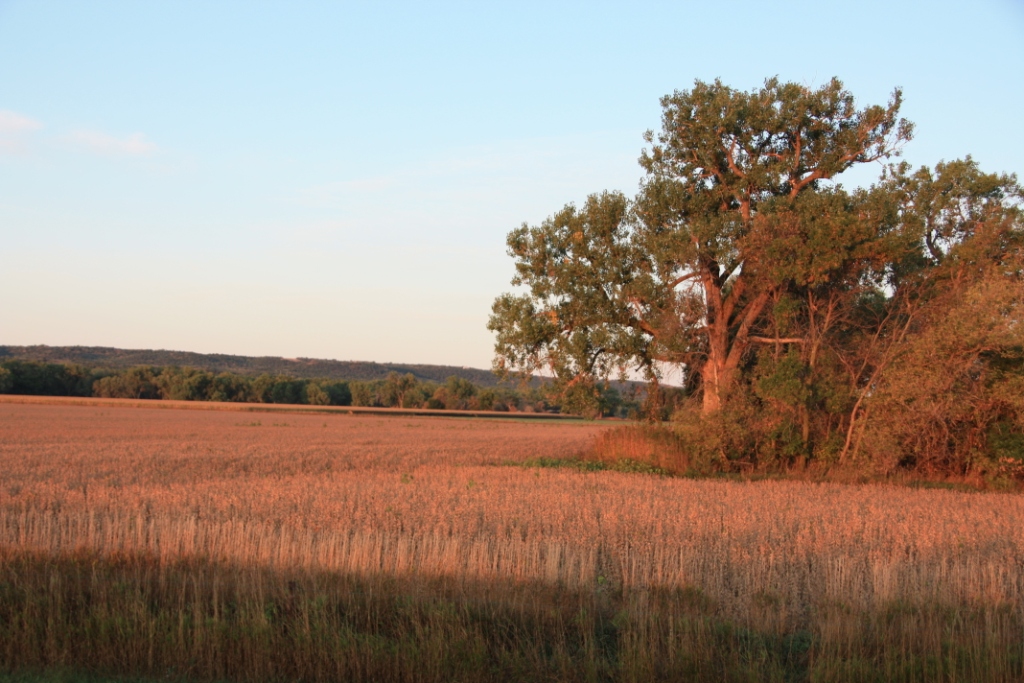 Damp and cool this morning, I am packed and moving just before sunrise. My route follows the Missouri River bank pretty closely, so after sunrise, I make my way to the river to get a few pictures of the bluffs, the cottonwoods, the snags, and the beaver (I wondered at first what cause the sound of a large boulder hitting the water the beaver slapping his tail.) I am crossing beautiful floodplain land, with dense stands of Cottonwood trees. I am in the 39-Mile District of the Missouri National Recreational River, a part of the Wild and Scenic River system that protects about 98 miles of the Missouri in southwest South Dakota that hasn? been turned into a flat, featureless man-made lake. You have to wonder if South Dakota's loss of an incredible amount of beautiful and productive floodplain was worth the benefits of recreation boating, and down stream flood control. My vote South Dakota, and the country came out worse off.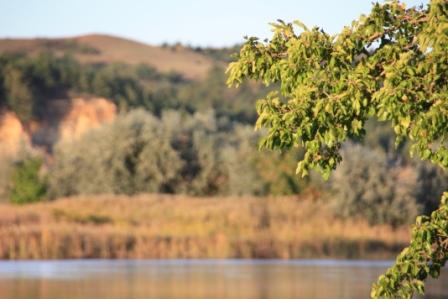 I have a nice lunch in Springfield, a town on a bluff above the Missouri, and now surrounded by huge marshes (the upper reaches of Lewis and Clark Lake), and get a nice view of the ancient river valley bluffs north and west of Yankton. Unusually, I check into a hotel in Yankton, grab an early dinner (5:30pm). Fall asleep after dinner, but then wake up at 9PM and toss and turn the rest of the night. The Dow drops 777 points because the House does not pass the "Bail-Out" bill.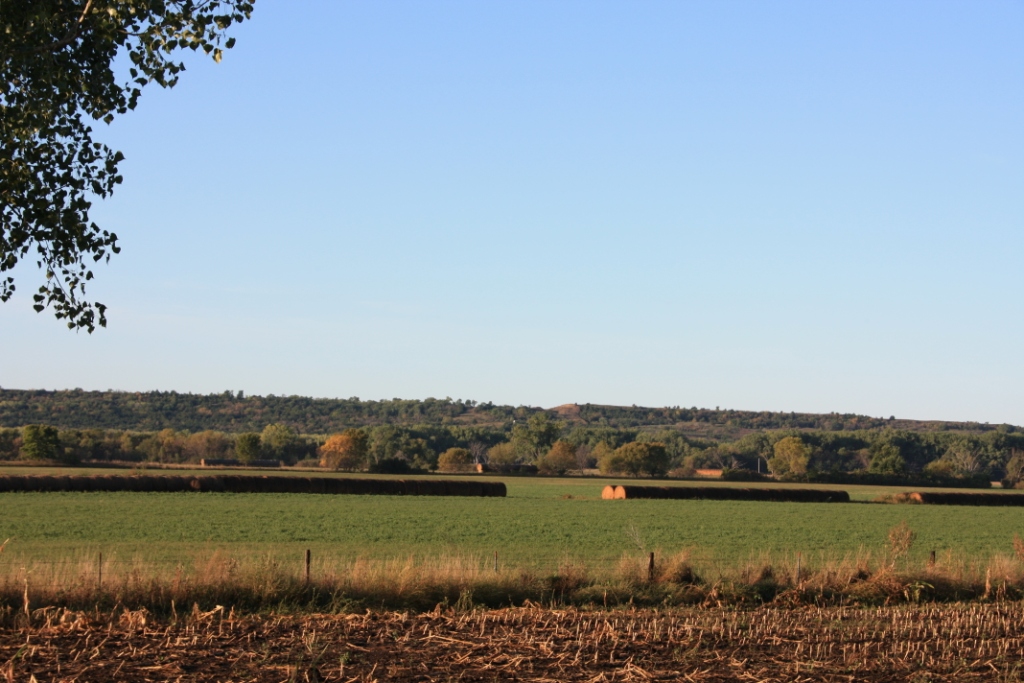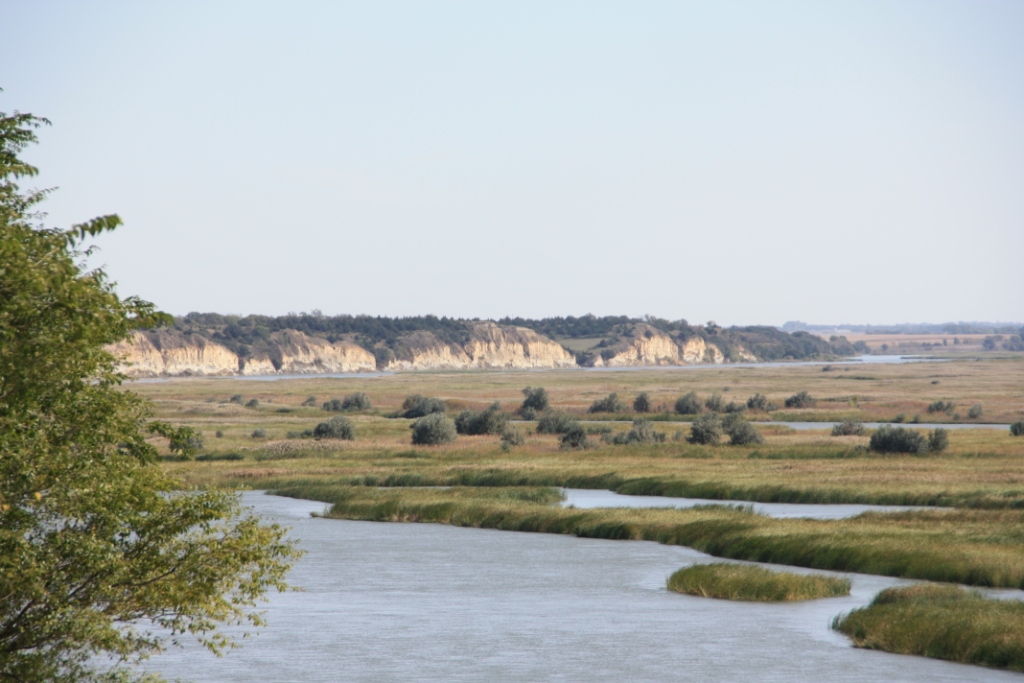 Cool this morning at about 62 degrees and partly cloudy. I have a brisk tailwind from the Northwest most of the day. The afternoon is clear and sunny with a mid afternoon temperature of about 65 degrees.

57 miles today. Total 282.5 miles.



Day 5: Tuesday September 20, 2008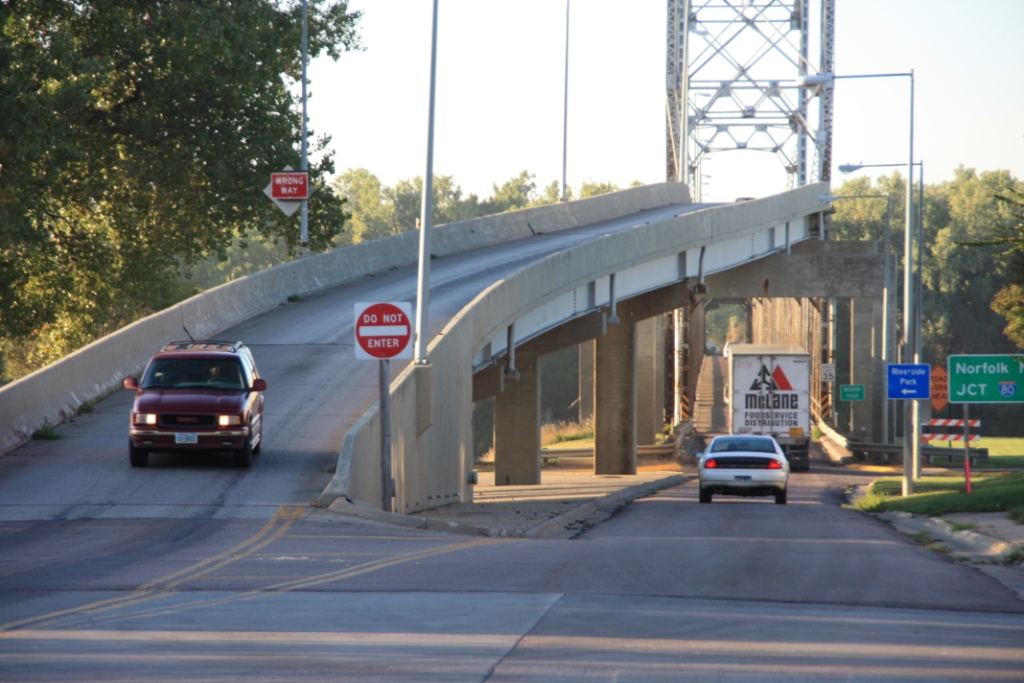 I have a late start because I wait to hear President Bush speak about the economic crisis at 8:45am. I head back into downtown Yankton to survey this crazy double decker bridge they have there, that the town built/completed in 1924 as a permanent link on Route 81, identified back then as the Pan-American Highway. It is an engineering marvel. I ride across on the lower level, and come back up the upper level. The views are outstanding/interesting from the upper level because, it is just slightly larger than one lane wide (i.e. cattle trucks are passing me on my bike), the new jersey berm is not high enough to keep me from falling over it into the river, whisps of mist are rising from the river, and the view of the river upstream and downstream are extensive. It's 84 years old and seems to be doing its job well. They are building a replacement bridge just upstream, but the community is smart enough not to even consider tearing this unique old bridge down.

I am crossing the James River Valley after leaving Yankton. It is flat, Norfolk Virginia flat, and I make good time going through Vermillion, Elk Point and Jefferson. It is al good rich cropland, and is really green. I must be east of the 98th meridian. The past 5 years I?e been riding through the dry winter wheat country of Montana, or the dry mountain country of Montana, so flat and green is unusual for me.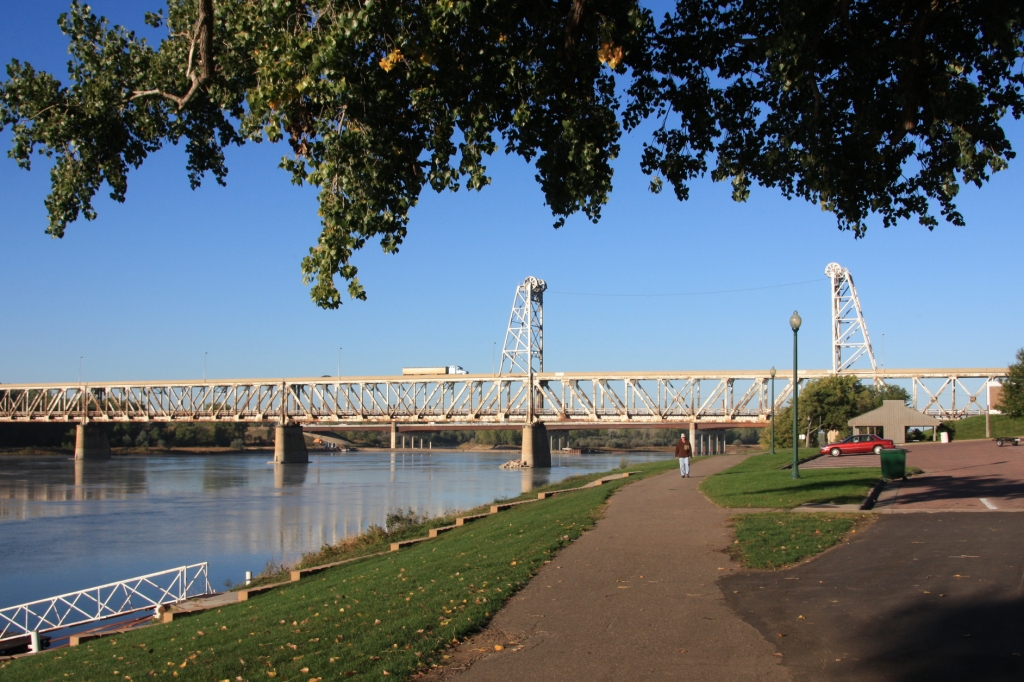 I stop for a burger and fries for Lunch. Flies are everywhere. The South Dakotan? say that the flies come in when it starts getting cool at night. Fly swatters in action capture my attention more than the locals. East coast flys aren't that smart, so I don? think I? used to this fall migration of flies indoors.

I cross into Iowa north of Sioux City, and have a beautiful ride in against the Loess Hills north of town. But some crazy Highway Engineer has put rumble strips on this narrow, shoulderless road I assume to increase the chances of bike/auto collisions. After a hilly entrance into Sioux City, I find my way past some interesting architecture to a hotel on the flats between old (higher) downtown and the River/I-29. I have a great Italian dinner at a restaurant in the 4th Street Historic District. My waiter, Paul, rode a bike from South Carolina to Iowa in 1979 when he got out of the service. He also apparently had one of the first mountain bikes and covered a lot of Colorado in 1981. He has a family member that works for Shimano. You could tell these were good memories for him, and enjoyable stories for me.

Cool but sunny this morning about 50 degrees. Light breeze from the WNW. Clear skies and about 70 degrees in the afternoon.

74 miles today. Total 356.5 miles.

Day 6: Wednesday, October 1, 2008
I start this morning by visiting the excellent Missouri Steamboat Museum located in the waterfront park in Sioux City. The Missouri River was a challenge to navigate before it was completely dammed, with snags (dead cottonwoods) that could puncture a hull to the sandbars and low flows that could strand a boat. It is no wonder that a Missouri River captain typically made 4 times more than a Mississippi River boat captain. It also is not surprising that some of these steamboats had very short lives.

I next road up to the County Building, a magnificent Prairie Style high rise, its strong design heaped with rich terra cotta and other architectural detail. Well worth the visit. It was built in 1917. Either the economy was very good in Sioux City at that time, or they had a Tammany Hall style government or both. This is the nicest building in Sioux City.

My final destination in Sioux City was the Sargeant Floyd Monument, a little south of downtown. Road construction and no directional signage made it a little frustrating navigating, but the monument was in good shape in a well maintained park. Heading out of Sioux City, I hit more road construction, made a wrong turn, and got a flat after hitting a construction related pothole. GRRR. After finally getting my bearings though, I finally left the noise and cars of Sioux City behind about 12:30 pm, and headed south. Using old Route 75 (no traffic) and local farm roads, I made good time, through soybean (mostly dried now, the combines work late in the evening), corn fields and a few alfalfa fields through Salix, Sloan (great broasted chicken and jo-jos for a late lunch), Onawa, and Blencoe. Flat topo and a tailwind is hard to complain about. An added plus ten miles of newly layed smooth asphalt.

I rolled into Mondamin about 6:30pm, thinking I might go another 17 miles to Missouri Valley after dark, since that is where the next campground is located. Coming into Mondamin, I spot a cemetery, and a bushwacked field/grain silo about a mile north of town as two possible back ups, if I decide to stop. Doesn? look like they have a bar here, so no food, but then on a side street I see the Sand Bar, and in riding to the Sand Bar, I see a nicely mowed and maintained city park. Time for a pause and a drink. I meet Joey the bartender, and ask if the police would bother anyone camping in the park. Joey calls town mayor Ron, who says it? OK, and actually drives in to unlock the bathrooms and leave soap and a washcloth. I soon meet Justin, a 22 year old local, who does concrete road construction work south towards Blair and Omaha, and Boomer, who is Justin? uncle, has a mischievious streak, and also works for the same company. I get free drinks all evening, way too much, and wobble over to the park, spread out my bedroll and sleeping back on a picnic table under a pavilion. Thanks Joey, Mayor Ron, Justin, and Boomer for the hospitality.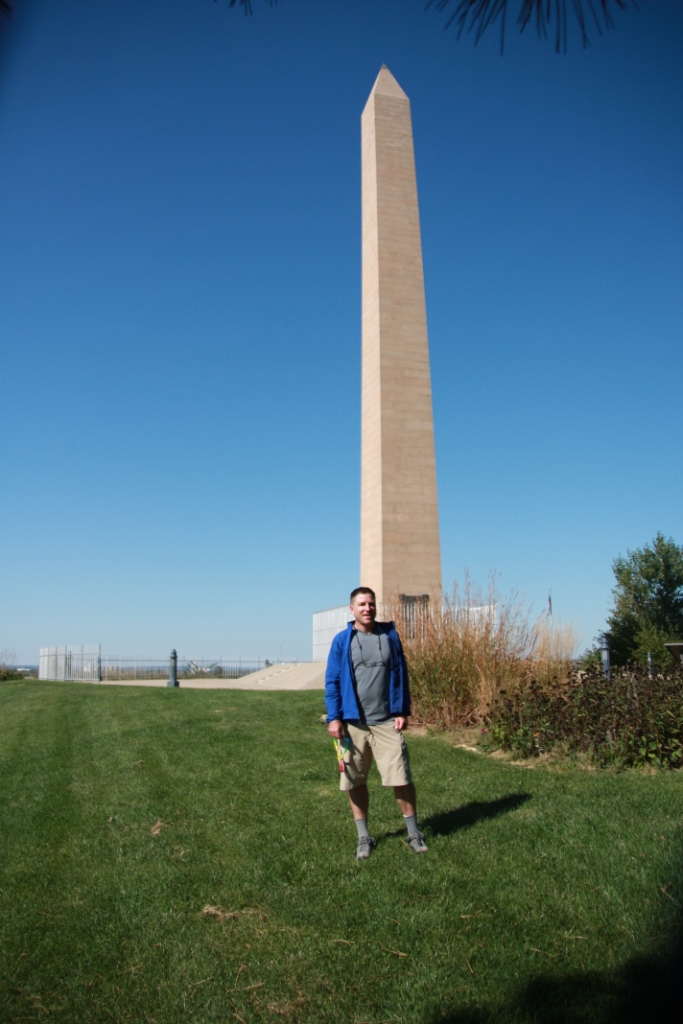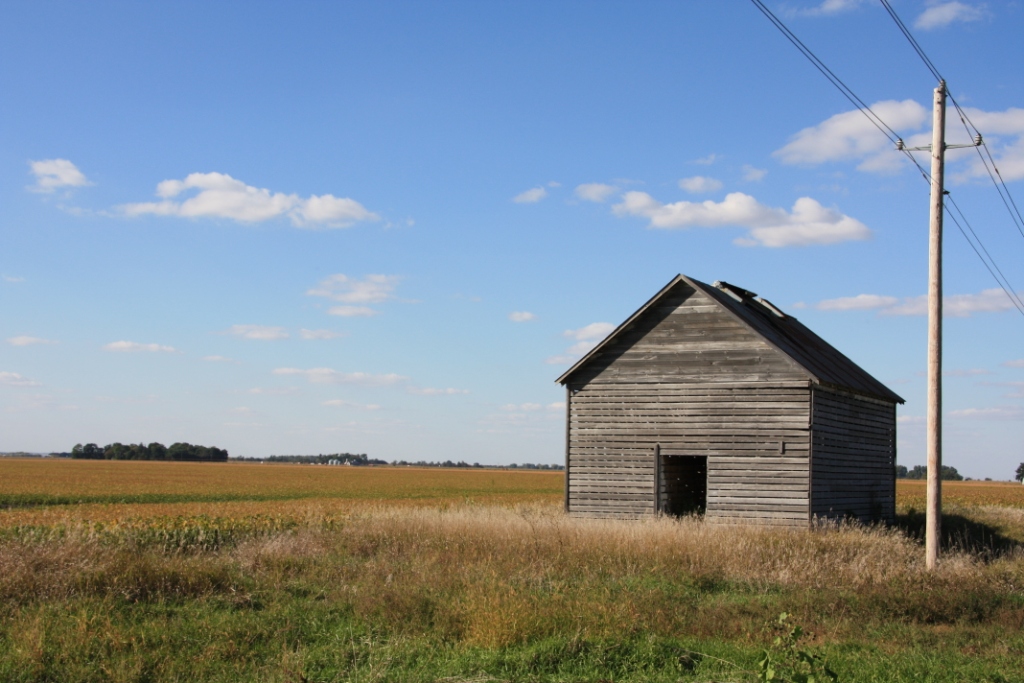 72 miles today. Total 428.5 miles.

After a frustrating time getting out of Sioux City, I cover a lot of miles at a good pace. Sunny and comfortable all day. Good tailwinds.





Day 7: Wednesday, October 2, 2008
I'm up early. I pack and leave the city park at 6:30am. It is still dark. I am headed to the gas and go, and Mayor Ron stops in the middle of main street to ask how last night was. I thank him for his hospitality. At the gas and go, I get my diet coke and ask if I can squeeze into one of the open spots in the front corner. There are about six local farmers, chatting and drinking their coffee, and telling jokes. I don? exactly feel like I fit in (funny bike clothing/new face), but the folks are extremely polite, answer my questions about farming and moisture content in soybeans, let me throw in a few one-liners, and they obviously do remember details about my bike trip and what I? doing. They aren't 100% engaging me, because they have a robust routine amongst the regulars that come and go, but they definitely are paying attention, and wish me luck whenever one of them gets up to leave. Nice.

At first light, I start riding, It's foggy, damp and feels cooler than when I got up. It's 48 degrees. The road is flat and huges the Loess Hills and the sunrise is beautiful. I have breakfast at a Casey's gas and go in Missouri Valley (starting point for this year's RAGBRAI) . South of Missouri Valley I am following the old Lincoln Highway into Council Bluffs. The route is relatively flat, except for a few small grades at the edges of the Loess Hills. As expected, the Adventure Cycling route takes me up and over Council Bluffs to the south side of the city, to the Wabash Trace trailhead, which I reach at noon.

I get a little frustrated getting north and west to downtown Omaha. Southwest Council Bluffs is boxed in by I-80, and I hit more road construction (where they have removed all street signs). Eventually, I find the Western Trails Center, which I should have spent some time in, and they give me directions to the Council Bluffs Riverfront Bike Trail, the new Kerry pedestrian suspension bridge (it just opened the week before). It's not hard to imagine that as the old Missouri River bridges came down and the I-80 and I-480 bridges were built that pedestrian access was accommodated. But we should all celebrate the re-awakening of total modal transportation.

It was cool and partly cloudy this morning. But by 10am, my sweatshirt was off, and by 11:30am, I didn't need my windbreaker either. The afternoon was sunny with a blue sky.

I hate to admit it, but one of the reasons I wanted to get to Omaha tonight was to see the Vice Presidential debate. Whatever you think about McCain, Obama, Biden or Palin, Mrs. Palin is the most interesting of them all. She is kind of like a fatal car crash on the highway. You know you really shouldn't slow down and gawk, but you just have to rubberneck. She has that kind of charisma (in a good way.) And I thought she did well in the debate.

49 miles today. Total 477.5 miles.
Good to Be Back on the Road



We also drop our bikes off with Rory at Val's Cyclery (701-839-4817). He did an excellent job boxing and shipping our bikes back to D.C. Rory tells us about CANDISC, an annual organized bike ride around North Dakota. Click here to find out about

CANDISC.

We board the Empire Builder late in the evening, and take it overnight to Minneapolis, where we arrive the next morning.
Afterwards
Having cut our trip short and diverted to Minot, we have two days to explore Minneapolis before we fly home to Washington. Richard manages to find some great restaurants which definitely raises my perceptions of the Twin Cities.

Last Update: October 6, 2008