---
Seattle to San Francisco
Trip # J
Biking the West Coast from Seattle to San Francisco
June 12, 1979 to July 4, 1979
921 miles
This trip is my first real cross country ride, my first ten speed bike, my first time west of the Mississipi, my first time seeing the Pacific Ocean and my first experience with virgin forest.

---
---
John Marchetti
If John Marchetti had not helped me out, I don't think I would ever have made it to Seattle.
On May 25, 1979 a American Airlines DC-10 taking off from Chicago O'Hare lost an engine and crashed, killing 259 people. All DC-10's were removed from service after this accident. Airlines were still scrambling to re-assign travelers on different sized planes with different seating plans when I flew out of Norfolk on June 12, 1979. This was an era when airlines still used sheets of little stickers, each representing a seat on the plane, and pulled the sticker off the master sheet and put it on your boarding pass.
I did not have much experience flying then. As you can imagine, Chicago O'Hare, the largest airport I had ever been in, was a nightmare, with the airlines trying to re-assign and re-schedule thousands of travelers. I would have been lost in this sea of confusion.
John and I met on the flight from Norfolk to Chicago. He was a veteran flyer, took me under his wing, and worked the counters to get us both to Seattle. John then invited me to his family home in Renton, where I stayed for a few days. This allowed me a safe and comfortable place to buy a bike, get last minute supplies, and make final preparations for my trip down the Pacific Coast.
I did not keep in touch with John (a regret), but did recently find a scrap of paper with his name and address. John, I might not be biking today if you hadn't help me navigate Chicago O'Hare and invited me to your home in Seattle. Thanks.

---
Buying My First Ten Speed
I owned a one speed bike, a black well-worn Schwinn Typhoon, for many years before this trip. I loved to ride, and put plenty of mileage on my Typhoon using it to deliver papers, biking around Norfolk and down to Virginia Beach, and on my earliest bike trips.
This trip required something a little more sophisticated. To save the trouble of boxing and shipping a bike to Seattle, I decide to buy one in Seattle. I spent about an hour researching and buying my first high tech ten speed bike. (That probably included travel time to and from the bike store.) I knew nothing about bikes other than how to ride them. Touring bikes with skinny tires and turned down handlebars were in vogue then. I bought a Raleigh, which was an excellent bike, and which gave me many miles of good service and great memories.
---
Southwest Washington State
<< Campsite, First Night Out of Seattle
Initially, I thought about riding out from Seattle around the Olympic Penisula and then heading south along the Pacific Ocean. But I was itchy to make some progress, so I took the ferry to Bremerton and headed southwest from there to the Coast.
I don't know why I felt I was in any kind of hurry.
I don't remember where this campsite was or my exact route from Bremerton to the Pacific and the Astoria Bridge.

---
Northwestern Oregon

<< View of the Route 101 bridge over the Columbia River, looking south towards Astoria, Oregon
I remember this bridge as being steep, high, narrow, and with expansion joints that looked like big dinosaur teeth.

<< Historic Highway Bridge near Oswald West State Park/Manzanita
The northern Oregon coast is where I began long extended contact with the Pacific Ocean.
My first day in Oregon was spent in Astoria and at Fort Clatsop. Oswald West State Park was my first overnight camp site in the state. It had rained the day before, it rained this day, and it was supposed to rain the next day too. I pitched my fly with one open side against a huge Douglas Fir, and piled up some big chunks of cut firewood on the entry side to help keep the rain out. Travelling light, I had left the main portion of the tent back home, and only brought the roof/fly.
It was my first contact with old growth timber. I was amazed. You don't see virgin forest back East - it is extremely rare.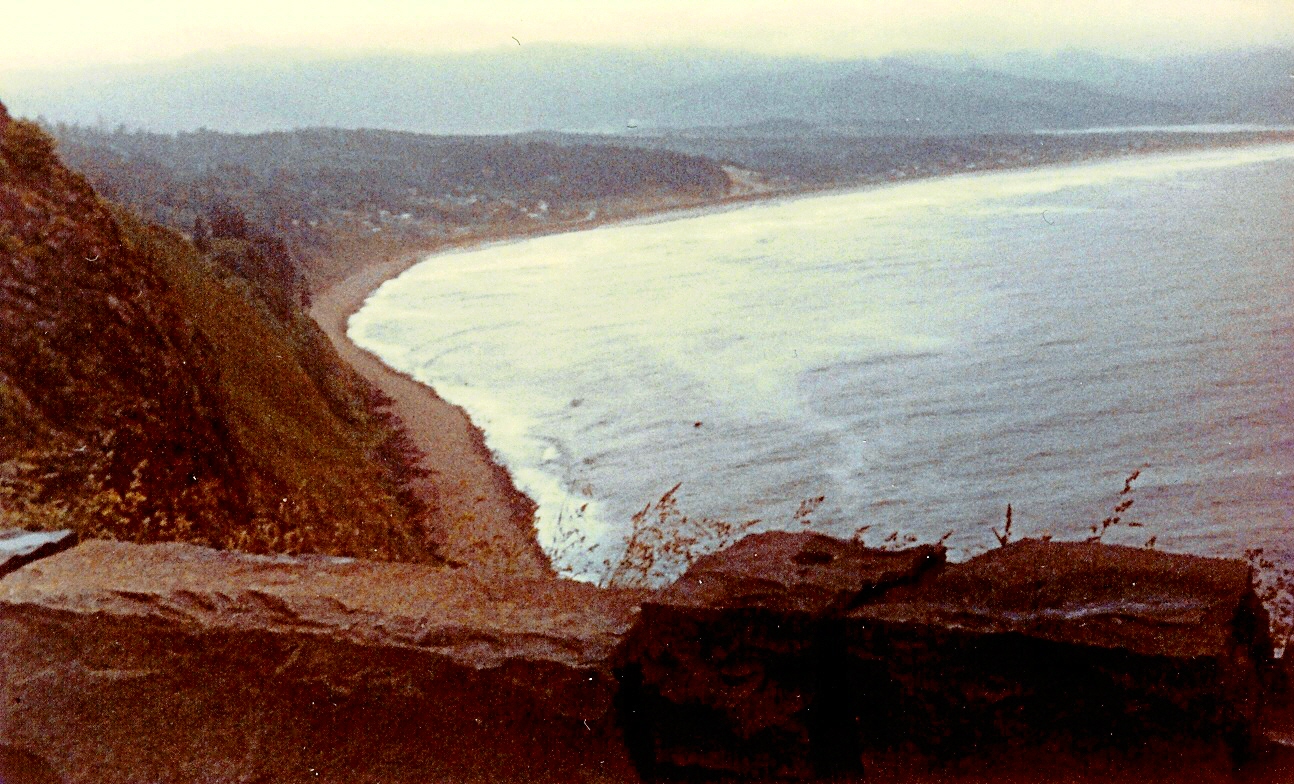 << View from Oswald West State Park towards Manzanita
I rode into town for dinner, then road back to my lean-to, leaning against that big Douglas Fir, to sleep.
The next day I traveled through Tillamook, took a cheese factory tour, and continued south.
Ralph W. will appreciate another example of excellent trip planning on my part. When packing, I checked the average low tempuratures in Seattle and Portland, and concluded I could bring a light sleeping bag. Well, it was very cold most nights along the moist Pacific-influenced Coast. I guess those Coastal Mountains keep the cold from spilling over into Seattle and Portland, and keep their average tempuratures much higher than what I planned for and experienced. Each night I put on every article of clothing I had to keep warm. My first experience with the concept of (extreme) layering!

---
Along the Central Oregon Coast

<< View from Otter Creek Scenic Overlook, near Depoe Bay, Oregon
After several days of wet weather, I checked into a hotel in Lincoln City for the night to dry out. Lincoln City is just north of Otter Creek and Depoe Bay. This was my only night "credit card" camping of the whole trip.
My timing for this trip was excellent. America was involved in another Arab oil embargo, and gas was hard to get and expensive. That meant very little through traffic and virtually no big clunkering RV's on the road. It left lots of room for bikers :-).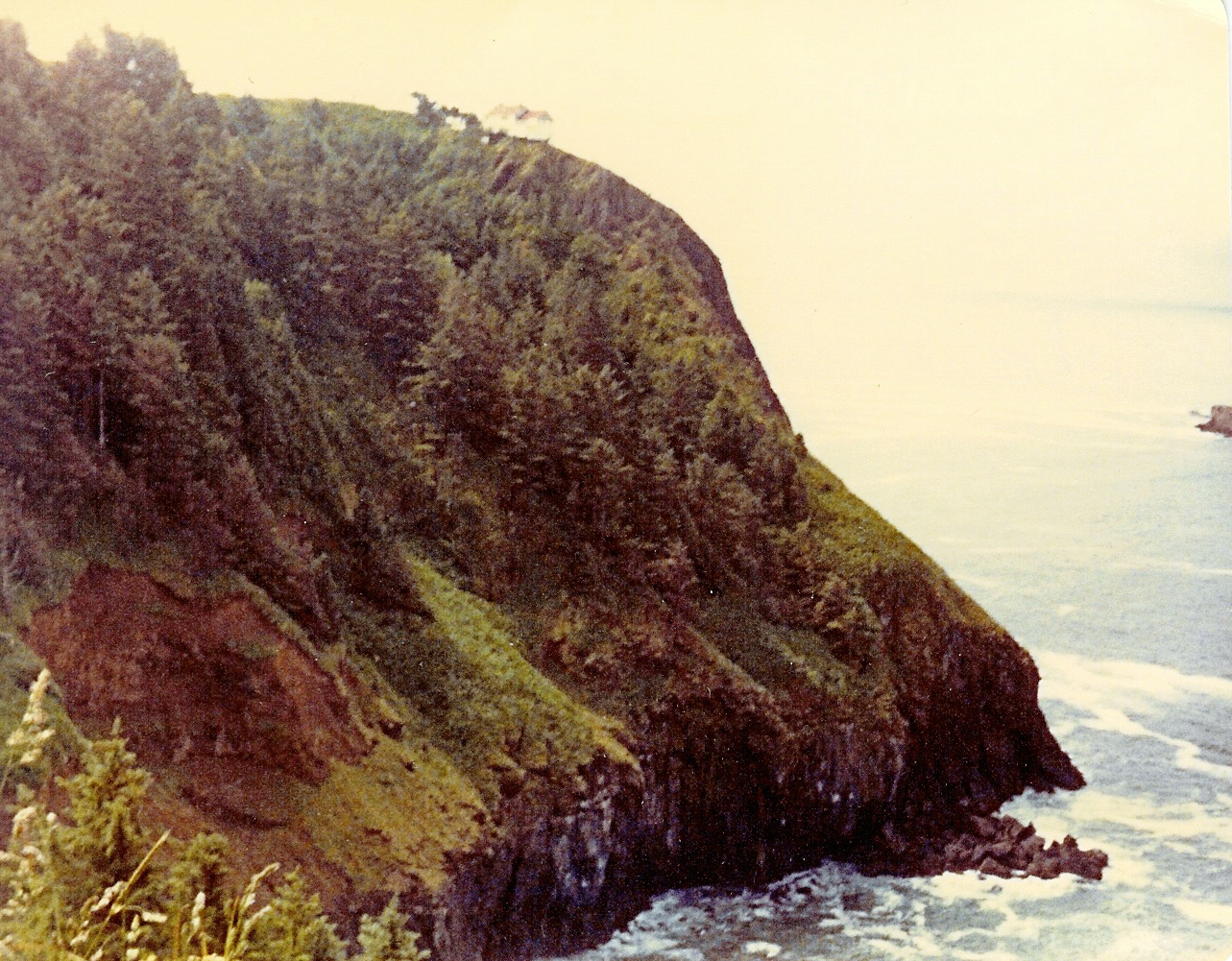 << The Lookout at Otter Crest State View Point, Cape Foulweather
The Oregon Coast is a collection of mountainous/rocky coastlines interspersed with long stretches of sandy beaches and lowlands. The weather was warm while I was biking, so I always wanted to stop, hop off my bike, and plunge into the refreshing Pacific. After two attempts, this east coaster finally learned that the Pacific Ocean is a heck of a lot colder, unfortunately, than the Atlantic.

<< Devil's Churn, Siuslaw National Forest, south of Yachats, Oregon.
Those who know me know I have a bump on my nose. Once I pulled into a visitor information center to get a map. The woman working there became quite upset: "Young man, you have been stung by a bee." Well, I did have a lot of sun burn on my nose, but after inspection in the restroom mirror, it turned out that the bee sting was just my sunburned regular old nose. I told the lady politely that I would go and have it attended too.
(Really, I know I have a bump in my nose, but it's not that big!)

---
Goodbye Oregon, Hello California, Trouble

<< The last peek at the Oregon coast.
OK. I don't remember exactly what stretch of the Pacific Coast I was on when the trouble started. It was either the stretch of southern Oregon and northern california before Crescent City or Eureka, or it could have been on the California Coast south of Mendocino and before Point Reyes. Anyway. I had double trouble, but it all worked out OK.
The trouble was - I started popping spokes. Lord knows the bike was heavily loaded. The other trouble was the sidewall of my tire had bulged out and looked precariously unstable. I had run out of tubes and did not have a replacement tire. Actually, these two things weren't the trouble; it was the fact that the nearest bike store was a long, long way away - more than 100 miles. So I'm riding with my back wheel creaking more and more with each each additional spoke I "boink", knowing that with each "boink'd" spoke, the stress increases on the remaining spokes.

More troubling was that tire bulge. It's kind of squeeging amd squeaking past the brake pad with every rotation, and I am paranoid that if I hit a rock or curb or bump on the road, it's going to pop. I concentrate on slowing my downhills - what would be wonderfully enlivening fast downhills - so that I can (hopefully) see and avoid any hazard that might cause that bulge to blow.
The good news: creaking and squeaking I made it to a bike shop, got repaired, and stocked up on tubes, patch kits, etc.
<< The first look at the California coast.

---
Redwoods!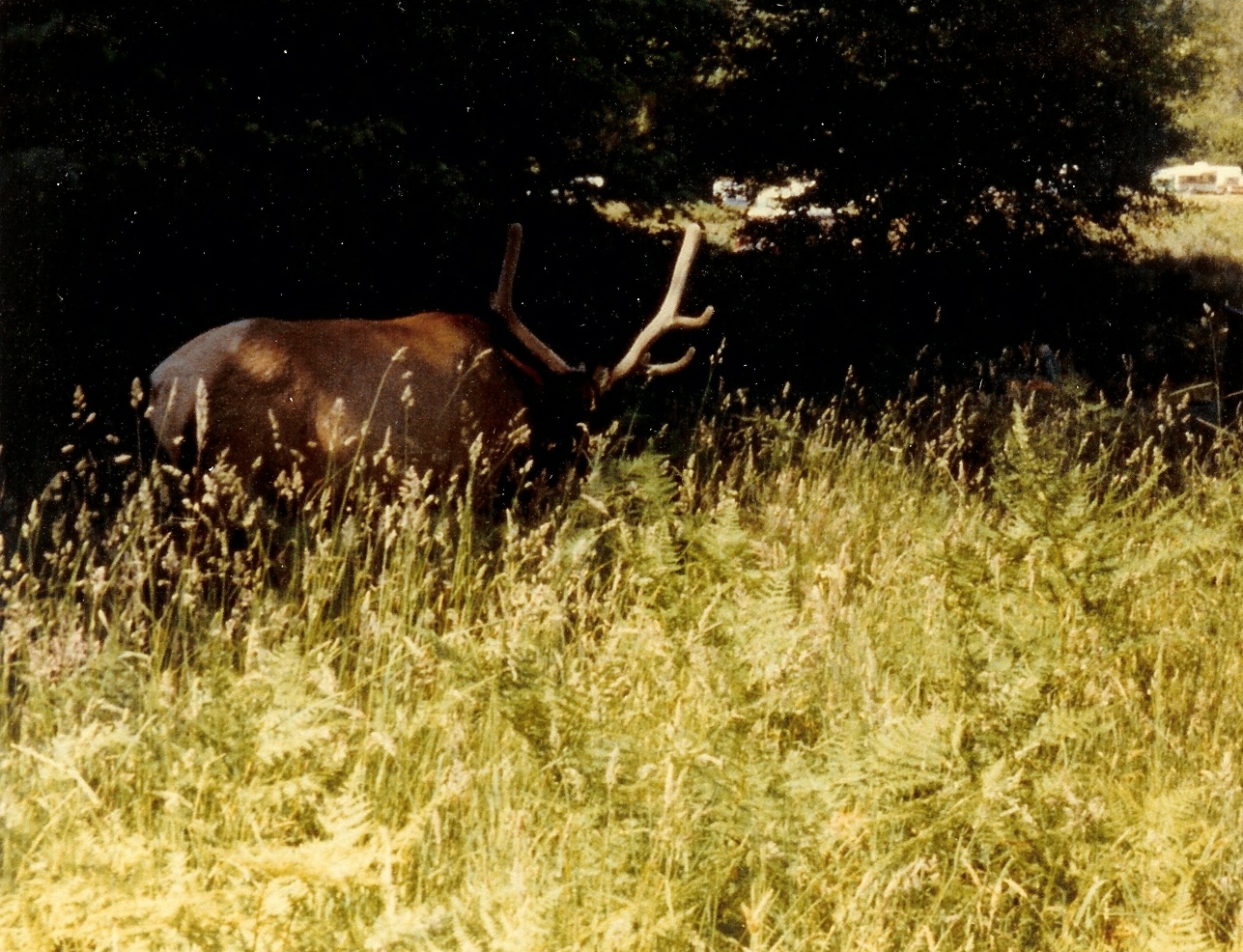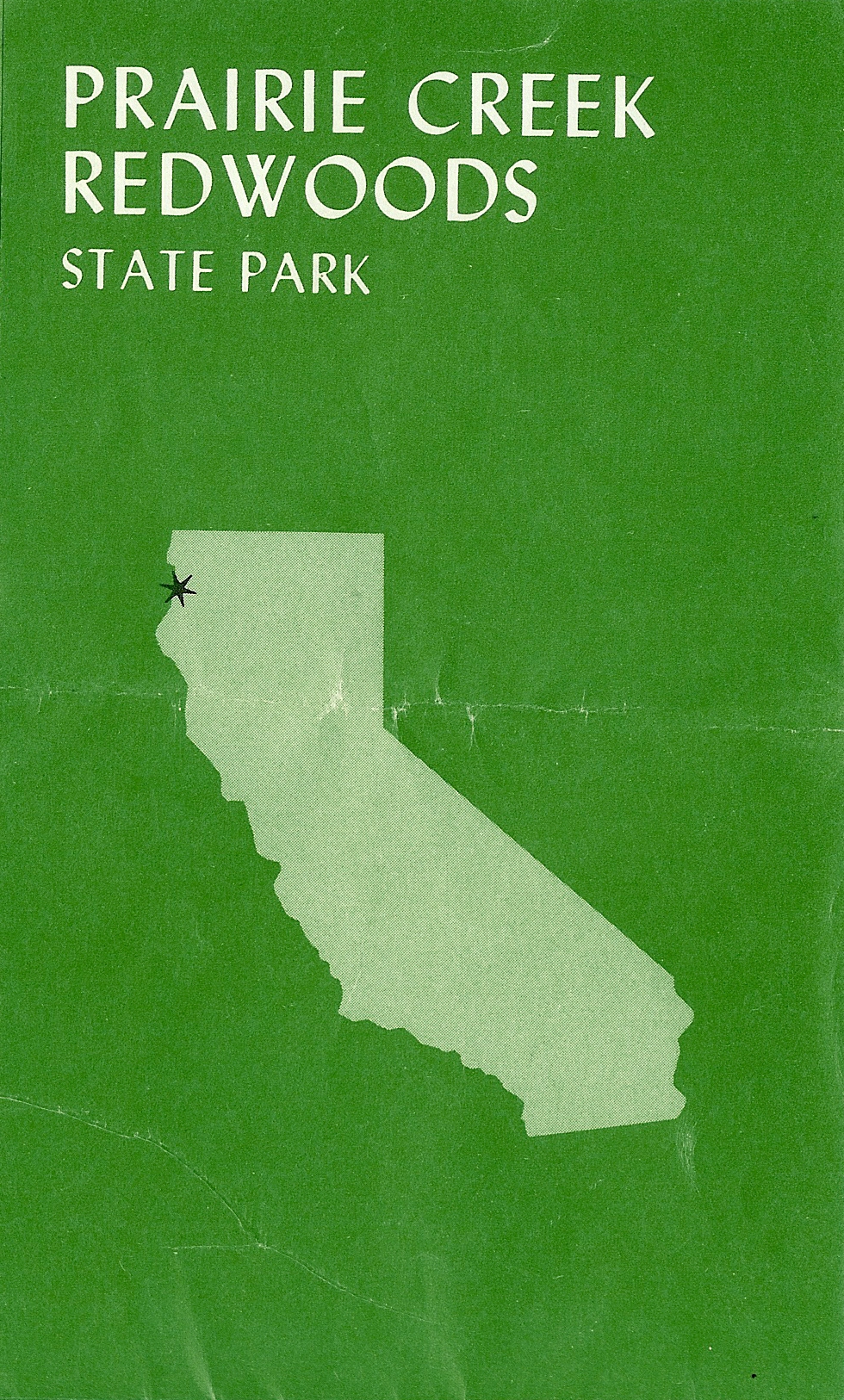 Wow. My first big Redwoods. And they were everywhere. Each tree is magnificent in itself, but when you are in an old growth forest of Redwoods, the forest floor is bare, except for fallen leaves, and you have to twist your neck back way far to look all the way up to the canopy. Big, quiet, majectic, timeless. I really enjoyed my introduction to the Redwoods, and was particularly pleased because protection of the redwoods had been a big environmental story for many years, resulting in the creation, in 1968, of Redwood National Park as an integral addition to existing California State Park system units focused on redwood preservation.
I laid my sleeping bag out in this grassy meadow at Prairie Creek State Park campground. In the morning, I was awakened by the munch, munch, munch of elk grazing next to my head. I also remember two cool little footpads on my eyelids as I lay sleeping. Some curious racoon I suppose. I was calm enough not to be startled or startle the racoon, so he didn't have to take a nip at my nose!
---
General Delivery: Eureka, California
<< A letter from Grand Mom
There is something exciting about General Delivery. Its means that someone is travelling, exploring, on an adventure.
It also involves a person far away, more planted, reaching out to someone. Expressing feelings. Seeking information. Maintaining a connection. Conveying news of family and friends. Sending money!
A physical manifestation of concern and caring. It's an old and imprecise system that works. General Delivery magnifies the message. Thanks, grandmother, for the letter.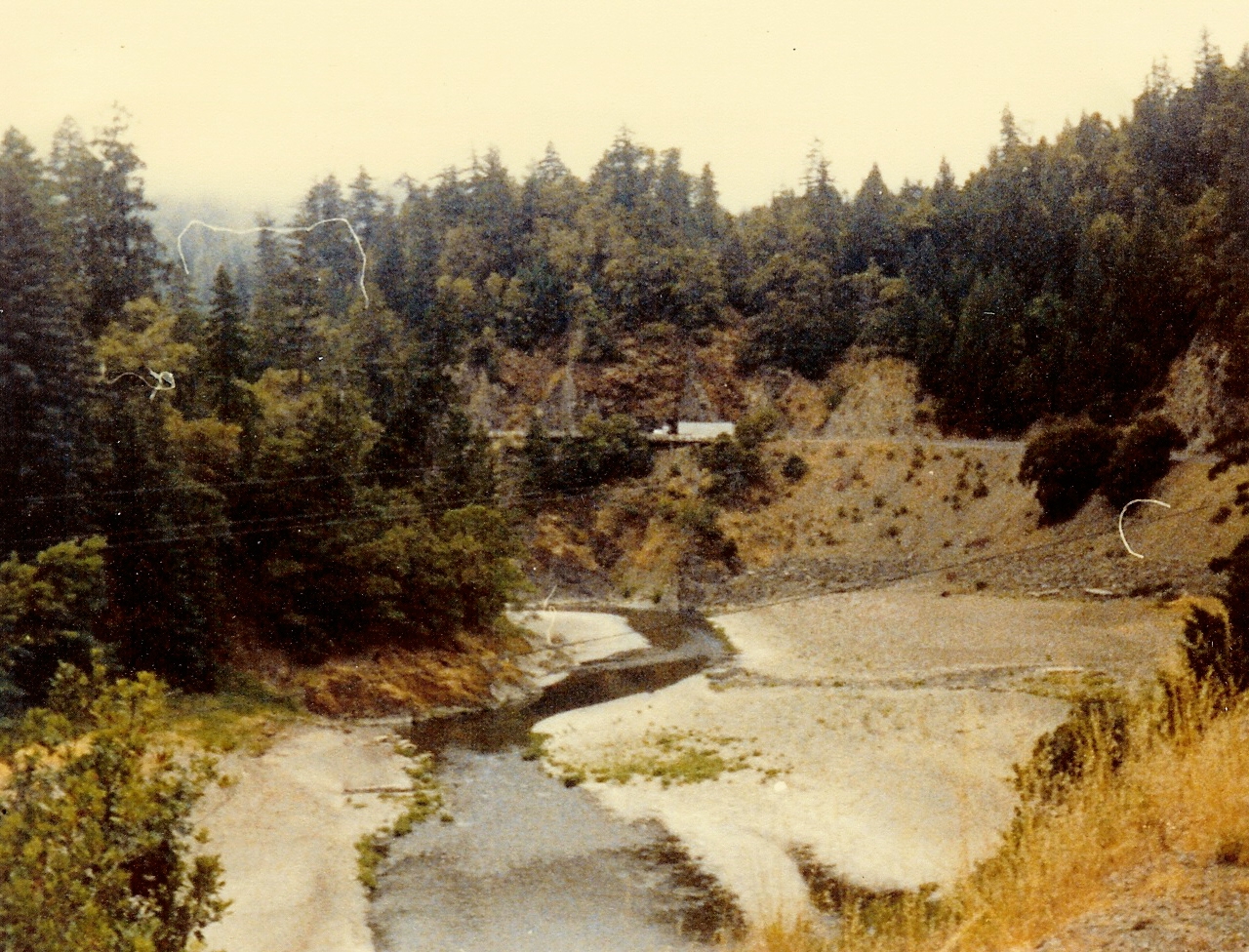 << Heading up the Eel River
The Eel River enters the Pacific Ocean about 20 miles south of Eureka, California. It heads southeast away from the coast, through a large chunk of Redwood country and the Avenue of the Giants.

---
Profile of Route US 101 and California Highway 1 at Leggett Hill


There were a lot of long distance through-bikers on Rte 101 and Rte 1 that summer. You would met someone in camp or on the road, strike up a conversation, and end up travelling together for a few days. In the Hiker/Biker sections of the state campgrouds, bikers would chat with each other at the end of the day, around a fire or a 1/2 gallon of ice cream.
As a through-biker you heard about "Leggett Hill" many days before you got there - the name "Leggett Hill" quickly became associated with the words "steep", "long haul", "big", "difficult", and "killer". Even the CalTrans bike maps of the time, which showed road profiles/elevations, had a special page for the section near Leggett. It had a part that flipped up so that bikers could fully appreciate the profile and struggle that would be "Leggett Hill". The legend of Leggett Hill grew in size and difficulty as one got closer to Leggett.
Well, I borrowed this profile from Adventure Cycling Association, and it gives you a relative idea of the climb to the Top of Leggett Hill. The numbers at the bottom are map section numbers, not mile markers. It was a tough bike up to the top, but you could coast almost all of the ten miles from Leggett Hill summit to the Pacific. Sweet.

---
Mendocino Coast
After leaving US Route 101 and Leggett Hill behind, I followed California Highway 1, down the Pacific Coast to Mendocino, past Point Arena, by Point Reyes National Seashore, to the section or "corniche" hanging onto Marin County before the Golden Gate and the mouth of San Francisco Bay. This is a very scenic section.


---
San Francisco at Last, with Anne and Linda
Back then, my best friend, Patrick, had a girlfriend (now his wife), Anne, who was spending the summer in San Francisco and living with his sister, Linda. They agreed to put me up for a few days as I rested and explored San Francisco. Please note: Anne is a very special person. Linda is one too!

Based on the bike receipt, I didn't leave Seattle until July 14, 1979 or after. Based on the Pan Am ticket receipt, I was in San Francisco on July 1, 1979. 17 days on the road max, or about 54 miles per day minimum.

---
Pan Am Gets Me Home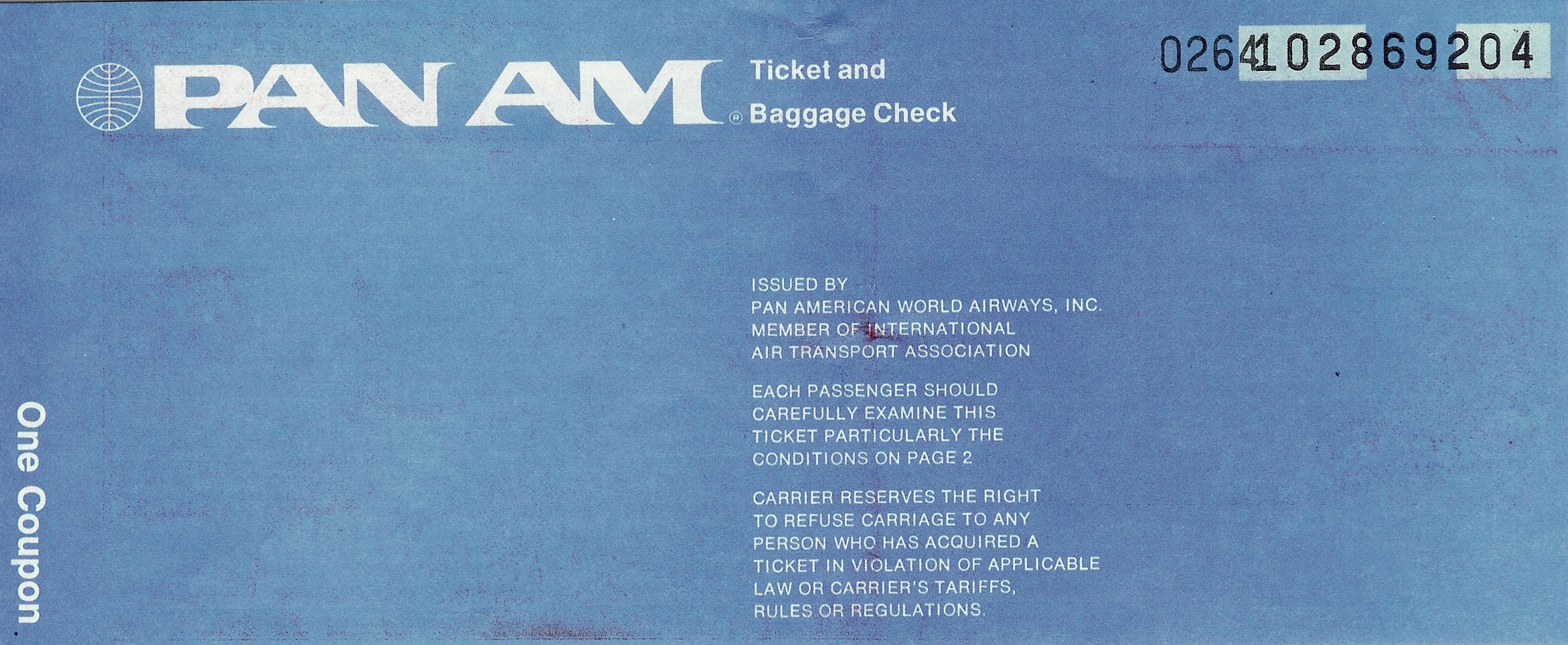 I don't know when or why I decided to end my bike trip in San Francisco rather than continue on to Los Angeles or San Diego. I was tired when I got to San Francisco. I had been on the road for 2 and 1/2 weeks. The fourteen or so flats (it seemed that way, anyway) that last frustrating day through Marin County, under, up to, and over the Golden Gate Bridge and into San Francisco might have added to a sense that it was time for a break. I also didn't have much money left.
The thought of riding in a Greyhound bus for three days across country to get home turned my stomach. I thought: well, I'll stay in San Francisco for a while and get a job, until I figure things out.
Well, even the best non-plans can go awry. Pan Am was running full page advertisements in the San Francisco newspapers, promoting its new "domestic route authority" - the ability to fly between US cities, rather than just between U.S. and foreign cities. The promotional fare: $89 San Francisco to New York. I didn't know what I was going to do once I got to New York, but it was a lot closer to Norfolk than San Franscisco. I think I bought the ticket that day. I did end up taking the bus, but only from New York to Norfolk.
So Pan Am, but for you, I'd probably be living in San Francisco now, might have been a character in "Tales of the City", and who knows what else??

Rescuers
John Marchetti, who gudided me through the tumult of Chicago O'Hare airport, and put me up for a few days in Renton, Washington, as I prepared for this trip. Many thanks, John.
Linda M. and Anne de Pujo, now Anne M., for putting up a tired biker at 245 Schrader.
Hope all is well.

Postscript
I am surprised that writing up this trip, 27 and 1/2 years after I took it, that I had saved enough material to accurately recreate much of the story (I hope). Though I'm a little disappointed I don't have a record of each day's progress and each evening's campsite.
Last Update: January 25 2008