---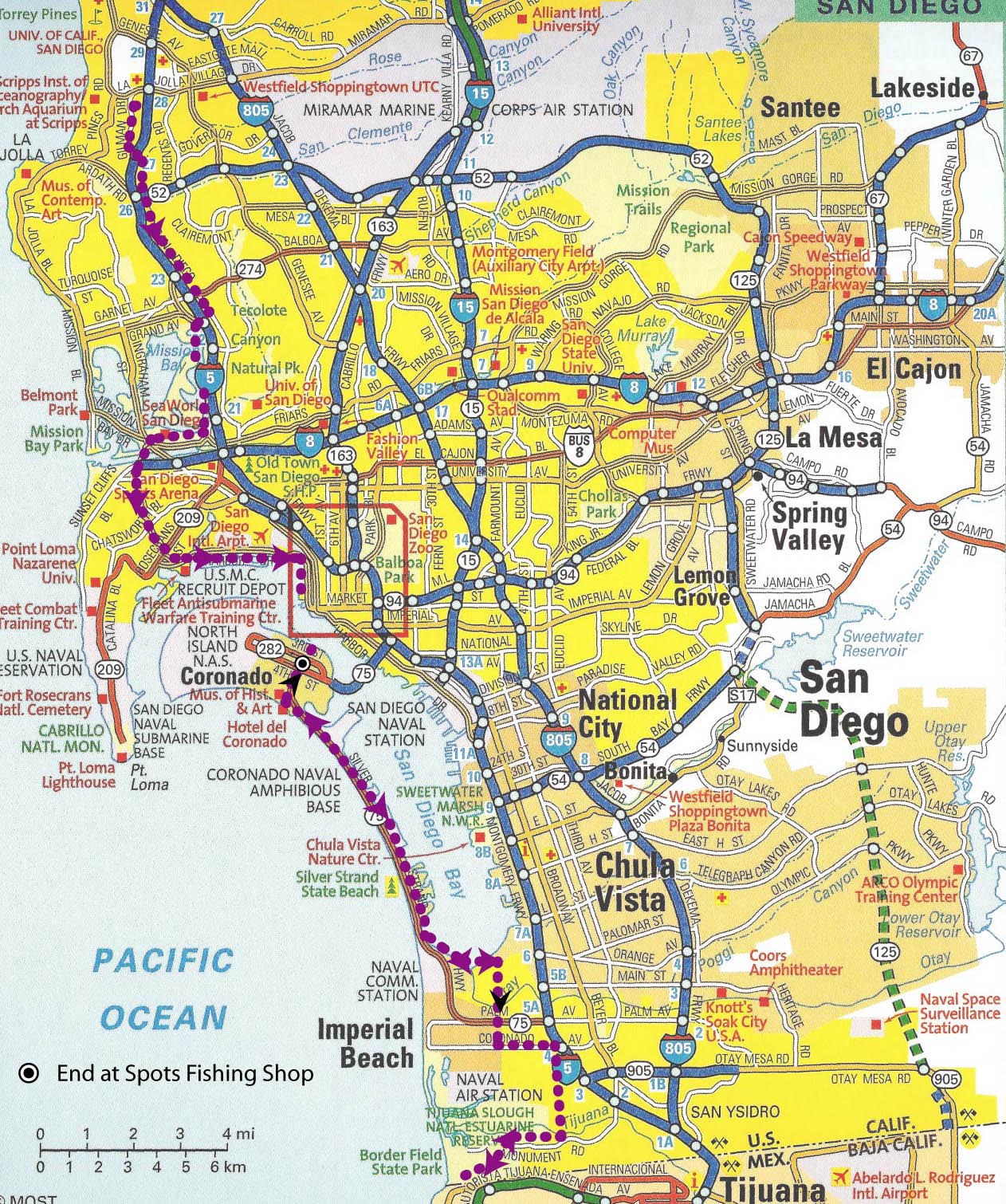 LaJolla CA to the U.S Mexico Border
Trip #14
The Bottom Left Hand Corner of America
August 13, 2006
48 miles
This bike trip was a pleasant but hoped for surprise.
I had a speech to give in LaJolla, and went out the weekend before to visit an old friend of mine, Madelynn W., and relax a little. Other than one quick overnight last year in LaJolla (with Mad and her husband, Jim) I had not spent any time in San Diego in at least 12 years. It was delightful to spend time catching up with Mad, swim, sun, and snooze at the beach, run in the cool weather, and best of all, take this bike trip.
The Perfect Storm
A number of things made this trip come together. First, you can instantly tell that there are lots of bikers, bike trails, and bike lanes in the San Diego Metro area. It makes sense since the weather is so nice.
Next, Mad's husband, Jim, is currently stationed in Iraq and is an avid biker. While Jim is running around on a $50 jalopy of a bike in Iraq, he has a large (Jim seems like he is at least 1/2 a foot taller than I am) and expensive bike, with bike shoe/clip style pedals, hanging in his garage at home. Jim offered to loan me his bike if I wanted to take a ride, which, of course, I did. But I'm of regular height. And I'm basically a low tech guy, so those bike shoe type pedals put me off a little bit. And if you've ever seen my pick up truck, you would guess that Jim's bike is worth ten times what my truck is worth (and be right). You will understand then why this large, expensive, high-tech bike might make me a little nervous.

Enter Paul
Mad was kind enough to invite me to a cook out. At the cook out I meet Paul F. and his good tempered wife Tracy. It turns out that Paul is also serious about biking. He has three bikes. As the cook out breaks up for the evening, Paul offers to lend me one of his bikes. He even talks me into trying some of those fancy bike shoes with the clips. Then after I'm already asleep back at Mad and Jim's, he leaves a message that he wants to go biking on Sunday with me.
The Early Morning Call
Paul didn't know I'm an early bird. I'm up and ready to go at 6am, but see the note to call Paul and wait until 7:30am to phone. After a short groggy conversation, Paul says he is in -- and off we go.
The Route
First, the weather was perfect, particularly for someone from hot and humid Washington D.C. It was sunny and cool with a slight ocean breeze. So Paul takes me out on our course. We are headed south, to somewhere near the U.S. Mexico border.

We bike down Gilman in LaJolla to the bike route/corridor that parrallels the west side of Interstate 5, cross over into and head south and then west in Mission Bay Park, somehow wind up on Nimitz Boulevard, bike along Harbor Drive, and pick up the ferry from downtown San Diego to Coronado. (There must be 10 tandem bicycles/couples on the ferry with us.) After landing in Coronado, we bike across Coronado's commercial center and then south along the "Strand" bikepath, along San Diego Bay, to Imperial Beach. After a few short stints on 4 lane streets, we hit Hollister Street and head south. Soon the suburban homes of Imperial Beach end and we are riding on two lanes of asphault next to horse pens and plowed fields. We cross over the (diminutive) Tijuana River and hit the T intersection with Monument Drive, the rolling hills of Mexico in front of us. We hang a right, head west, and then head south and west into Border Field State Park, ending up at the U.S. Mexico border. This is where the border fence crashes into the Pacific Ocean. From the State Park viewpoint, you can look north, across the dry salt marsh filled Tijuana River floodplain to Imperial Beach, and see Coronado and downtown San Diego in the distance. To the south you see the Tijuana bull ring. To the west, the Pacific.
The Bottom Left Hand Corner of America
Not that I was planning to start or finish my bike trip in this little corner of the U.S. but for someone trying to bike across the U.S., this place has a special significance. It is the lower left hand corner of the continental U.S. - not particularly grand or magnificent -- but it somehow feels like a good place to include on the adventure.
Unfortunately, I didn't have my camera to get a shot of Paul and me at the border.
Heading Back
Paul and I turn around and head back up to and through Imperial Beach, along the Strand bikepath (now with a little headwind), and end at Spot's fishing gear place in Coronado. Spot is a man of great renown in the Southern California biking community, but also appears to be just a "regular" guy. Tracy graciously has offered to pick us up here and drive us back to LaJolla, which is good because I was tuckered out. Thanks Tracy!
Last Update: August 19 2006